Big 12 News
Oklahoma LB Nik Bonitto Calls Out Critics of Big 12 Defenses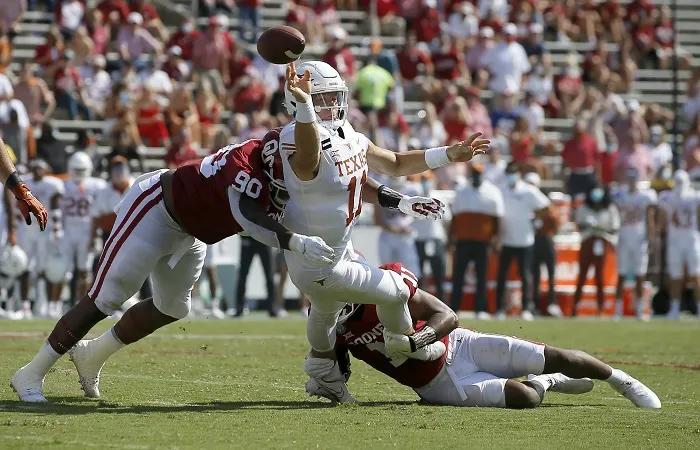 The Big 12 always gets crap for not playing enough defense. Heck, it seems like the Big 12 doesn't get enough respect in general. Well finally, the Big 12 and its players are finally pushing back.
The SEC is suddenly playing a bunch of barnburners, but you don't hear much about how the SEC is a conference full of weak defenses, do you? I sure don't. Instead we hear fawning by broadcasters over how impressed they are by the SEC offenses.
It's funny how that works. Alabama and Ole Miss scored over 100 points earlier in the season and this past week Alabama and Georgia scored nearly 70. So go figure.
Well, Oklahoma Sooners linebacker Nik Bonitto has heard enough from the critics of the Big 12 Conference. Bonitto called out the haters, writing on Twitter, "Damn, I thought the big 12 was the only conference that don't play defense."
He's absolutely right.
By the way, the best defense (in terms of total defense) in the country right now is the West Virginia Mountaineers following their win over the Kansas Jayhawks. But you've also got a variety of solid, quality defenses in the conference this year in WVU, Oklahoma State and Iowa State leading the way, following by Kansas State, TCU, Oklahoma and Baylor. Pick the order. But this league is playing defense.
In fact, half of the Big 12 is in the Top 25 teams in the nation in total defense: West Virginia (1), Oklahoma State (6), Baylor (18), Oklahoma (20), Iowa State (25).
Yet, I haven't heard a peep from national media about the quality defense the Big 12 is playing.
I wonder why?! So good for Nik Bonitto for calling it like it is.
The Big 12 is back with a full slate of games this weekend where it can strut its stuff, not just on offense, but on defense, too.
**Want to win a $20 gift card?  Go sign up here and join our conversation! The best poster each week wins a gift card to your favorite establishment!**