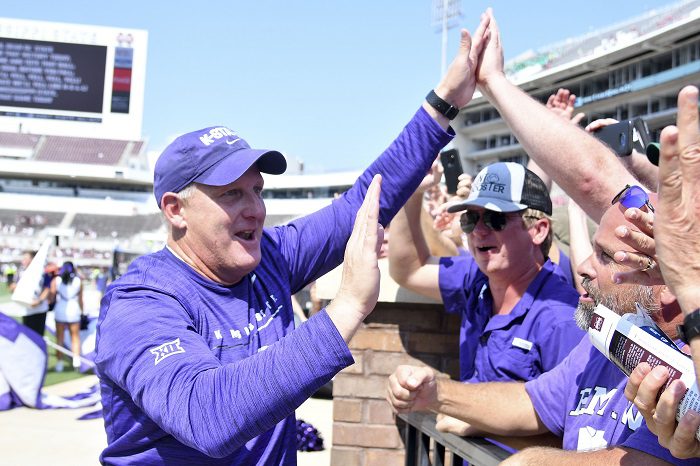 There are now three teams that sit atop the Big 12 Conference standings with undefeated records in conference play. Oklahoma State (2-0), and Kansas State and Iowa State (3-0) are all undefeated in conference play this season.
Those three teams have won football games in various degrees and in various ways, including dramatic comebacks against all odds, while some in boring and workmanlike fashion.  But as they say, a win is always a win at the end of the day.  The style points really don't matter do they? 
Of those two teams that sit perched in the driver's seat, two have lost non-conference games to Sunbelt teams, leaving only one true undefeated at the top in the Oklahoma State Cowboys. 
And so for that, they deserve the true number one spot in the order, even if they have played the less daunting schedule so far.
So that leaves Iowa State and Kansas State to figure out if we are to rank them 1A-1B-1C.
This is where the math gets tricky for many.  
The Wildcats and the Cyclones have played the exact same teams so far in conference.  Iowa State playing TCU on the road and OU and Texas Tech at home. Kansas State has played OU and TCU on the road and Tech at home. 
The edge here would go to the Wildcats as they have played and beaten OU on the road and ISU beat them at home.
Want to know how close ISU and KSU are statistically?  If you look up NCAA statistics you will find Kansas State and Iowa State separated by two points.  That's right, two points. Each have 15 touchdowns, each have 14 PAT's and Kansas State has a two point conversion. 
What about Defense?  
Iowa State is ranked 15th in rushing defense while Kansas State comes in at 52nd. In passing defense, the two teams are basically as efficient, Iowa State coming in at 52nd and K-State at 58th. 
The two teams have so far been a mirror image of each other in conference play.  This leads me to believe that up to this point in the season there is little difference. 
Yet, with the injury to QB Skylar Thompson, I foresee a change coming in the Big 12 Power Rankings.   
Kansas State is by no means dead in the water, but will have to be creative in keeping up their momentum.  Skylar Thompson is a big loss that should not be understated. 
If Kansas State can figure out how to maintain their same momentum with a backup QB in Will Howard, they will be likely in the Big-12 race to the end. Starting this week, the gridlock at the top of the conference will have some separation. Iowa State will go on the road to play Oklahoma State for the top spot in the league. 
Presumably this game will give us some answers as to how close this conference really is at the top.  
Will Kansas State figure out a winning formula with a back up QB?  
Is Oklahoma State as good as we all think?  
Can Iowa State and Brock Purdy continue on with their October dominance in conference (13-1 since 2017)? 
Soon we will have a clearer picture.  But we can all agree that as we approach Halloween, the Big 12 is as intriguing and wide open as it has been in some time.  
**Want to win a $20 gift card?  Go sign up here and join our conversation! The best poster each week wins a gift card to your favorite establishment!**