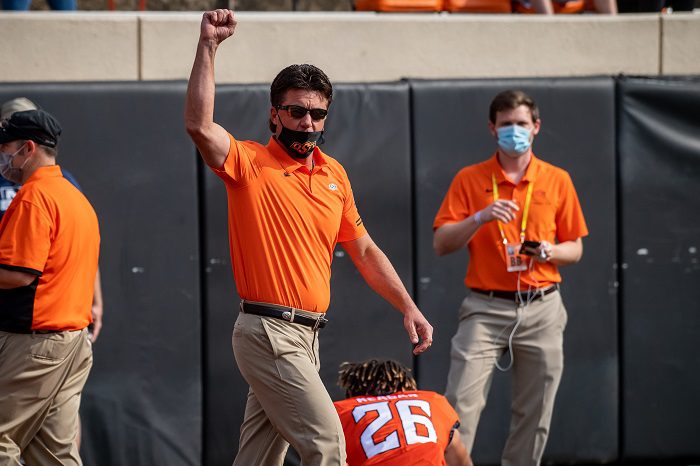 Oklahoma State fans heard some surprising news this week when head coach Mike Gundy claimed this that he might use both Spencer Sanders and Shane Illingworth at quarterback going forward. The question is, why?
It might just be another case of smokescreening the opponent this week, leaving Matt Campbell and the Iowa State Cyclones to guess which quarterback to game plan for. But if not, why even entertain the idea of playing Shane Illingworth over a healthy Spencer Sanders? 
The Cowboy offense has been less than stellar so far this season as Spencer Sanders has been recovering since the opener with an ankle injury and OSU has yet to get into the meat of their schedule. This is partly because defenses know who the ball is going to the majority of the game with a true freshman quarterback on the field. Running back Chuba Hubbard is being keyed in on more and more, and with the run threat of Sanders being absent the first three games of the season, defenses have opted to force true freshman back up Shane Illingworth to beat them with his arm as opposed to handing it off to the nation's returning rush leader.
Now, Illingworth has certainly risen to the occasion and helped the team stay undefeated, but the offense is not as dangerous with him on the field (sure he lit up Kansas, but so could a nine-year old). Sanders' legs keep defenses honest, which allows for more opportunities for Chuba, as well as the receiving corps.
Now, I have no doubt that Illingworth will improve and develop into the great quarterback Pokes' fans think he can be in the future, but for right now, Sanders is the guy. He's too talented to be playing second fiddle and he presents a whole different dynamic to OSU's offense. I've seen some say that the two quarterbacks should be used like Mason Rudolph and J.W. Walsh in 2015, with Sanders used primarily for running situations and Illingworth being the main passing threat. This is a terrible idea and should not even be sniffed by the OSU coaching staff. It would be a waste of Spencer Sanders' talent and it would not fool any defense.
Coach Gundy, Coach Dunn, go with Spencer. Shane's time will come. This is a team boasting its highest national ranking since 2017 and looking to make a Big 12 championship run. This weekend's game against Iowa State is enormous as the winner will have a clear advantage to at least reach the Big 12 Title game in AT&T Stadium in December.
Sanders is a proven player who will present Oklahoma State with the best chance to succeed. Illingworth will be there if need be, but no need to rush him out there unless absolutely necessary.
**Want to win a $20 gift card?  Go sign up here and join our conversation! The best poster each week wins a gift card to your favorite establishment!**