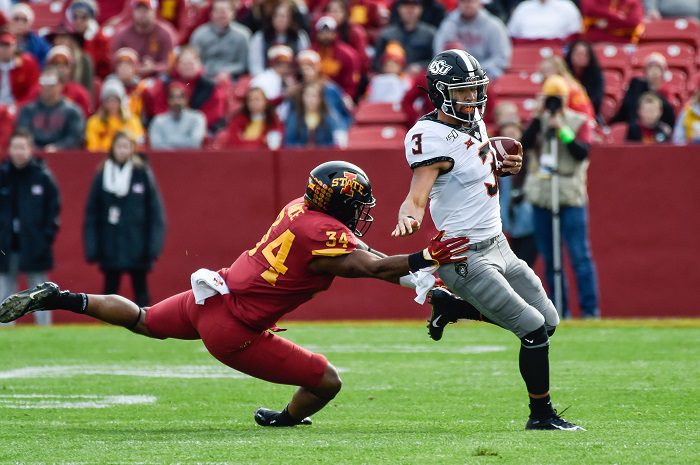 Here is everything you need to know about the upcoming Big 12 game in our Oklahoma State vs. Iowa State preview and prediction.
Game Info
2:30 p.m. October 24, Boone Pickens Stadium, Stillwater, Oklahoma
TV: FOX (Tim Brando, Spencer Tillman)
Radio: Cowboy Radio Network (Dave Hunziker), Cyclones Radio Network (John Walters), Sirius 135, XM 199
Spread: OSU (-3.5)
Fun Fact(s): Iowa State 3-0 in league play for just the fifth time in school history (1931, 1938, 1949, 2002). OSU owns a 32-19-3 all-time series advantage, including a 17-7-2 advantage in games played in Stillwater. OSU has won nine of the past 11 matchups, as well as five of the past six games played in Stillwater.
Key Players
Iowa State
RB Breece Hall
Oklahoma State's Chuba Hubbard got all the preseason hype but Breece Hall may be just as good. Or better. So far this season he's gone for 103, 154, 139, and 135 yards. Guess which game was ISU's only loss? The Cyclone's have a good quarterback, a match-up nightmare at tight end, and a defense that causes Big 12 offenses fits (no easy task) but there's substitute for a strong run game. On paper this is the best defense Hall has run against so far this year, but the Cowboy's did have trouble tackling West Virginia's back Leddie Brown, especially in the first half of that game. A similar sloppy start by them this week and Hall may go for 100 yards and two tds in the first half.
TE Charlie Kolar
Kolar is big, tall, fast for his size, and has great hands. He's a smart player, runs routes well, and is an absolute nightmare for any defense that he plays against. Like so many great players he falls victim to his circumstance where if he were on a team with a bigger profile (an OU, a UT) he'd be known far and wide. He can take over games. With ISU losing it's big outside receivers to the NFL, Kolar has become even more a safety net for Brock Purdy this season.
QB Brock Purdy
IT'S BROCKTOBER! Since switching to Brock Purdy at quarterback two seasons ago Iowa State is almost perfect in the month of October. Almost. I'm sure Purdy wants to avenge his only October loss and this week gives him a chance to. Three second half interceptions by Purdy doomed the Cyclones against Oklahoma State last season for his only Brocktober loss. The Cowboy defense seems legit, but if the gunslinger can limit his mistakes he'll have success. The play action to Kolar off of Breece Hall should be deadly!
Oklahoma State
QB Spencer Sanders? Shane Illingworth?
Maybe in the future I won't have to ask this question every week? After being available for the Kansas game but OSU playing it safe Spencer Sanders should be ready to go for Iowa State. After getting an extra bye week thanks to Covid you'd think the returning starter would get back in the saddle. Mike Gundy likes to stir things up though, and he has said Sanders and his backup are splitting reps equally in practice and both will be ready play. And that both MIGHT play. Illingworth has been impressive for a freshmen, but he's still a freshmen. Iowa State's defensive scheme causes problems for veteran signal callers. Maybe it's gamesmanship by Gundy to make the 'Clone's prepare for two QBs with wildly different styles. Maybe he means if Sanders can't shake the rust Illingworth will play, but if both see significant snaps there may be a QB controversy in Stillwater.
S Kolby Harvell-Peel
The Cyclones' Charlie Kolar will absolutely ABUSE small defensive backs. In their huge win against Oklahoma earlier this year the height-challenged Sooner secondary either had to let big tight end catch the ball or commit a foul to keep him from catching it. Harvell-Peel at six feet tall and 200 lbs isn't small but he still gives up around six inches and 60 lbs to Kolar. As the biggest of OSU's safeties he should get the match up most of the game anyway.
Defensive Line
Yes it was against pitiful Kansas but Oklahoma State's defense lived in the backfield in their last game. Eating up blocks and freeing up lanes for linebackers and safeties they helped the defensive total six sacks. They also helped hold the explosive Pooka Williams to 32 yards on 14 carries. A repeat performance against Brock Purdy and Breece Hall would be huge!
Key Storylines
Whoever wins this game is a favorite to make the Big 12 Title game but do we really know how good either team is? Yes, Iowa State beat OU but the Sooners aren't the Sooners they usually are. Other than that their wins are a bad Texas Tech team and a TCU squad with a dysfunctional offense. And then there's also that horrible loss to start the season. The Cowboys are actually more of an enigma! The squeaker they played against Tulsa was a cause for concern but then the Golden Hurricane went on the road and beat a number 11 ranked UCF in their next game. OSU also beat West Virginia on the strength of their defense but West Virginia doesn't seem to be a world beater either. We're not even going to consider the Kansas win as anything but practice. It also can't be discounted they've won without their quarterback. Iowa State is ranked 17 because they've earned it. Oklahoma State is ranked 6 mostly off of expectations that were built after last season. So basically we know nothing, but we will after Saturday. Which team is going to rise to the occasion and take hold of that Big 12 front-runner position?
Prediction
Oklahoma State: 31 Iowa State: 28
For me it came down to defense. Oklahoma State's defense is really good this season, and something about the scheme they run bothers Brock Purdy. He imploded in a close game in Ames last season and let the Cowboy's walk out with a victory. Iowa Sate can play defense too, and their scheme is perfect for the high flying Big 12, but they lack star power on that side of the ball. They hustle and swarm but they lack the speed and explosiveness to match up on the outside and contain players like Tylan Wallace and his speedy receiver friends. Matt Campbell probably still has nightmares about two easy screen passes that went for about 150 yards combined and two touchdowns in last year's loss. I think this one is close, and fairly low scoring for this part of the country. I also think we'll get a rematch of this game in December.
**Want to win a $20 gift card? Go sign up here and join our conversation! The best poster each week wins a gift card to your favorite establishment!**