Big 12 News
Big 12 Conference Releases 2020-21 Basketball Schedule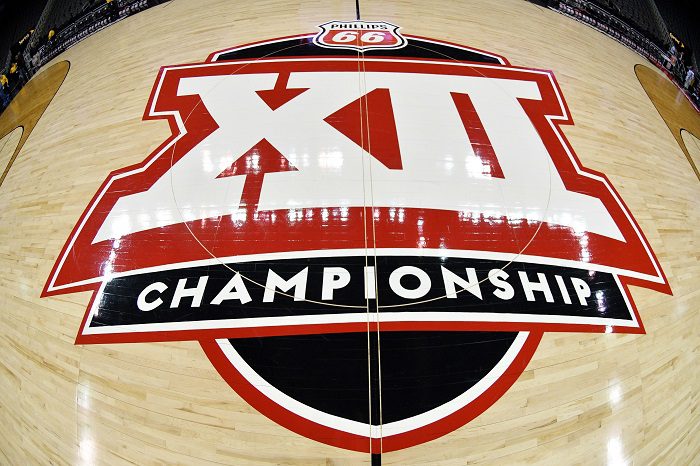 The Big 12 Conference released its 2020-21 men's basketball schedule on Monday with a twist — the conference schedule will start in early December.
TCU will host Oklahoma in the Big 12 season opener on Sunday, Dec. 6, nearly a month earlier than the Big 12 schedule usually starts.
Why? It's a nod to COVID-19. The Big 12 season is scheduled to end on Feb. 27, which is two weeks before the Big 12 Tournament in Kansas City, Missouri, on March 10-13. The gap between the end of the regular season and the tournament will give the league's teams additional times to play any postponed games.
Each Big 12 member will play two conference games before Dec. 25. After that, the league will settle into its normal two-games-per-week schedule until the Big 12 Tournament.
All dates are subject to change. Times and television designations will be released when available.
2020-21 Big 12 Basketball Schedule
Sunday, December 6
Oklahoma at TCU
Sunday, December 13
Texas at Baylor
Tuesday, December 15
Kansas State at Iowa State
Wednesday, December 16
TCU at Oklahoma State
Thursday, December 17
Kansas at Texas Tech
Friday, December 18
Iowa State at West Virginia
Saturday, December 19
Baylor at Kansas State
Sunday, December 20
Oklahoma State at Texas
Tuesday, December 22
West Virginia at Kansas
Texas Tech at Oklahoma
Saturday, January 2
Baylor at Iowa State
Texas at Kansas
TCU at Kansas State
West Virginia at Oklahoma
Oklahoma State at Texas Tech
Monday, January 4
West Virginia at Oklahoma State
Tuesday, January 5
Kansas at TCU
Iowa State at Texas
Kansas State at Texas Tech
Wednesday, January 6
Oklahoma at Baylor
Saturday, January 9
Texas Tech at Iowa State
Oklahoma at Kansas
Oklahoma State at Kansas State
Baylor at TCU
Texas at West Virginia
Tuesday, January 12
West Virginia at Baylor
TCU at Oklahoma
Kansas at Oklahoma State
Wednesday, January 13
Iowa State at Kansas State
Texas Tech at Texas
Saturday, January 16
Iowa State at Kansas
Oklahoma at Oklahoma State
Kansas State at Texas
Baylor at Texas Tech
TCU at West Virginia
Monday, January 18
Kansas at Baylor
Tuesday, January 19
Kansas State at Oklahoma
Oklahoma State at West Virginia
Wednesday, January 20
Texas at Iowa State
Texas Tech at TCU
Saturday, January 23
West Virginia at Kansas State
Kansas at Oklahoma
Baylor at Oklahoma State
Texas at TCU
Iowa State at Texas Tech
Monday, January 25
Oklahoma State at Iowa State
Texas Tech at West Virginia
Tuesday, January 26
TCU at Kansas
Oklahoma at Texas
Wednesday, January 27
Kansas State at Baylor
Monday, February 1
Oklahoma at Texas Tech
Tuesday, February 2
West Virginia at Iowa State
Kansas State at Kansas
Baylor at Texas
Wednesday, February 3
Oklahoma State at TCU
Saturday, February 6
TCU at Baylor
Texas Tech at Kansas State
Iowa State at Oklahoma
Texas at Oklahoma State
Kansas at West Virginia
Monday, February 8
Oklahoma State at Kansas
Tuesday, February 9
Texas at Kansas State
Iowa State at TCU
West Virginia at Texas Tech
Wednesday, February 10
Baylor at Oklahoma
Saturday, February 13
Texas Tech at Baylor
Kansas at Iowa State
Kansas State at Oklahoma State
TCU at Texas
Oklahoma at West Virginia
Monday, February 15
Baylor at West Virginia
Tuesday, February 16
Kansas at Kansas State
Texas at Oklahoma
Iowa State at Oklahoma State
Wednesday, February 17
TCU at Texas Tech
Saturday, February 20
Oklahoma State at Baylor
Oklahoma at Iowa State
Texas Tech at Kansas
Kansas State at TCU
West Virginia at Texas
Monday, February 22
West Virginia at TCU
Kansas at Texas
Tuesday, February 23
Iowa State at Baylor
Oklahoma at Kansas State
Texas Tech at Oklahoma State
Saturday, February 27
TCU at Iowa State
Baylor at Kansas
Oklahoma State at Oklahoma
Texas at Texas Tech
Kansas State at West Virginia
March 10-13
Phillips 66 Big 12 Championship
**Want to win a $20 gift card? Go sign up here and join our conversation! The best poster each week wins a gift card to your favorite establishment!**