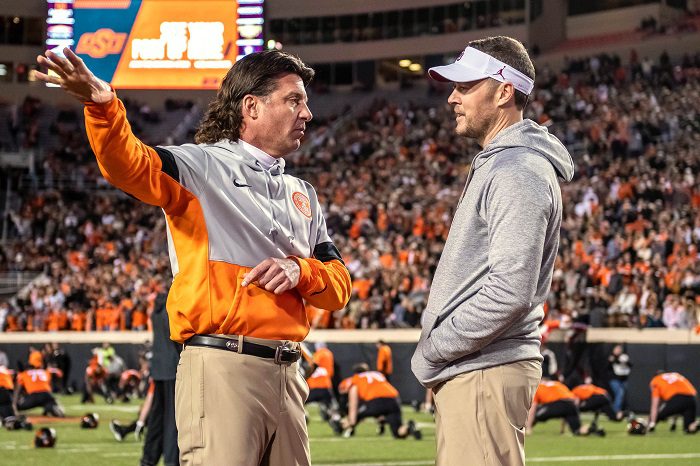 Ah yes, it's that time of year when the Big 12 Football Power Rankings return to Heartland College Sports. A reminder that these can change drastically from week to week. These are not supposed to be a mirror image of a given week's standings. It's based on the previous week's performance and the opponent when compared to the rest of the conference.
So with the 2020 season through Week 7, let's get into this week's Big 12 Power Rankings.
1. Oklahoma State Cowboys (Last Week: 3)
As we said last week, the winner of the Oklahoma State vs. Iowa State game would be No. 1 this week. As a result, it's the Pokes, who continue to prove their defense is for real this season and it gives an entirely new element to what Mike Gundy brings to the table with his team. Spencer Sanders back at QB gives the Pokes a run option at the position they haven't had in a long time, while Chuba Hubbard had his best game of the season thus far on Saturday. If OSU is just starting to hit its stride, watch out Big 12.
2. Kansas State Wildcats (Last Week: 1)
Yes, it was Kansas. But none of that should matter as K-State has proven itself week after week and improved to 4-0 in Big 12 play for the first time since 2014. It's a young team that continues to gain confidence. Whether it's Deuce Vaughn, Will Howard, Phillip Brooks or anyone else making big plays for the 'Cats, Chris Klieman is the coach of the year this far in the Big 12, and it's not even close.  
3. Oklahoma Sooners (Last Week: 3)
OU is back in the Top 25 after a dominant win over TCU on the road. The Sooners are a young group this year and they're going to get significantly better every week from here on out. Spencer Rattler is getting more comfortable. Marvin Mims is a dude at wide receiver. Oh, and Alex Grinch's defense did an outstanding job against the Horned Frogs on Saturday. I wouldn't want to get the Sooners in the last month of the season.
4. Texas Longhorns (Last Week: 7)
Hey, they're back in the win column, and at least for now, some of the off-field noise as quieted down after beating Baylor. At Texas, that can all change on a dime, but hey, let's take it one day at a time. The defense was great against Baylor, but the offense still has a ways to go and is far too reliant on Sam Ehlinger. That side of the ball needs to get fixed, and fixed quickly, if the Longhorns want to try and pull off the upset this weekend against Oklahoma State.
5. Texas Tech Red Raiders (Last Week: 9)
The Red Raiders desperately needed a win, and with new QB Henry Colombi, they got it done over the West Virginia Mountaineers. Of course the defense played a big role scoring the deciding go-ahead touchdown, but the team had a different swagger to it, especially on offense, thanks to Colombi, whose ability to move in the pocket and pick up yards with his feet changed the offense for the better. Tech isn't going to make too much noise in the Big 12, but they technically beat a WVU team who had the No. 1 ranked defense in college football. Matt Wells and his team should be proud of that as the rebuild continues.
6. Iowa State Cyclones (Last Week: 2)
Well the Cyclones covered the spread, but even that made the final score appear closer than the game felt down the stretch, when Oklahoma State's defense gave Iowa State QB Brock Purdy fits. For the Cyclones, this game was a step back as the offense was unable to live up to its own standards. Breece Hall had his moments, but the offensive line was overmatched all afternoon. This unit will need to continue to improve if Iowa State wants to find itself in Jerry World come December 19th.
7. West Virginia Mountaineers (Last Week: 4)
One week after WVU launched itself into the No. 1 spot in America for total defense, Henry Colombi had other thoughts. Colombi's dual-threat ability gave WVU some fits on Saturday. The Mountaineers are also having issues on offense, notably at wide receiver, where the unit had seven drops on Saturday and then Sam James fumbled away the go-ahead score for Tech. As good as the D is, the offense must improve of the Mountaineers are going to pull off a few more upsets in the conference.
8. TCU Horned Frogs (Last Week: 6)
Think about this for TCU: If Texas doesn't fumble at the goal line earlier in the season, the Horned Frogs are probably 0-4 right now. TCU is 1-3 and is looking at a third-straight mediocre (at best) season, something that hasn't happened to Gary Patterson during his time in the Big 12 Conference. The offense appears to be the bigger problem following Saturday's loss to OU where, once again, that side of the ball could not get in sync. It's been a problem for multiple seasons in Fort Worth and it appears to be continuing.
9. Baylor Bears (Last Week: 8)
The Bears are the hardest team to figure out in the Big 12 right now, most notably because they have played the fewest games and been the most impacted by COVID-19. Saturday's loss to Texas was not pretty, especially on offense, and then we find out Sunday that senior running backs John Lovett and Trestan Ebner are sitting out the rest of the 2020 season. When it rains, it pours, but this sure isn't what Dave Aranda had in mind for his first season on the job.
10. Kansas Jayhawks (Last Week: 10)
KU got smoked, again, on Saturday. This time in the Sunflower Showdown. Why do I have a feeling that the line "KU got smoked" will be a recurring theme the rest of the season? That's because it will. These guys are trying, but that doesn't mean it won't be ugly. Like, really ugly.
**Want to win a $20 gift card? Go sign up here and join our conversation! The best poster each week wins a gift card to your favorite establishment!**