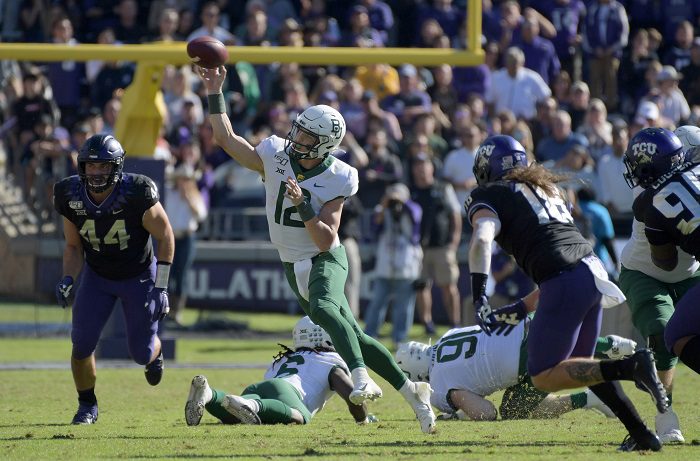 Here is everything you need to know as the TCU Horned Frogs take on the Baylor Bears in Big 12 action.
Game Info
2:30 p.m. Central Time, Saturday, Oct. 31, 2020, McLane Stadium, Waco, Texas
Records: TCU (1-3, 1-3); Baylor 1-2 (1-2)
TV: ESPN2 (Dave Flemming, Rod Gilmore, Kris Budden)
Radio: WBAP 820 AM, KTCU 88.7 FM, Sirius 135, XM 199; Baylor Sports Network, Sirius 121, XM 200.
Key players
TCU Horned Frogs
TE Pro Wells
Wells has only played four games and has three receptions, but his play is emerging as part of the Horned Frogs' offense. He is coming off a game against Oklahoma in which he caught two passes for 58 yards, including an 11-yard touchdown reception. It was his first touchdown reception of the season and makes him one of five Horned Frogs with at least one touchdown reception this season. The tight end's experience in offense is starting to emerge as an asset needed to diversify the passing game.
DE Khari Coleman
The three-star recruit was a Top 30 player in Louisiana high school football last year and he's earned a starting job as a true freshman. In his third consecutive start he totaled a career-high eight tackles, including 3.5 tackles for loss and a sack. It was the most tackles for loss in a game by a Horned Frog since Garret Wallow had 3.5 tackles for loss in last year's season opener versus Arkansas-Pine Bluff.
LB Garret Wallow
Speaking of Wallow, he had a team-best 11 tackles against Oklahoma to reach double figures for the second straight game and 12th time in his career. Wallow leads the Horned Frogs with 36 tackles this season. He also has 5 tackles for loss, a sack and two quarterback hurries. He's on track to earning All-Big 12 honors by the end of the season.
Baylor Bears
RB Trestan Ebner and John Lovett
So it was reported Sunday that both senior running backs had opted out for the rest of the 2020 season. Then that story was nixed. So what happened? And how motivated are they moving forward? We don't know what happened behind the scenes, but we know that the Bears need to improve on their running game which is dead last in the Big 12 averaging 3.0 yards per carry.
WR Gavin Holmes
Holmes is now tied for the most receptions among Baylor players this season with 15 catches. He caught his first touchdown pass of the season against Texas, and he caught a team-leading (and career-high) nine receptions. The redshirt sophomore, who basically missed two seasons due to redshirts and injury, now has more receptions this season than in his entire Baylor career.
LB Terrel Bernard
Let's break this down. Bernard is Baylor's best defensive player. How do we know? Against Texas last weekend he had 19 tackles (9 unassisted) and had at least 10 tackles for the sixth time in his career. It was also the second time Bernard has had 19 tackles in a game for his career. In just three games he has 40 tackles, 5.5 tackles for loss, 3.5 sacks, 1 interception, 2 pass-breakups, 1 quarterback hurry and a safety. The junior may have the goods to move on to the NFL next year.
Key storylines
TCU Horned Frogs
This is only TCU's second road game of the season, but they won't leave the state of Texas. In fact, the Horned Frogs won't play a game outside of state lines until a trip to West Virginia on Nov. 14. The road has been good to the Horned Frogs to this point. TCU has played four games, three of which have been at home at Amon G. Carter Stadium. But TCU lost all three home games. The Horned Frogs' one victory came away from home at Texas, where they beat the Longhorns on Oct. 3. So does that mean this is a road warrior-TCU team or was that an aberration? We may find out on Saturday, and a win or loss could be a real determinant as to whether the Horned Frogs will have a winning record by season's end.
Baylor Bears
The Bears haven't played a home game in a month, with their last contest at McLane Stadium coming on Sept. 26. In the meantime, they've missed two weeks due to a planned bye week and COVID protocols before finally getting back on the field against Texas last weekend. In complete opposition to the Horned Frogs, the Bears have played two of their three games this season on the road, losing both. The win? At home, against Kansas, in the Big 12 opener on Sept. 26. Kansas, of course, hasn't beaten anyone this year and appears pointed toward a winless season.
Prediction
TCU 27, Baylor 21
When we look back at this season, the winner of this game might be able to point back at this win and say this was what got them to a bowl game at the end of this season (assuming there are bowl games). It's one of those mid-season games where the home team hasn't lost at home and the road team hasn't lost on the road and there isn't a significant sample size to go by. But defense travels, so I'm taking TCU.
**Want to win a $20 gift card? Go sign up here and join our conversation! The best poster each week wins a gift card to your favorite establishment!**