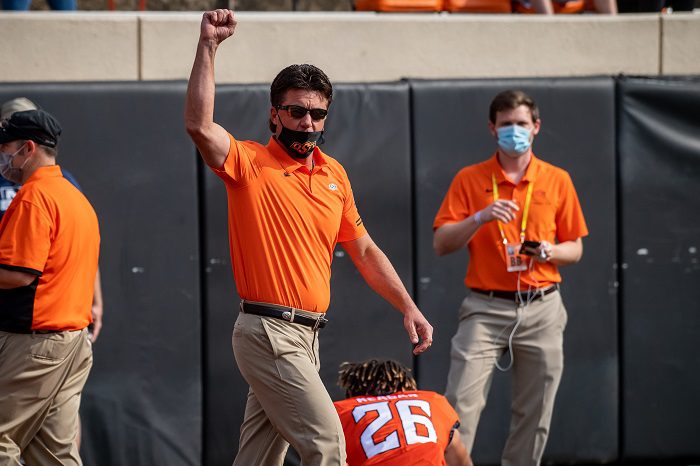 Welcome to the HCS Big 12 mailbag. This mailbag is for all you football junkies out there who root for a Big 12 school who not only have questions about your team, but other teams in the conference as well. So, join me, grab a cold brew or your favorite drink and relax as I answer all your Big 12 questions in my mailbag.
I will pick the best question for each mailbag and label it as my question of the week. The winner gets a free HCS Koozie to keep your beer cold (Unless you like it warm, but that's just plain wrong). I want to thank each one of you who submitted a question this week and for those reading, I am glad you could join me. I am doing this on Monday evening and of course this mailbag wouldn't be nearly as fun without a cold beverage right next to me. My choice? An ice-cold Shiner Bock. Cheers!
@Daellie007 asks: How about Oklahoma State having the number one defense? What is you thought on the Big 12 and the defensive renaissance we are seeing?
Duke: First off, Oklahoma State is playing fantastic defense. At just about every level, they have playmakers and rightfully so because they returned ten out of eleven starters from a season ago. We knew this defense was going to be good, but they have been better than I thought. They are allowing just a hair over 300 yards per game and even though statistically they are behind West Virginia, I think they are better than the Mountaineers. As far as the defensive renaissance we are seeing, I think it is due to the lack of offense in the conference but more importantly due to average quarterback play this season by normal Big 12 standards. Normally, it is easy to put together a top five quarterback list, but it would be a difficult thing to do this season due to the inconsistency at the position. But at least the national media is not crying about defense in the Big 12 for once. By the way, congrats on question of the week.
@Dillon1933 asks: In your opinion, does the big 12 play good defenses or is it a combination of average QB play and poor offensive line play?
Duke: I mentioned this in my previous question, but I think it has more to do with the quarterback play and the offensive line play we have seen this season. And to be fair, you can blame COVID for that too. Offenses need time to work on well, timing and as we all know, offensive lines need time to gel. The lack of preparation going into the season showed early, but I think these offenses will get going some as the weeks go on. However, that is not to take away from the defensive play especially when it comes to Oklahoma State, Iowa State and West Virginia. Those three teams play good defense.
@tracks182 asks: What is wrong with Iowa State's passing offense?
Duke: That is a great question, and our friend of the mailbag Matthew Carson made some good points. Offensive line play has been an issue at Iowa State for a while now. Coming into the season, there was a lot of unknown there and to be honest, it has been average at best but in the passing game, their protection has not been good. And another thing is the lack of receivers when it comes to getting separation. For example, against Oklahoma State, only one wide receiver caught a pass. That is an issue, and it is time for some of those wide outs to step up. Brock Purdy cannot throw to Chase Allen and Charlie Kolar every play. While I do put most of the blame on the surrounding cast, Brock Purdy has not played like a first round NFL draft pick in my eyes either. In five games, he has thrown for just five touchdowns. In that same time frame a year ago, he had ten passing touchdowns through five games.  
@Big12clone asks: If the offensive line were healthy, do you agree Purdy would look like the same guy as last year?
Duke: Well playing better would be a start and I know Iowa State has had a couple guys banged up as well on the offensive line. But even if the line were good, I would like to see more from the Iowa State receivers. I am not going to say he would be the same guy as last season, but he would be closer than what he is now.
@ia11stat asks: As much as I want them to, Oklahoma State is not making the Big 12 Championship Game, right?
Duke: Well right now the Cowboys are in the Big 12 driver's seat along with Kansas State. But these next three games for Oklahoma State are going to be crucial. They play Texas at home and then travel to Kansas State and Oklahoma. If they can manage to go 2-1 in the next three games, then I would book them in the title game. However, if they lose two out of the three, then things get interesting. But as of right now, I think the Cowboys finish the season with just one loss and make it to Jerry World.
**Want to win a $20 gift card? Go sign up here and join our conversation! The best poster each week wins a gift card to your favorite establishment!**