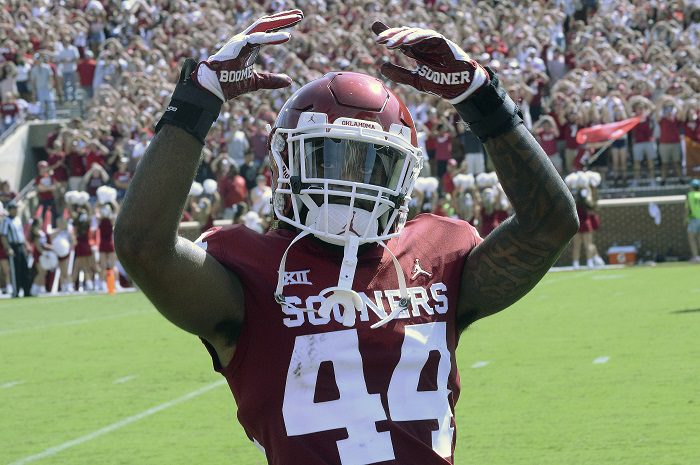 At the University of Oklahoma, the number 44 flashes memories of greatness, toughness, grittiness and impact. Brian Bosworth was a legend, he was cynical, dastardly, in your face, he buried his foes six feet deep. "The Boz" was non-apologetic and instant can of "toxic masculinity". Whenever Sooners fans think of #44, that is what comes to midn. When they think of a highly-touted defensive back, coveted by everyone in the country, OU fans might think of Roy Williams, the legend who has a play called "Superman" named after him after he showed unbelievable heroics against their hated rivals, south of the Red River.
Meantime, the current No. 44 in Norman: defensive back Brendan Radley-Hiles had unsustainable and unreasonable expectations from the time he signed his letter of intent to play for the Sooners in 2018. The freakishly-talented, on the smaller side (5'9 180 pounds) cornerback had 38 offers from around the landscape of college football. Clemson wanted him, Alabama wanted him, Florida, Texas, Michigan, Nebraska, Miami, Florida State all wanted him, and of course, Oklahoma ended up winning his pledge. He was tabbed a "savior" for the Oklahoma defense, and an instant impact guy, and he started right away. He was named the Big 12 Defensive Newcomer of the Year. "Bookie" (his nickname) brought energy, ferocity, a hammer (literally yes, a sledgehammer) and an attitude to the OU defense instantly. Midway through his freshman season, Radley-Hiles was viewed as a major difference maker even ESPN listed him on their mid-season Freshman All-America team.
Then, he was moved to play safety after suffering an injury. I saw this one live in the stadium, it was 3rd and 7, scoreless game in Milan Puskar Stadium against West Virginia. Bookie is about 10 yards back of the line of scrimmage and his first assignment from that spot is to make a check in the run game. But by the time he looked up, David Sills was 41 yards to the house for a touchdown. This image is one that I know sticks in the minds of many Sooner fans. OU fans have not really moved on from that, fair or not.

Since Alex Grinch came in as defensive coordinator, Bookie has started all 19 games. He has been pretty darn good in about 15 or 16 of those contests. He is back to playing nickelback for Grinch. Nickel is a very difficult position to play on the field, especially in Grinch's scheme, as you are a hybrid defensive back and linebacker. Against tighter formations, the nickel is expected to slide in, and play almost a SAM backer role. Bookie has been very consistent in this role for Oklahoma. He has great work ethic and instincts and always seems to be flying around the football in the running game, using proper spill and contain techniques and often getting in on many of the tackles himself. He is high-energy and a major difference maker for Oklahoma in that role, so much so Texas Tech Head Coach Matt Wells said he "44… I think I said this last year, 44 is a really good player. Plays with a lot of energy, emotion. He always stands out to me."
Radley-Hiles according to PFF this week was rated the Sooners best defender, as he led the Sooners in tackles, and was rated as their best tackler as well.
Bookie was also fantastic in the Red River Showdown this year. What about last year? Do you remember his 10 tackles, and forced fumble against Oklahoma State? Or his game-sealing interception against TCU? What about his game in last year's Red River showdown? The guy basically made Devin Duvernay a non-factor in that game.
This is not intended to fool anyone. Brendan Radley-Hiles is not a perfect football player. He certainly needs to play better in many areas of his game, one of which is his countless costly penalties he has on a weekly basis. There is no need to hit a punt returner early, or to pick up several pass-interference calls. Oh, and of course the targeting penalty that got him ejected in the College Football Playoff last season needs to be avoided.
His game against Iowa State was his worst game as a Sooner since since the aforementioned 2018 game against West Virginia. Then again, the coaching staff needs to take responsibility as Bookie isn't built to defend 40 snaps against a 6'6" tight end (Charlie Kolar) with no help. That is not his game.
But the point remains that Bookie plays a highly-complex, difficult position for OU, that is hard for most fans to understand as it does not typically get you the sexy stats of other positions. He is a fighter, a great leader and a very solid player for the Sooners. Bookie is not starting by default; he has won his job against all odds. He deserves far more respect than what he is getting from Oklahoma fans. He has grown from 2018 into a much better football player.
And Oklahoma will need him to continue to grow if their hopes of a sixth-straight Big 12 Championship is to come to fruition.
**Want to win a $20 gift card? Go sign up here and join our conversation! The best poster each week wins a gift card to your favorite establishment!**