Baylor Bears
Baylor, Kansas Lead 2020-21 Big 12 Basketball Preseason Poll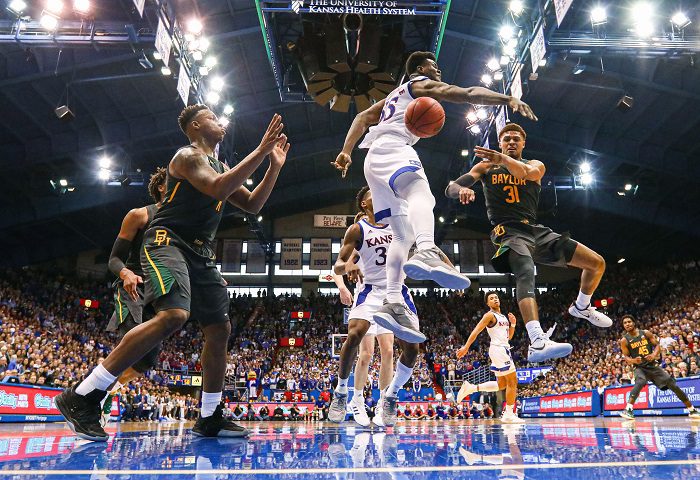 The Baylor Bears are the Big 12 preseason favorites, as the Bears took seven of the 10 first-place votes in the 2020-21 Big 12 Men's Basketball Preseason Poll, released on Oct. 29.
The Bears ended up with 79 overall points to Kansas' 73. Each coach had a vote in the poll and the conference did not release their individual votes. However, the Kansas Jayhawks had the other three first-place votes, so it's likely that most, if not all of the coaches, had Baylor and Kansas in the Top 2 spots.
That wasn't unexpected. Last year Kansas finished the season as the nation's No. 1 team in the final Associated Press poll and was the No. 1 seed in the Big 12 Tournament before it was canceled. Baylor spent much of the 2019-20 season as the nation's No. 1 team before a late loss to Kansas dropped it out of the No. 1 spot. The Bears finished No. 5 in the final AP poll.
The roles were reversed last preseason, as Kansas was No. 1 in the Big 12 preseason poll and Baylor was No. 2. This is the first time Kansas hasn't topped the poll since 2011-12, and the first Baylor has ever led the preseason Big 12 poll.
West Virginia was No. 3 in the poll, while Texas and Texas Tech rounded out the Top 5. The Longhorns and the Red Raiders were preparing to tip off the second day of the Big 12 Tournament before the entire event was canceled due to COVID-19. The Mountaineers were set to play later that day.
Oklahoma, Oklahoma State, Iowa State, TCU and Kansas State round out the preseason poll.
The regular season is set to begin on Wednesday, Nov. 25.
2020-21 Big 12 Men's Basketball Preseason Poll
Team (first place votes) Points
1. Baylor (7) 79
2. Kansas (3) 73
3. West Virginia 61
4. Texas 58
5. Texas Tech 53
6. Oklahoma 39
7. Oklahoma State 35
8. Iowa State 19
9. TCU 18
10. Kansas State 15
**Want to win a $20 gift card?  Go sign up here and join our conversation! The best poster each week wins a gift card to your favorite establishment!**