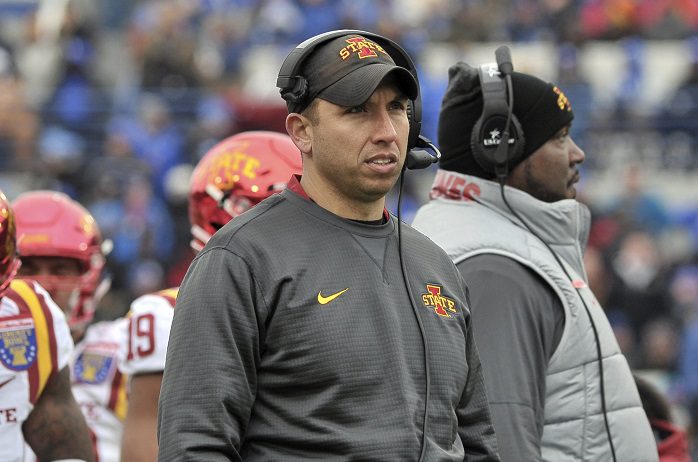 Iowa State will be facing off against the Kansas Jayhawks come Saturday. I know the entire sentence reeks of boredom. 
In fact, out of all the Big 12 games slated for this weekend, this will probably not get much attention with many who watch college football. 
Kansas, after all, has lost its star running back Pooka Williams.  Some could argue the biggest loss for an already struggling team has had in all of college football this year. 
Yet let's remember that last year, those down-in-the-dump Jayhawks in Ames made a game out of it well into the 4th quarter with Iowa State. The Cyclones went on to win the game 31-21.  
The fact is, Iowa State has a track record of playing down to competition. This year alone, they lost to Louisiana. Yes, there were COVID-related factors at play, but still, it was a bad loss playing down to competition. But just a couple of weeks later, they go out and beat Oklahoma.
Last year, in addition to the Kansas game, there was the scare against Northern Iowa. Two years ago it was Akron and Drake that were probably closer games than anyone would have liked.
Normally, we as fans blame sloppy play, penalties, the "unlucky" turnover, or the back up quarterback as reasons why we couldn't lay a Clemson-style smack down on the Vanderbilt's of the football world. 
But in reality, it's a mental thing that has plagued the otherwise well-coached and hard-playing Cyclones. Matt Campbell has been outstanding for Iowa State. But strange games against poor competition has been an issue for this program.
Iowa State has not learned to crush inferior opponents.  And just as many noted last week, they struggle mentally to win "big" games that matter as well. 
The tide can turn this week against the Jayhawks, but as for that 28.5-point spread? Well, as bad as Kansas has been, I wouldn't bet the mortgage on it.
**Want to win a $20 gift card?  Go sign up here and join our conversation! The best poster each week wins a gift card to your favorite establishment!**