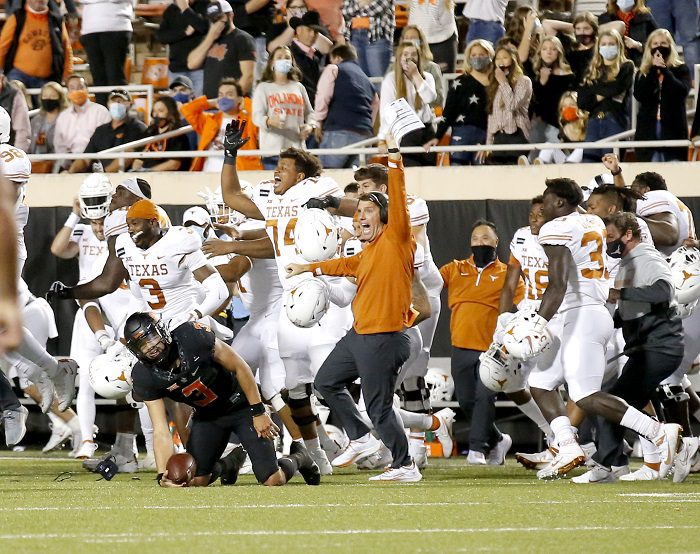 I hear it all the time, "Who has the best conference in college football?" SEC? Big 10? ACC? What about the Pac-12? Very rarely are you going to hear the words "Big 12" coming out of someone's mouth in that conversation. Whether you do it or not, there are plenty of folks out there who love to bash the Big 12 conference (cough, Paul Finebaum, cough). It was another crazy weekend in the Big 12 and there was plenty of jam-packed action throughout Saturday to get through.
The Good
West Virginia (Beat Kansas State 37-10)
After a bad loss to Texas Tech a week ago, I didn't think West Virginia would get back on track so quickly but here we are. The Mountaineers got two turnovers but did nothing with them early but in the second quarter, the offense got hot. They racked up a total of 485 yards on the day and completed 50% of their third downs. They had some guys step up on offense and Jarret Doege looked as good as he has all season tossing two scores and had 301 passing yards. Meanwhile the run game was solid as Leddie Brown and Alec Sinkfield had big games and of course Bryce Ford-Wheaton had himself a day with over 100 yards receiving. And how about that defense? After a let down a week ago, they absolutely broke the Kansas State offense and thanks the jumping out to a good lead, they forced Kansas State to throw the football and held them to under 230 yards.
Iowa State (Beat Kansas 52-22)
Well, anytime you need a bounce back win to feel good about your team, Kansas is the perfect opponent for that. Iowa State probably could have done a little bit more, but a 30-point win is sufficient. Brock Purdy had a great game but how about Breece Hall? He had another 100-yard day as his team racked up 258 rushing yards. And with his performance, Breece Hall becomes just the fifth power five player in the last fifteen years to rush for over 100 yards and have at least one rushing touchdown in his team's first six games. As for the defense, they played fine but the special teams still needs some work.
TCU (Beat Baylor 33-23)
What a first half for TCU. The Frogs jumped out to a 30-0 lead midway in the second quarter and never looked back. Unfortunately, they coasted the rest of the way, but a win is a win. Max Duggan did not have to do a whole lot, but the run game carried the offense with 247 yards on the ground led by Darwin Barlow. Special teams also had a good day, but how often that a team goes 2 for 13 on third down and wins by double digits? Defensively, I do not have any complaints. Baylor made it somewhat of a game late but overall, giving up 23 points is no big deal and quite frankly, the Frogs put it on cruise control too early.
Texas (Beat Oklahoma State 41-34 in OT)
I don't think many people saw this coming. Tom Herman saving his job on the road against a top ten team. I will start by saying that the offense did not deserve to win this game but thanks to a couple of key plays by Sam Ehlinger later in the fourth quarter/overtime, he did just enough to squeak by. But Texas fans should be thanking their defense/special teams for keeping them in the game. The defense got turnovers throughout the game and the 100-yard kick return by D'Shawn Jamison was huge although the flag for shushing the crowd was weak. Each week this defense is getting better and when you hold Oklahoma State to just 2.5 yards per rush, you are doing something right. Again, the offense made it ugly going 2 for 15 on third down and getting outgained but thanks to the defense, Texas was able to pull it off and perhaps turn this ugly season around for Texas. And how about Joseph Ossai? 12 tackles, 3 sacks and 6 tackles for loss. MVP performance.
Oklahoma (Beat Texas Tech 62-28)
Yawn. This game was one of the ugliest games I can remember. The Sooners could have hung 80 plus on Texas Tech if they wanted to because it was already 48-14 at the half. I do not have a whole lot of "expert analysis" here due to this game being so lopsided from the get-go. Spencer Rattler was good, and the run game managed to get over 200 yards led by Rhamondre Stevenson. And it was nice to see Theo Wease have a good game as well. The Box score stats do not due this game justice because Tech scored twice in the fourth quarter when the game was over hours earlier. This was a complete Oklahoma game and that makes back to back weeks of Oklahoma playing damn good football. Watch out.
The Bad
Kansas (Lost 52-22 to Iowa State)
Well, at least Kansas is not in my ugly column? That is a first for 2020. But there are still major issues this team must work out. The defense was pathetic giving up over 500 yards and despite many ill-advised throws, quarterback Jalon Daniels is getting a little bit better. Not a lot but a little bit. He is a tough kid and is not afraid to lower his shoulder to get that extra yard. That is something Kansas needs desperately. They need to be tough and scrappy. And to get that from your quarterback should send a message to the team. Hopefully, something can put a little life in this team.
Oklahoma State (Lost 41-34 to Texas in OT)
The defense deserves zero blame in this loss. They played their tail off and despite being put in tough situations all game long they held their own. This defense held Texas to just 287 yards and forced the Longhorns to go 2 for 15 on third down. That is a winning recipe. Unfortunately, it was the offense and more importantly Spencer Sanders who helped give the game to Texas on a silver platter. Yes, Spencer Sanders threw for 400 yards, but he had four of Oklahoma State's five turnovers of the game. Combine that with eight penalties (although a few were questionable at best) and you are giving Texas the game. They let the Longhorns hang around and, in the end, it cost them. This should have been an easy victory if not for the turnovers.
The Ugly
Kansas State (Lost 37-10 to West Virginia)
Yikes. I do not have a whole lot to say here. Kansas State played a terrible game. They turned the football over three times, they missed an opportunity to score early on from the two-yard line and to be honest, they were lucky the score was not worse. We all know this team is not built to come back from big deficits unless they play Oklahoma and last time I checked, West Virginia does not wear crimson and cream. The run game did not stand a chance due to the score and it forced Will Howard to make plays with his arm and it did not happen. And with the offense giving up the football, it put the defense it tough spots throughout the game and much like the offense, they did not do a good job getting the Mountaineers off the field. With that said, I think maybe we can put the Kansas State Big 12 title contender label to rest for now.
Baylor (Lost to TCU 33-23)
I am almost at a loss of words for this team. The offense is pathetic, and I said a week ago that I have no idea what offensive coordinator Larry Fedora is doing, and I stand by that. In his defense, the offensive line is atrocious. Charlie Brewer was sacked five times and hit many more. In the first half, Baylor was down 30-7 and had 80 yards of offense going 1 for 9 on third down. It doesn't get much worse than that. They eventually pulled withing a couple scores late, but this game was over in the second quarter. The Bears got beat in every single phase of this game but there was something that made me scratch my head. Down 33-14 with under thirteen minutes left to play with a fourth and goal from the ten, why is Dave Aranda electing to kick a field goal? What good did those three points do there? Just a week prior, Baylor punted from their opponent 30-yard line and it went for a touchback. It is going to be a long season in Waco.
Texas Tech (Lost 62-28)
This game could have been 80 to 14 in the Sooners wanted it to, but they slowed down their effort a bit in the second half. I know there were some tip drill type interceptions, but you cannot give Oklahoma the ball that many times in the first half. Henry Colombi had a bad game and the Tech defense had zero answer for Oklahoma's starting offense. I will say this. At what point does Tech turn things around? I thought it was last week, but I guess not. The Red Raiders still play TCU, Baylor, Kansas, and Oklahoma State. Outside of the OSU game, Tech has a chance to win three out of their last four games. Depending on how that goes should determine if Matt Wells is on the hot seat after the season is over. The defense is pathetic mostly in the secondary and the offense is wildly inconsistent. This program used to hang their hat on offense and now what do they do well? Do they play great defense? Nope. Do they have an offense that can drop 40? Nope. So, what is Matt Wells bringing to the table in Lubbock? I guess we will find out soon.
**Want to win a $20 gift card?  Go sign up here and join our conversation! The best poster each week wins a gift card to your favorite establishment!**