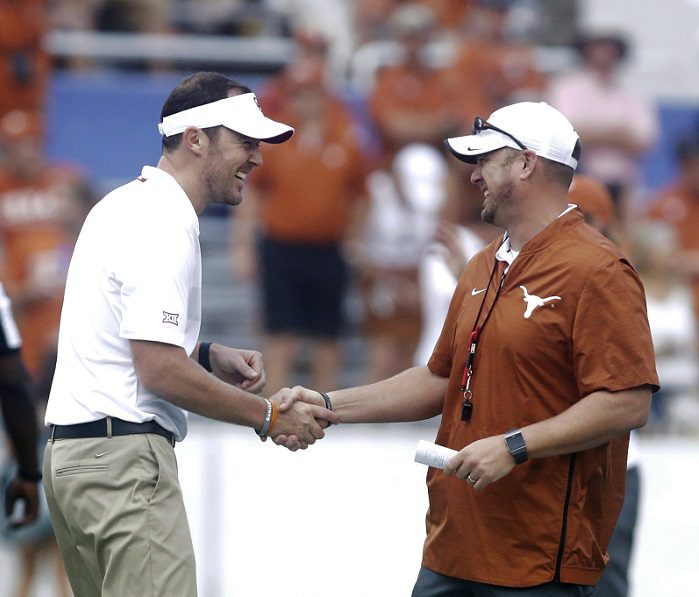 Ah yes, it's that time of year when the Big 12 Football Power Rankings return to Heartland College Sports. A reminder that these can change drastically from week to week. These are not supposed to be a mirror image of a given week's standings. It's based on the previous week's performance and the opponent when compared to the rest of the conference.
So with the 2020 season through Week 7, let's get into this week's Big 12 Power Rankings.
1. Oklahoma Sooners (Last Week: 3)
For the first time since before their loss to Kansas State, the Oklahoma Sooners are back in the No. 1 spot in the Power Rankings after a complete domination of the Texas Tech Red Raiders. Rhamondre Stevenson is back at running back and Ronnie Perkins returned on defense and the young team led by QB Spencer Rattler is getting exponentially better each week. This team has made huge strides and that will continue moving forward.
2. Texas Longhorns (Last Week: 4)
Well Texas has now won two-straight games and Saturday's was the best of the season with a 41-34 overtime victory at Oklahoma State. The Longhorns didn't exactly look like the better team, but to their credit they created four turnovers which in many ways turned out to be the difference in this game. Also, did Tom Herman save his job in this game? We will never know, but that was the speculation on our message boards (by the way, go sign up now, where it's free to join!).
3. West Virginia Mountaineers (Last Week: 7)
The Mountaineers didn't just win on Saturday. They beat up the No. 16 Kansas State Wildcats 37-10 one week after a tough loss at Texas Tech. The running game with Leddie Brown was excellent, the defense was outstanding, and even the passing game put it together. If that passing game keeps improving under Jarret Doege, then this WVU team is going to make some serious noise down the back stretch of the season.
4. Oklahoma State Cowboys (Last Week: 1)
The Cowboys lost their first game of the season on Saturday against Texas. Oklahoma State was the better team on Saturday night, but Spencer Sanders made too many mistakes at quarterback. The defense was not to blame in this game. The special teams had a blunder allowing a kick return for a touchdown and the offense lost the ball four times, with three of them resulting with Texas having the ball deep in Oklahoma State territory. It's tough to win a game that way. The Pokes still control their own destiny to win the Big 12, but the College Football Playoff may be out of reach.
5. Iowa State Cyclones (Last Week: 6)
The Iowa State Cyclones took care of business against Kansas on Saturday. And while the final score looks ugly, Iowa State fans are likely not thrilled with the pass protection for Brock Purdy and some of the play calling by Tom Manning. That being said, this team has a lot to look forward to moving forward and can compete for a Big 12 Title come mid-December.
6. TCU Horned Frogs (Last Week: 8)
The Horned Frogs got a win they desperately needed. Granted it's never ideal to take a 30-0 lead and then win a game 33-23 as they did against Baylor this weekend, but at this point, TCU just needed to get back into the win column. Max Duggan opened things up more on offense early in downs, which was a welcomed sight for the TCU faithful, and the defense gave Charlie Brewer lots of fits.
7. Kansas State Wildcats (Last Week: 1)
The Kansas State Wildcats were alone in first place this past week and ranked No. 16 in the AP Poll last week. That came to a screeching halt against West Virginia this past weekend as the Wildcats looked as mediocre on both sides of the ball as they have all season long. It could be a hiccup for a young team that hit a mid-season swoon, but knowing Chris Klieman, he will get these guys back on track and do it quickly.
8. Texas Tech Red Raiders (Last Week: 5)
The Red Raiders are in an uncertain place. Year 2 under Matt Wells is not going as planned. Tech got a nice win last week vs. WVU but was absolutely demolished this weekend against the Sooners at home. Henry Colombi is not built to help this team dig out of a big deficit at quarterback. Meantime, the defense continues to be unable to gel, despite several big grad transfers from quality Power 5 programs. But it's just not paying off in any meaningful way yet. That's a concern, and one of many right now in Lubbock.
9. Baylor Bears (Last Week: 9)
Speaking of concerns, there are plenty of those growing in Waco, Texas as well, where the Baylor Bears found themselves in another big hole on Saturday, trailing TCU 30-0 before losing by ten. This team has issues on offense, as I am not really clear what Larry Fedora has planned on offense and even the defense has had its issues thus far. We knew it would be a rebuilding year for Dave Aranda, but the COVID issues and others, certainly haven't helped him in Year 1.
10. Kansas Jayhawks (Last Week: 10)
The Kansas Jayhawks lost by 30 to Iowa State, but you know what, I came away thinking that there were some things to build on for KU on both sides of the ball. That's encouraging, but it's also a sign of how far this team has to go that a 30-point loss can be considered something to "build on".
**Want to win a $20 gift card? Go sign up here and join our conversation! The best poster each week wins a gift card to your favorite establishment!**