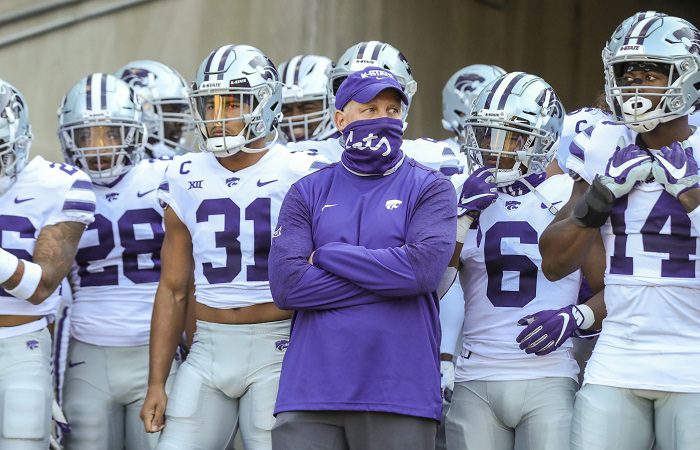 Two weeks ago some crazy dude dubbed the Kansas State Wildcats a contender for the Big 12 championship. That crazy dude was me. A blowout win over archrival Kansas had K-State nation guzzling the purple kool-aid. Then…
West Virginia 37 Kansas State 10.
The blowout loss on Saturday to the West Virginia Mountaineers has me seriously reconsidering my opinion of the Wildcats. Las Vegas oddsmakers opened the betting line with the Mountaineers as a slight favorite over the Wildcats, so I expected the game to be close even though the line ended up with the Mountaineers at minus five points. I was wrong right along with Vegas in thinking this was going to be a tight game. Despite the ugly loss, K-State remains tied with Iowa State for first place in the Big 12 and is a half game ahead of Oklahoma State, who happens to be the K-State's opponent this weekend. That doesn't change the fact that the Wildcats were exposed in this game against the Mountaineers.
What went wrong for the Wildcats on Saturday? Plenty. K-State star nickleback AJ Parker did not travel with the team to Morgantown because he suffered a leg injury in the previous game against the Kansas Jayhawks. With a crucial player missing in the K-State secondary, Mountaineer quarterback Jarret Doege was throwing to wide open receivers all day and ended up passing for 301 yards. Would AJ Parker have made a difference in this game? Maybe, but not only did the Mountaineers rack up some significant passing yards, they ran for 184 yards on the ground as well. The score may have been closer with Parker in the lineup, but I don't think it would have made a difference in the outcome of the game.
The Mountaineers came into the game with the top defense in college football of all teams that had played more than one game. On Saturday they were aggressive and hard hitting while constantly harassing K-State quarterback Will Howard. Howard ended the game with 184 yards passing with one touchdown and three interceptions. The last time a K-State offense threw for three interceptions in a game was when they were quarterbacked by Joe Hubener and Cody Cook during a 55-0 loss to Oklahoma in 2015. To be honest, Howard was throwing into double and triple coverage so much that he could have had more interceptions. He's kind of lucky he got out of there throwing three.
And where was running back Deuce Vaughn? Vaughn entered the game ranked sixth in the league in rushing at 61.8 yards a game and second in receiving at 72 yards a game. The West Virginia Mountaineers held him to 23 total yards on 11 touches. This wasn't all Vaughn's fault, however. He really had nowhere to run. The Mountaineer defense did a great job bottling him up.
This game had me wondering how in the heck the Mountaineers lost to Texas Tech the previous week. They really looked like world beaters in this one. They handed Chris Klieman the worst loss of his head coaching career. Before Saturday, Klieman had coached 103 games in eight years as a head coach. His worst loss prior to Saturday was in 2005 when he coached at Loras College when Loras lost 21-0 to Central College. Teams coached by Chris Klieman rarely get blown out like what happened on Saturday. When they lose the games are typically close. They also win a lot of close games. It's the nature of Klieman's "old school" coaching style of establishing the run and controlling the clock.
What's next for the Kansas State Wildcats? A lot of the excitement for this weekend's game with Oklahoma State was diminished not only when the Wildcats lost but also when the Cowboys lost in overtime to the Texas Longhorns. What potentially could have been a huge battle of undefeated teams in the conference instead has both teams reeling due to their losses. That being said, both teams are still very much in contention. A win by either team on Saturday in Manhattan will help pave their path to the Big 12 title game. Of course Iowa State, Oklahoma, Texas and even West Virginia will have something to say about that. It's a close race in the Big 12 with six teams either in first place or within a game of first place with four games to go.
Can K-State rebound and beat Oklahoma State this coming Saturday? I have my doubts, but I'm not counting out Chris Klieman and the Wildcats' ability to get things turned around. They are still in first place so they are still contenders, but they are trending downward after this disappointing loss. Perhaps they can figure out a way get things on the right track this weekend. Time will tell, but it's not time to give up hope quite yet.
*If you like what you've read from Joe Mathieu, find more on his personal K-State site: https://www.kstatejoe.com/*