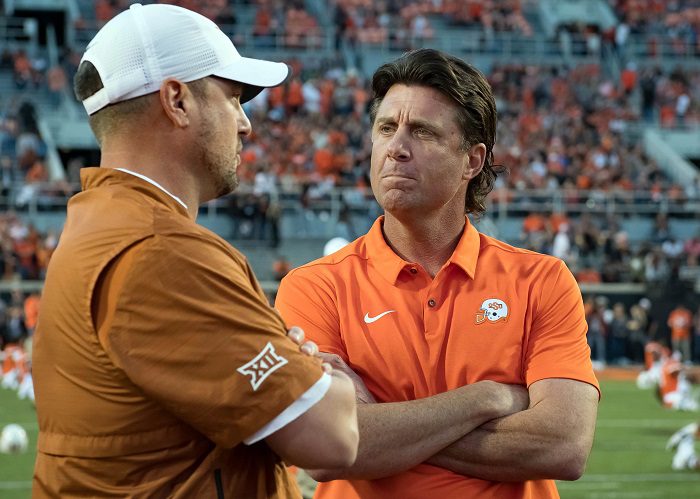 Welcome to the HCS Big 12 mailbag. This mailbag is for all you football junkies out there who root for a Big 12 school who not only have questions about your team, but other teams in the conference as well. So, join me, grab a cold brew or your favorite drink and relax as I answer all your Big 12 questions in my mailbag.
I will pick the best question for each mailbag and label it as my question of the week. The winner gets a free HCS Koozie to keep your beer cold (Unless you like it warm, but that's just plain wrong). I want to thank each one of you who submitted a question this week and for those reading, I am glad you could join me. I am taking a vacation in Florida for the next week and I am doing this while watching the waves hit the shore. I could not ask for a better view while enjoying my Tuesday morning coffee.
@tracks182 and @CoachBoeckman ask: What will it take for Breece Hall to get recognized by the national media?
Duke: Well, this is a mailbag first. Both of you asked just about the same question and I decided to combine the two. Mailbag history in the making and it is a fair question. In fact, I have a story on this on the website but here is my short version of it. Breece Hall is the nation's leading power five rusher yet we have running backs from Clemson (Travis Etienne), Alabama (Najee Harris) and Oklahoma State (Chuba Hubbard) that have better Heisman odds. The logo on the helmet matters to a lot of people despite what the numbers tell us. Six games in and Breece is making history yet because he plays for a 2-loss Iowa State team he is being punished despite putting up absurd numbers. It's time to wake up and smell the coffee ESPN and national media.
@istudiedtrees asks: What chaos should I hope for? Two losses for Texas, OSU, and KSU and one more for OU? So, I can feel comfortable for ISU going 3-1.
Duke: Here is the good news for you Iowa State fans. Just take care of business and you have a ticket to the Big 12 title game. You have already beaten Oklahoma and lost to Oklahoma State. If you beat Kansas State (which seems very doable now) and Texas which could be a tough one, you are basically in because then you just need to take care of Baylor and West Virginia. If I had to guess, Iowa State would likely be favored the rest of the way outside of maybe the Texas game since it is in Austin. But if you are a Cyclone fan, that is the game you mark on the calendar. November 28th. Black Friday. Do not worry about anyone else. If you take care of business, you are in.
@gorilla2k asks: Which Big 12 assistant FB coaches / coordinators do you see having a bright future as head coaches?
Duke: I think it is still too early for to tell for some but there are three that stick out to me. Oklahoma defensive coordinator Alex Grinch who had done a great job at turning around things in Norman. Another would be Texas offensive coordinator Mike Yurcich but most of his accomplishments were before he even stepped foot in Austin. Lastly, I think Oklahoma State offensive coordinator Kasey Dunn could also be a name to keep an eye on sooner rather than later. Those three come to mind but I feel like I am missing someone.
@DBSportsYT asks: Okay, so I know it was 2 throws, and it was against Kansas, so… How much hope should Cyclones fans have for Hunter Dekkers?
Duke: Chill my man! Let's not jump the gun too early. With that said, I think Hunter was an interesting prospect out of high school. He owns the most passing yards and touchdowns in Iowa High School history and is built like Texas quarterback Sam Ehlinger. I need to see more though.
Dillon1933 asks: What is your big 12 power rankings? Also, where does this loss rank for Gundy? Is it worse than 2011 ISU or 2013 Bedlam?
Duke: First off, Oklahoma State's loss to Texas is not worse than either one of those games. The 2011 loss to Iowa State cost the Pokes a spot in the National Championship game. The 2013 loss to Oklahoma cost them a Big 12 title. As of now, the Cowboys still have everything in front of them and not behind them. They still have a good shot at winning a Big 12 title despite the setback if they take care of business.
As for the Big 12 power rankings I would go with this.
Iowa State, (2) Oklahoma State, (3) Oklahoma, (4) Texas, (5) Kansas State, (6) West Virginia, (7) TCU, (8) Texas Tech, (9) Baylor and (10) Kansas
Congrats on question of the week!
**Want to win a $20 gift card?  Go sign up here and join our conversation! The best poster each week wins a gift card to your favorite establishment!**