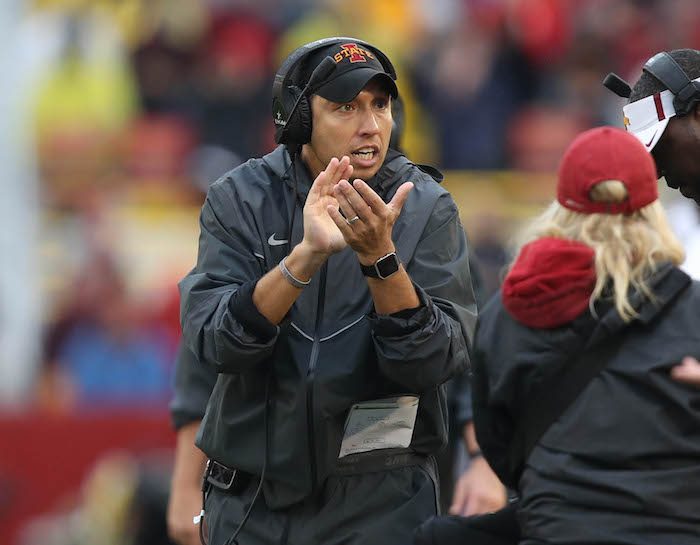 With Texas besting the Oklahoma State Cowboys last weekend, and Kansas State finding country roads aren't that fun, the Cyclones once again are tied for first place in the Big 12.
Controlling their own destiny in the conference is not often something we can say coming into November.  But here we are, and if Iowa State plays the remainder of their schedule up to their abilities, they can find themselves in Arlington at the Big 12 Championship Game come December.
Yet there are a few teams that historically they struggle against on the upcoming schedule. Texas is one of those teams, especially when the game is played in Austin.
Yes, they proved me wrong last weekend by thumping the Jayhawks; albeit that's the equivalent of beating your grandpa in basketball.  I wrote about their inability to put away inferior teams in the past and perhaps this shows us a new side of a Matt Campbell team.
Yet my other concern still remains to be seen.  Can the Cyclones play meaningful football with something on the line?
And they do still have to play Texas on the road, plus Kansas State and a much improved West Virginia team, yet the latter two are thankfully in Ames.
November has been a sketchy month historically for Matt Campbell's Cyclones. Since taking over the reigns of the program the Cyclones are only .500 (8-8), in the month of November.
Compared to their stellar record in October, this is quite the fall off for a team month to month.
However, the first few years you could say Matt Campbell was still establishing his recruiting base. Teams in previous years under different coaches had shown signs of wear and tear come the end of the season.
After all, if you are lacking depth and forced to play every snap of a game, the hits and fatigue begins to catch you come the cold of November.
The same situation could arise for the Cyclones this year as what happened in 2018, when the Cyclones played Texas in mid-November and would have had a very good chance of playing in the Big 12 championship game.
However, star running back David Montgomery was forced to miss the first half due to chippy play the week before with Baylor, and the Longhorns rolled the Cyclones 24-10.
I think back to this game as the game I realized Iowa State still had a thing to overcome yet in between their ears. Playing meaningful football when it matters in November is not something this program has been accustomed to during almost any point in its history. That remains a hurdle at Iowa State.
This week it will be Baylor coming to Ames. I am looking for a few things against Baylor this weekend to put me at ease.  Can the offensive line get figured out and become consistent in a season peppered with injuries and moving pieces? Baylor may be the medicine to tinker with this group.
Also, will Brock Purdy have a breakout game this year?  Don't get me wrong, he's been solid and has had good this year, but the jury is still out on if he is next level as a player.
I think he is.  But this year has yet to show it.  I think this game may be one of the last games that remain for him to play a rebuilding Baylor defense. Will this be that game?
The Cyclones are 14-point favorites and should win the game. I don't want to look too far ahead, but I believe this Iowa State season will ultimately come down to the Texas match up in Austin on Black Friday, November 27th. If the Cyclones win, they'll be in Arlington playing for a Big 12 Title.
But with that being said, this Baylor game will be the barometer for me as to what's to come this November. Will it be the .500 team from years past? Or this year will Matt Campbell's Cyclones put their foot on the gas and charge the finish of the season?
**Want to win a $20 gift card?  Go sign up here and join our conversation! The best poster each week wins a gift card to your favorite establishment!**