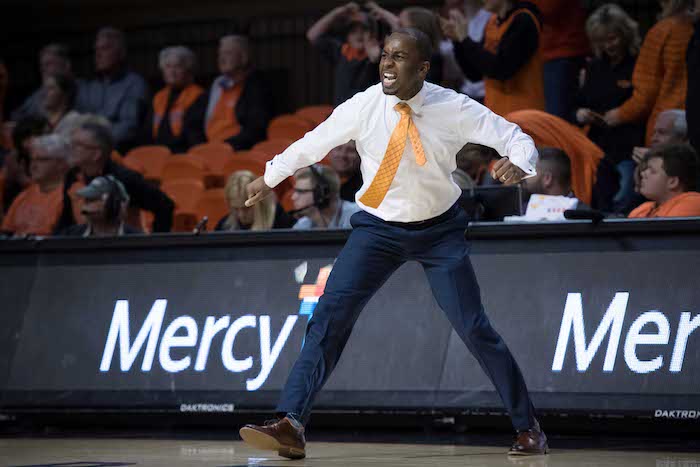 As our own Sean Bennett pointed out on Twitter Wednesday, Oklahoma State Cowboys basketball was recently ranked No. 33 in Ken Pomeroy's annual preseason college hoops rankings.
Pomeroy is not the only one to have the Cowboys so low to start the year. Both CBS Sports and Dick Vitale also have Oklahoma State pinned outside of the top 30.
Why does everyone seem to underrate OSU fresh off of a top-15 recruiting class? A class coveting the top-ranked player in the country in Cade Cunningham? I'm not sure if the lack of a brand name or the NCAA sanctions are hurting the Pokes, but I think Mike Boynton's team has at least top 15 potential when it's all said and done.
For starters, Oklahoma State returns guard Isaac Likekele, a shifty point who specializes in finishing at the rim and working his teammates open. He is also an elite defender who puts just as much effort on that side of the court as he does on offense. With all that said and the addition of talent on the roster, I believe 2021 could be Likekele's breakout season.
Boynton also returns sophomore big man Kalib Boone, who shared limited minutes with Yor Anei, even getting the start at the center position some games last season. Now that Anei has transferred to SMU, Boone will most likely become the full-time center, as JUCO transfer Bernard Kouma is the only other big man on the roster. We saw flashes of greatness in him last season as a freshman, flashes that proved that he can hang with other star centers in the conference, and I expect him to carry the momentum he gained last year over to 2021.
Most people look at the Pokes and think it's just Cade Cunningham and a bunch of background players, but I think most of the Cowboys production this season will come from other members of the 2020 class. Look for freshmen like Matthew-Alexander Moncrieffe and Donovan Williams to feed off of Cade's pass-first style of play that excels at getting teammates open.
I think people forget that Moncrieffe was the No. 1 player coming out of Canada, while Williams averaged 28.3 points and eight rebounds as a senior in high school.
Like I said, don't be surprised if the Cowboys wiggle their way into a top 15 ranking at one point or another. Sure, they're young and the Big 12 is loaded, but the talent on this team and the fact that Mike Boynton is coaching them has me drinking the orange Kool-Aid as we approach basketball season.
**Want to win a $20 gift card?  Go sign up here and join our conversation! The best poster each week wins a gift card to your favorite establishment!**