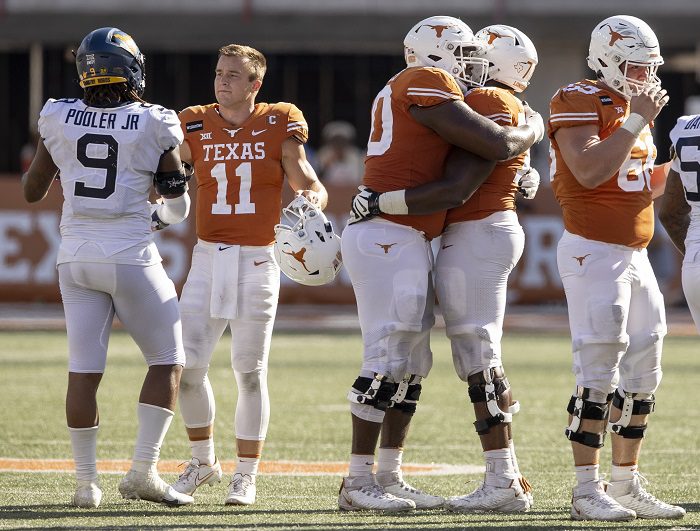 I hear it all the time, "Who has the best conference in college football?" SEC? Big 10? ACC? What about the Pac-12? Very rarely are you going to hear the words "Big 12" coming out of someone's mouth in that conversation. Whether you do it or not, there are plenty of folks out there who love to bash the Big 12 conference (cough, Paul Finebaum, cough). It was another crazy weekend in the Big 12 and there was plenty of jam-packed action throughout Saturday to get through.
The Good
Texas (Beat West Virginia 17-13)
Another week, another crucial win for Tom Herman. This game was all about defense and Texas used the classic, bend but don't break approach. They gave up 360 yards yet allowed just 13 points and held the Mountaineers to 6 for 16 on third down. But it was their red zone defense that did the trick as they forced West Virginia to go 0 for 3 on fourth down. The offense still needs a ton of work, but it was nice to see true freshman Bijan Robinson step into the spotlight with a 100 plus yard performance. It was ugly, but this team found a way to win to keep their Head Coach's job and their Big 12 title hopes alive.
Oklahoma (Beat Kansas 62-9)
What a beatdown and it was not even close. From start to finish, the Sooners dominated the Jayhawks and even with the backups in, they still dominated. Spencer Rattler got banged up so that will be the hot topic of conversation around Norman but how about Rhamondre Stevenson? Another 100-yard performance and five Oklahoma players had a rushing touchdown. On defense, they collapsed the pocket with a whopping nine sacks and the only touchdown that was given up is when time expired. And how about that third down defense? The held Kansas to go 3 for 19 on third down. Nothing else to say here but it was nice of Kansas to give the Sooners an extra bye week.
TCU (Beat Texas Tech 34-18)
It was not pretty at times, but a win is a win. Even if it comes against a team like Texas Tech. Max Duggan only completed 11 passes but it was the Frogs ground game that did the heavy lifting. TCU rushed for an outstanding 270 yards with you guessed it, Max Duggan led the charge for 154 yards and 3 rushing touchdowns. His legs were the TCU offense. While it may not be good enough to beat up on other teams, it was more than enough for Texas Tech. Defensively, TCU kept Tech in check and sacked Henry Columbi five times on Saturday. But what was even more impressive was the Frogs third down defense. They allowed Tech to convert just 3 of their 16 third downs. It was a combination of a power run game and solid defense. The Gary Patterson special.
Oklahoma State (Beat Kansas State 20-18)
I don't know how but the Cowboys pulled one out of their rear end on Saturday. With Tylan Wallace out and Chuba Hubbard banged up for most of the game, the offense was pathetic. The offensive line got beat badly up front and the passing game was dead because Spencer Sanders had trouble finding receivers all game long. But when push came to shove, backup running back LD Brown made a play and safety Jason Taylor II made a crucial 85-yard fumble return for a score in the fourth quarter. To simply put it, this offense does not deserve this defense. The defense is a Big 12 title type of defense and the offense remains a 6-6 type of offense. If the Cowboys can play better offensively, they would be an extremely tough team to beat. Unfortunately, it never has all come together just yet. Oklahoma State was lucky to walk out of Manhattan, Kansas with a victory thanks to some key turnovers late in the game.
Iowa State (Beat Baylor 38-31)
It is simple for Iowa State. If they did not turn the football over, who knows what this game would have looked like. Brock Purdy threw three picks in the first half with one going for six the other way. But he calmed down in the second half tossing three scores and of course, Breece Hall took over as he rushed for yet another 100 plus yard day and had a total of three touchdowns. I keep saying it, but the offense revolves around Breece Hall and the run game. Defensively, it was not great, but it was good enough to win. The offense put them in tough spots early on and at times, Iowa State struggled in the secondary. But they did come up with two interceptions when they needed them most. Outside of the Brock Purdy turnovers, the Cyclones would have won by more but sometimes they like to make things interesting. But how about this, Breece Hall continues his tear through 2020, Brock Purdy is the all-time leader in school history for passing touchdowns and the Cyclones are 5-1 in conference play for the first time ever. Not a bad night at all.
The Bad
West Virginia (Lost to Texas 17-13)
The Mountaineers are better offensively than what they showed on Saturday. Jarret Doege threw for over 300 yards and did not turn the football over which is something that is out of the ordinary for him. And oddly enough, the passing game picked up the slack of the run game that was non-existent with just 43 yards. But it was the red zone issues that worry me. The Mountaineers had six trips in the red zone and walked away with just 13 points in this game. That is not going to get it done and it is a shame because the Mountaineers defense played their tails off for the offense just to let it all go to waste. You can now kiss any chance of Big 12 title hopes goodbye in Morgantown.
Kansas State (Lost to Oklahoma State 20-18)
The game was in Kansas State's hands and it slipped right out in the fourth quarter. The Wildcats had a 12-0 lead and fell apart in the second half. Quarterback Will Howard was not a threat passing the football, but it was his legs that made the offense work as he had 125 yards rushing. But, due to turnovers, Kansas State lost this one. With less than seven minutes left to play, down 13-12, Kansas State had the ball on the OSU 20-yard line and Will Howard coughed up the football and it went for a scoop and score the
other way. Howard would redeem himself with a late touchdown but with an opportunity to win the game late, Will throw a costly pick that ended those chances. Much like Oklahoma State, the defense was spectacular, but it was the lack of offense that was the problem. I think we can kiss the Big 12 title hopes in Manhattan, Kansas goodbye for 2020.
Baylor (Lost 38-31 to Iowa State)
Normally, I have been a bit harsh on Baylor, but I will give them credit. They played some damn good football in the first half as they were up 21-10. The defense made plays forcing three turnovers with one of them going the other way for six. And Charlie Brewer found some success through the air early on with two passing touchdowns. But things seemed to come apart in the second half a bit. Iowa State scored 28 unanswered points and Baylor had no answer for Breece Hall and Brock Purdy when he stopped turning the football over. But at the end of the day, this team still had a chance late, but Charlie Brewer threw an ugly interception to help give Iowa State the close win. Overall, yes, they lost but they fought hard and I will say this. This team may not be very good but there is no quit in this team.
The Ugly
Kansas (Lost to Oklahoma 62-9)
I do not know where to start because there is a whole lot of ugly to go around here. The offense was a disaster as quarterback Jalon Daniels was sacked nine times. He was running for his life every play and the passing game suffered because of it. And due to the score, running the football did little next to nothing. Meanwhile, the defense had no chance of stopping the Oklahoma offense. The only question you must ask yourself if you are a Kansas football fan is, when does basketball season start? This team is going winless this season and I am not sure if they will come within two scores of any team. My advice? Make sure your fridge is full of beer and you have some liquor stored somewhere close by.
Texas Tech (Lost to TCU 34-18)
Unfortunately, Tech has made this list more times this season since I started this back in 2017. The offense didn't bring the juice as Henry Columbi struggled and was pressured throughout the game. Meanwhile the run game was non-existent averaging just three yards per carry. And of course, third down was a big issue as they converted just 3 out of their 16 attempts. As for the defense, it was simple. Tech had no answer for the run game of TCU and got torched for nearly 300 yards on the ground. I have said it before, and I will say it again. Is Matt Wells the right man for Texas Tech? This team was unprepared and not only outplayed but outcoached as well. In case you didn't watch something happened that made me question everything. Tech was down 27-18 with 2:44 left to play. The Red Raiders faced a 2nd and 4 on the TCU 19-yard line and Matt Wells decided to send out the kicker (Who has barely kicked this season at all) and the attempt was no good. Why on earth on second down are you attempting a 37-yard field goal with 2:44 left to play down nine at that point? That decision sums up this football season so far for Texas Tech. UGLY.
**Want to win a $20 gift card?  Go sign up here and join our conversation! The best poster each week wins a gift card to your favorite establishment!**