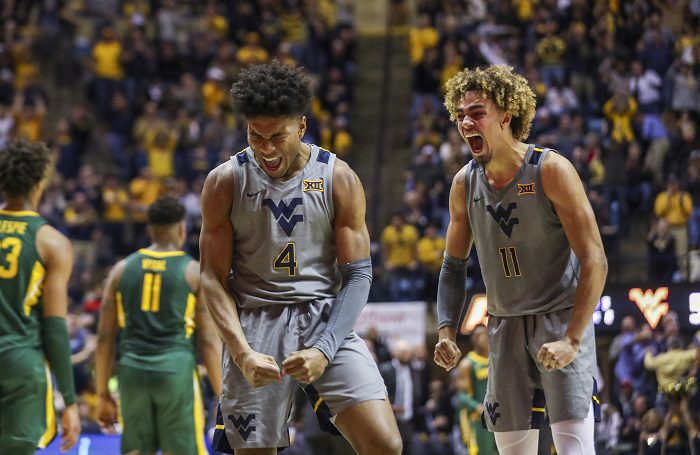 Selecting the Big 12 Conference's Top 25 returning players for the 2020-21 basketball season was a difficult task.
Today we continue our Top 25 with Nos. 16-20 as we run up to the start of the season. At some point during this series, you're going to hate me. That's cool. That's part of the job. Hit me up on Twitter at @PostinsPostcard if you agree or disagree. Or both. I'm happy to reply when I can.
Before we begin, here is some context for the selections.
First, any player considered must have played in the Big 12 last season. So, if you're looking for our Freshman, Transfer or Rising Player stories, we ran those earlier this offseason. They won't be included here.
Second, I watched about 75 percent of last season's Big 12 league games, attended the Big 12 Tournament in person (what there WAS of it) and watched about 25 percent of last season's non-conference games. I won't claim to be an expert, but I've done my best to see every possible returning player several times, either on TV or in person.
Third, I am not "projecting" performance for the coming season. That will probably end up being the most disagreeable thing about this Top 25. I can't project how players have improved over the summer or how they may fit in the configuration of their respective teams this coming season. There are too many factors at play. So the rankings are based on their performance LAST season. I will, however, provide a small sentence or two about how each player COULD fit into their team's season. But it wasn't a consideration for the rankings. In case you missed it, here is the link to our story on Nos. 21-25.
So which players are Nos. 16-20? Let's get started.
No. 20 — F Solomon Young, Iowa State
Young has had it rough. He saw his 2017-18 season end with a torn meniscus and then in 2018-19 he just couldn't get on the floor after a groin injury and redshirted. But in 2019-20 the junior roared back and reminded us of the player many thought he could be. He averaged 10.1 points per game, clearing double-digits in scoring on a per-game basis for the first time in his career. He also corralled 4.1 rebounds per game. He had it dialed in off the bench against Oklahoma State, scoring a career-high 27 points. In what eventually became a lost season for the Cyclones, he was one of the few bright spots and he emerged from the season injury-free.
Entering this season: I expect the 6-foot-8 redshirt senior to lead the Cyclones in rebounding and to be among its top three point producers on a per-game basis. The best is yet to come.
No. 19 — G Miles McBride, West Virginia
An All-Big 12 Freshman Team selection, McBride's play gathered steam as the season went on, and even though he only started two games, he became a vital part of the Mountaineers' resurgence as a true freshman. By season's end he averaged nearly 10 points per game and had a total of 56 assists and 35 steals. He was a solid shooter from the free-throw line (nearly 75 percent) and his defense improved halfway through Big 12 play. The Mountaineers, at times, had to press him into the point guard spot (he's really more of an off-guard), but he proved capable of handling that in spurts.
Entering this season: I expect him to start right away this season and he is on track to emerge as the Mountaineers' No. 3 scoring option. He needs to improve his 3-point shooting (30 percent last year). The good news is there is room to improve.
No. 18 — F Terrence Shannon Jr., Texas Tech
I'm going to throw a name out here — Zhaire Smith. Shannon's athleticism reminded me of Smith, who parlayed an impressive freshman year in Lubbock into a first-round NBA draft selection. The good news for Red Raiders fans is that Shannon, who was an All-Big 12 Freshman team pick last year, decided to come back. He averaged 9.8 points, 4.1 rebounds and 1.0 assists as a true freshman. Shannon wasn't among the top producers in the conference in points or rebounds, but he was right on the edge. His best asset as a freshman was his 82.9 percent shooting at the free-throw line, seventh-best in the Big 12. His performances in the back half of the Big 12 slate were among the best on the team.
Entering this season: He should be a starter. How high his ceiling is will depend upon how much action the quartet of Red Raiders transfers siphon off. But good luck keeping this guy on the bench.
No. 17 — F Jericho Sims, Texas
I felt Sims underachieved in 2018-19. That wasn't the case last season, where his overall game took a leap forward before a season-ending injury. As a junior, the 6-foot-10 pivot was a starter right away, led the Longhorns in rebounding (8.2 per game) and was fourth in scoring per game (9.7 ppg). And while a near-double double per game might not seem like 'improvement', you have to watch Sims' tape to understand it. He became a better low-post defender. His mid-range game improved. He was a better positional rebounder. And when he left the floor due to injury in February, the Longhorns clearly missed him.
Entering this season: Sims should be fully healthy and ready to start by the season opener. It's quite possible that he's one of the few players in the Big 12 that could average a double-double, but he'll have to be as efficient as he was last year, given the wealth of guards the Longhorns have on the perimeter.
No. 16 — G Courtney Ramey, Texas
Speak of the devil, here's Ramey, now a junior and a holdover from last year's Top 25. As a sophomore Ramey played in every game and averaged 10.9 ppg, hitting double figures 19 times. But he's more than a scorer now. He was second on the Longhorns in assists (2.9 apg), rebounding (3.9 rpg), steals (31) and minutes (31.5 mpg). I mean he really produced night in and night out for the Longhorns. And like many of UT's guards, he emerged as a better defender, perhaps its best perimeter defender. He's not a player you want to mess with, especially when he's hot.
Entering this season: The Longhorns have to sort out a crowded returning rotation, but expect Ramey get close to the 31.5 minutes per game he got last year, and to produce at a similar level.
Next: Nos. 11-15.
**Want to win a $20 gift card?  Go sign up here and join our conversation! The best poster each week wins a gift card to your favorite establishment!**