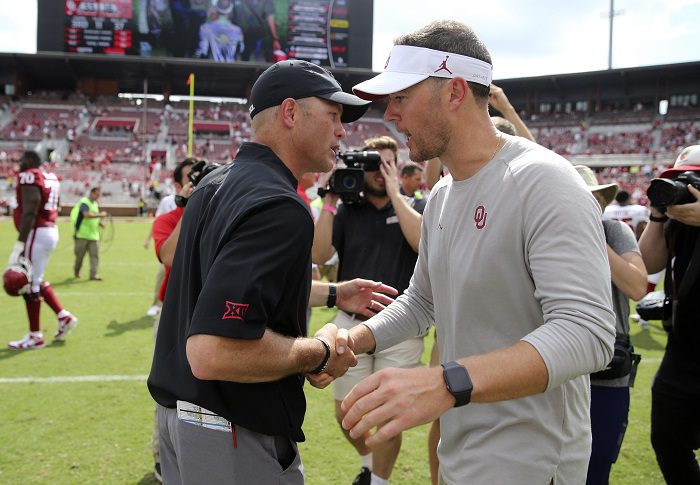 Here is part two of this week's mailbag. You can read Part One of the mailbag here. Enjoy!
@KcHolz asks: Why do Big 12 refs love Texas?
Duke: We need to shake this whole "Why do the Big 12 refs like or favor this team" argument. I watch a ton of Big 12 football. In fact, there probably is not a single person on this planet that watches more Big 12 football than I do. I take pride covering this conference to the best of my ability and believe me when I say this. The officiating in this conference is terrible. However, there may be a game where it can certainly feel like a team is getting more calls go their way but over the course of a season, it all balances out. No team gets calls all year long. It comes and goes. One day your team will get things to go your way and the next, you will be lucky to catch a break. Welcome to the Big 12.
@Schmitty27 asks: Two questions who makes the big 12 title game if there is 4-way tie at the top at 7 and 2? OU and Texas it would seem. What seems to be the most likely Big12 championship game right now?
Duke: This hurts my brain thinking about it but listen up. If Texas goes 7-2, that means they will win out beating Iowa State and Kansas State in the process. Which means Texas would be in at 7-2. So, Iowa State and Kansas State would be out due to Kansas State having three conference losses and Iowa State losing the head to head against Texas. If Oklahoma finishes with a 7-2 conference record, the same thing will happen. That means they also won out and beat Oklahoma State in the process. Add all that up and you have a Red River Rivalry rematch. As for my Big 12 title pick, I will take Oklahoma and Iowa State.
@TrisyMc asks: You're Texas Tech HC Matt Wells: With the offense and special team's performances this season do you look to make a change on the staff? Or do you keep them to ensure their recruits stay committed and hope it improves next season?
Duke: This one is tough because it may sound harsh but look at this program right now. The talent is there offensively. You have Alan Bowman who I still believe in. You have some great wide outs and a good running back in Thompson. The offensive line has not been that bad either. So, if I am Matt Wells, I am hiring a new offensive coordinator to find someone to make this offense go because it is below average at best. Why? Because my job is likely on the line next season if I do not start seeing results. And as for the defensive coordinator Keith Patterson, he would have been gone yesterday. The Red Raiders are dead last in the Big 12 in total defense and pass defense. And they are eighth in run defense. Oh, and by the way, they are giving up an average of 40 points a game. If I am Matt Wells, I am cleaning house to try and save my job but that is just me. Solid question and deserving of question of the week.
@TheHawkTTU asks: Why did Texas Tech hire Matt Wells?
Duke: I really have no clue. I was not a fan of the hire due to his inconsistent record at Utah State and look at the last two seasons. What is better since they fired Kliff Kingsbury? The offense? Nope. The defense? Absolutely not. Two years ago, I was in favor of hiring Graham Harrell but maybe that ship has sailed already. All I know is the next hire needs to be someone who brings some offense to the table or is a guy who knows how to build a program and get the most out of his players.
@Shroudedllama asks: Should I try to walk on at OSU and play guard? I am a big dude, and they need bodies.
Duke: Man, Dave those guys need all the help they can get between injuries and guys who have left the program on that Oklahoma State offensive line. Before the season started, I said they are an offensive line away from being my overall favorite to win a Big 12 title and I still stand by that. With that said, go for it. Make sure you stretch and bring plenty of icy hot with you. I am sure Rob Glass can get you into football shape in during the by week.
**Want to win a $20 gift card?  Go sign up here and join our conversation! The best poster each week wins a gift card to your favorite establishment!**