The Heart Beat
The Heart Beat (Nov. 11): Breece Hall v. Troy Davis, Recruiting Updates and More!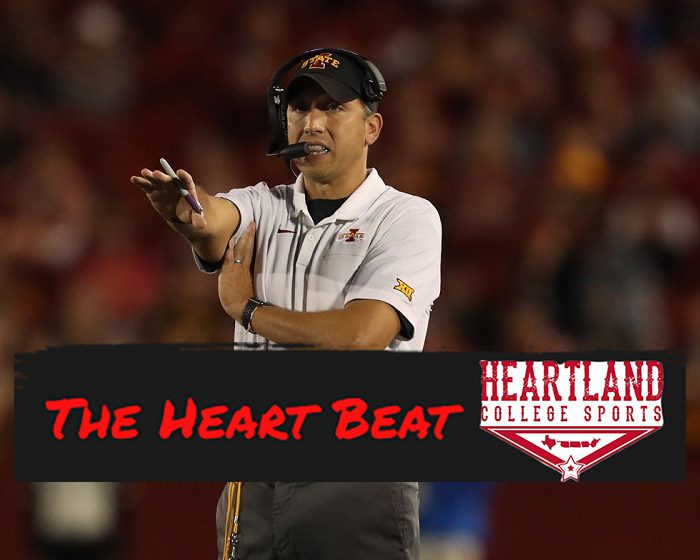 It's time for our links to our favorite bunch of Big 12 content from the previous 24 hours. Think of it as a brunch/lunch links for you to avoid and delay work, plus your boss!
**If there is ever content you'd like us to consider for the following day's Heart Beat, please email me directly: [email protected] or direct message us on Twitter (@Heartland_CS)
Big 12 Content
Is QB Charlie Brewer the Baylor Bears' "ride or die" guy?
Which Iowa State running back do you want? Breece Hall or Troy Davis?
While OU is off this week, Drake Stoops, son of former head coach Bob Stoops, is ready to make his mark on Bedlam next week.
Meantime, Early Signing Day (Period) is just over a month away, and here are four Oklahoma State targets to keep an eye on.
Also on the recruiting trail, can Texas land one of the top linebackers in the state?
Staying at Texas, DT Keondre Coburn's ankle injury is not as bad as was feared and he could play vs. KU this weekend.
How much better is West Virginia than last year? Neal Brown says "I know we're better."
A former KU player is now a general manager of a G League team.
How is Gary Patterson going to deal with his cornerback depth?
Non-Big 12 Content
ESPN breaks down the path to the College Football Playoff for all the contenders.
COVID-19 is now taking a hit on the SEC heading into a big weekend slate.
If Michigan moves on from Jim Harbuagh… who is on the list?
**If there is ever content you'd like us to consider for the following day's Heart Beat, please email me directly: [email protected] or direct message us on Twitter (@Heartland_CS)