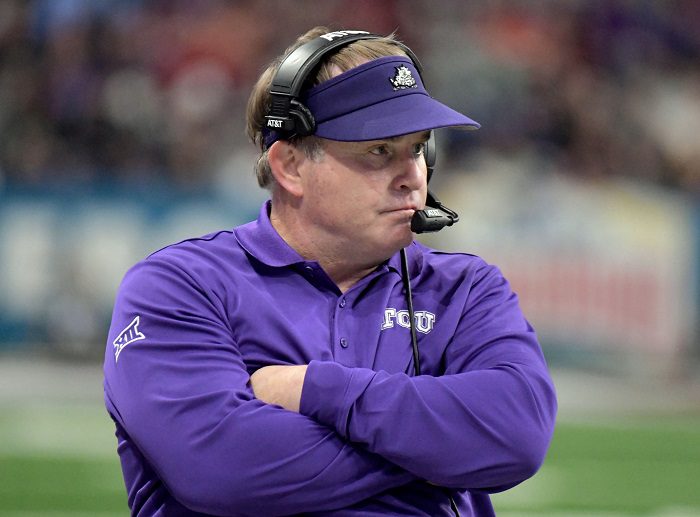 Between the Masters and other big college football games on, some may call it a slow weekend in the Big 12 conference. And I get it. Just two conference games on Saturday that features four of the bottom five teams in the Big 12. While everyone looks ahead to next weekend, it is quite possible that many are overlooking just how important this weekend really is for a couple teams.
There is a matchup in Morgantown, West Virginia that deserves more attention. At 11 a.m. on Saturday, the 3-3 TCU Horned Frogs will be facing off against the 4-3 West Virginia Mountaineers. Now before you turn the channel or dismiss any thoughts about this game despite the records, the stakes remain high for this matchup.
Without their lone out of conference game against SMU, the TCU Horned Frogs sit at 3-3 with wins over Texas, Baylor, and Texas Tech. And if there is a such thing as a Texas State champion in the Big 12, then the Horned Frogs are it as all three of their wins have come against teams from the Lone Star State. Yet despite the average record, if TCU can win on Saturday, that will move them to 4-3 with two remaining games against Kansas on the road and Oklahoma State at home.
Without a doubt, Kansas is an easy victory which could potentially push TCU to a 5-3 record heading into the final weekend of the regular season for Gary Patterson and company. By that time on December 5th, the Big 12 title picture will be much clearer, and it is possible that Oklahoma State could be on the outside looking in terms of securing a spot in the Big 12 Championship game. Who knows, maybe by then, the Cowboys don't have that same fight with two losses in conference play and in this crazy year of 2020, TCU may have a shot to pull of a wild upset. How crazy would it be for this team to finish the season with a 6-3 record heading into the bowl season? Nobody and I mean nobody would see that coming and as for the whispers of a Gary Patterson hot seat, those would turn into ice instantly.
On the flipside, this game means just as much to the West Virginia Mountaineers. A win on Saturday would guarantee a .500 record that many may not have seen coming considering they were picked to finish eighth in the Big 12 preseason media poll. And who knows, maybe they shock Oklahoma at home or Iowa State on the road depending on where those teams are in a few weeks. However, as good as it can be for the Mountaineers, there is potential for a serious disaster on hand. If they lose on Saturday, those games against Oklahoma and Iowa State are tough games no matter where those teams stand in the Big 12 race. As much as it may sting, four-straight losses to finish the regular season is certainly not off the table. And that would be a shame considering the 4-2 start which really should be 5-1 if they did not have that dreadful performance in Lubbock a couple weeks ago.
The focus of this conference remains at the top where it should. Five teams remain in the hunt for a Big 12 title berth and as the weeks go by, that number will shrink. Someone will take home the gold or silver should I say since that is what the Big 12 trophy is made from. Just because the records of two teams may not reflect the importance of the game, keep in mind, all conference games are important. In just three games, someone can end the season with a ton of momentum for 2021 or could see drastic changes in the blink of an eye. The question is, which will apply to TCU and West Virginia at the end of the season?
**Want to win a $20 gift card?  Go sign up here and join our conversation! The best poster each week wins a gift card to your favorite establishment!**