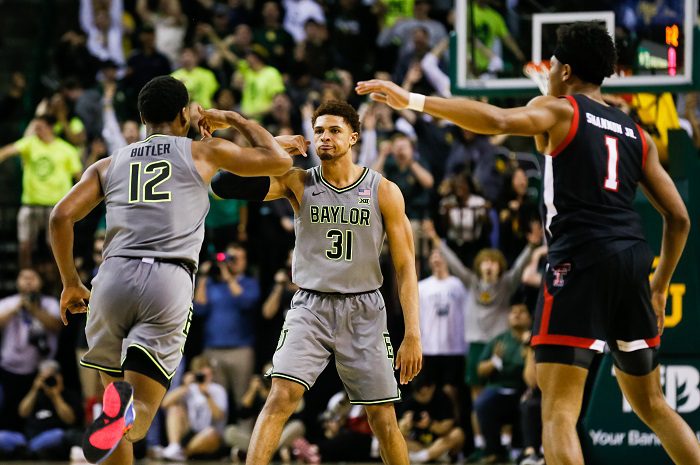 Leading up to the opening of the 2020-21 Big 12 Men's basketball season Heartland College Sports will analyze each of the Big 12 men's basketball teams. Today it's the Baylor Bears.
Season opener: The Bears will open the season at the Empire Classic in Uncasville, Connecticut, on Nov. 25. The Bears' opponent will be Arizona State.
Tournaments: The Empire Classic is the only true 'tournament' the Bears have on the schedule this season. The Bears have a spot in the Jimmy V Classic on Dec. 2, assuming it is played. The opponent will be Illinois.
The Big 12/Big East Game: Baylor travels to Seton Hall on Nov. 29.
The Big 12/SEC Game: The Bears are set to host Auburn on Jan. 30. It's considered one of the marquee games in the annual event.
The Big Non-Con: While it's not a tournament game, the matchup with Gonzaga in Indianapolis, Indiana, on Dec. 5, might be the best non-conference game of the year. That game comes three days after the Illinois game, which is also in Indianapolis.
Mid-Major Danger: Nicholls State won 21 games last season and finished third in the Southland Conference last year. While the Colonels probably aren't in Baylor's class, that's what most thought two years ago before the Bears lost at home to Stephen F. Austin.
Big 12 Opener: The Bears open the Big 12 season at home against Texas on Dec. 13. Oddly enough, that's exactly how the Bears opened last season.
The 'Big' Big 12 stretch: The Bears get their first significant league test starting Jan. 12 with a home game against West Virginia. After that the Bears travel to Texas Tech, host Kansas and then travel to Oklahoma State. At that point the Bears will be midway through their league slate and we'll have a good idea of where they stand in the conference pecking order.
Note: Due to COVID-19 and the late-evolving nature of national schedules, the schedule is subject to change and could see games removed or added with little notice.
2020-21 Baylor Schedule
(Home games in Bold; *-Big 12 game; schedule subject to change)
Date Opponent
Nov. 25 vs. Arizona (Empire Classic, Uncasville, Connecticut)
Nov. 26 vs. Villanova or Boston College (Empire Classic, Uncasville, Connecticut)
Nov. 29 at Seton Hall (Big 12/Big East Battle)
Dec. 2 vs. Illinois (Jimmy V Classic, at Indianapolis, Indiana)
Dec. 5 vs. Gonzaga (at Indianapolis, Indiana)
Dec. 8 Nicholls State
Dec. 13 Texas*
Dec. 19 at Kansas State*
Dec. 21 Arkansas-Pine Bluff
Dec. 29 Central Arkansas
Jan. 2 at Iowa State*
Jan. 6 Oklahoma*
Jan. 9 at TCU*
Jan. 12 West Virginia*
Jan. 16 at Texas Tech*
Jan. 18 Kansas*
Jan. 23 at Oklahoma State*
Jan. 27 Kansas State*
Jan. 30 Auburn
Feb. 2 at Texas*
Feb. 6 TCU*
Feb. 10 at Oklahoma*
Feb. 13 Texas Tech*
Feb. 15 at West Virginia*
Feb. 20 Oklahoma State*
Feb. 23 Iowa State*
Feb. 27 at Kansas*
**Want to win a $20 gift card?  Go sign up here and join our conversation! The best poster each week wins a gift card to your favorite establishment!**