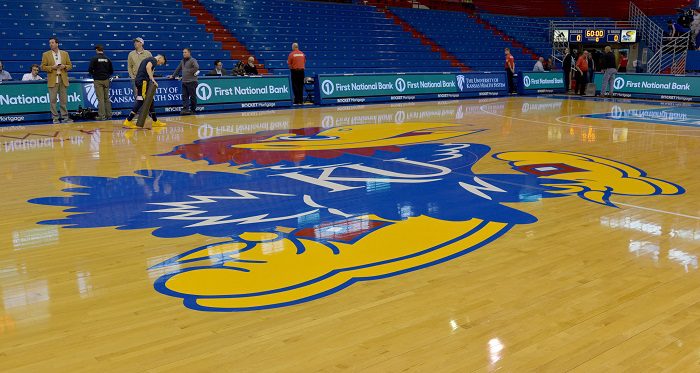 Leading up to the 2020-21 Big 12 season, Heartland College Sports will analyze each of the Big 12 men's basketball schedules. Today it's the Kansas Jayhawks.
Season opener: The Jayhawks will open the season at the Fort Myers Tip-Off in Fort Myers, Florida, as they face another Top 5 team, the Gonzaga Bulldogs.
Tournaments: The Fort Myers Tip-Off is the only true tournament on the schedule this season.
The Big 12/Big East Game: Kansas will host Creighton on Dec. 8.
The Big 12/SEC Game: Kansas plays one of the Big 12/SEC marquee games when the Jayhawks travel to Tennessee on Jan. 30.
The Big Non-Con: The Jayhawks will face Kentucky on Dec. 1 at the State Farm Champions Classic in Chicago, Illinois.
Mid-Major Danger: North Dakota State shared the Summit League title last season with a 25-8 record and a 13-3 league record. It's the Jayhawks' third game in five days, starting with the Kentucky game.
Big 12 Opener: The Jayhawks open the Big 12 season against Texas Tech in Lubbock in Dec. 17.
The 'Big' Big 12 stretch: Kansas has a tough stretch to end the Big 12 season, as they host Texas Tech on Feb. 20, followed by a road game at Texas and a home game against Baylor to end the season.
Note: Due to COVID-19 and the late-evolving nature of national schedules, the schedule is subject to change and could see games removed or added with little notice.
2020-21 Kansas Schedule
(Home games in Bold; *-Big 12 game; schedule subject to change)
Nov. 26 vs. Gonzaga (Fort Myers Tip-Off, Fort Myers, Florida)
Nov. 27 vs. Saint Joseph's (Fort Myers Tip-Off, Fort Myers, Florida)
Dec. 1 vs. Kentucky (Champions Classic, Chicago, Illinois)
Dec. 3 Washburn
Dec. 5 North Dakota State
Dec. 8 Creighton (Big 12-Big East Battle)
Dec. 11 Omaha
Dec. 13 Tarleton State
Dec. 17 at Texas Tech*
Dec. 22 West Virginia*
Jan. 2 Texas*
Jan. 5 at TCU*
Jan. 9 Oklahoma*
Jan. 12 at Oklahoma State*
Jan. 16 Iowa State*
Jan. 18 at Baylor*
Jan. 23 at Oklahoma*
Jan. 26 TCU*
Jan. 30 at Tennessee
Feb. 2 Kansas State*
Feb. 6 at West Virginia*
Feb. 8 Oklahoma State*
Feb. 13 at Iowa State*
Feb. 16 at Kansas State*
Feb. 20 Texas Tech*
Feb. 22 at Texas*
Feb. 27 Baylor*