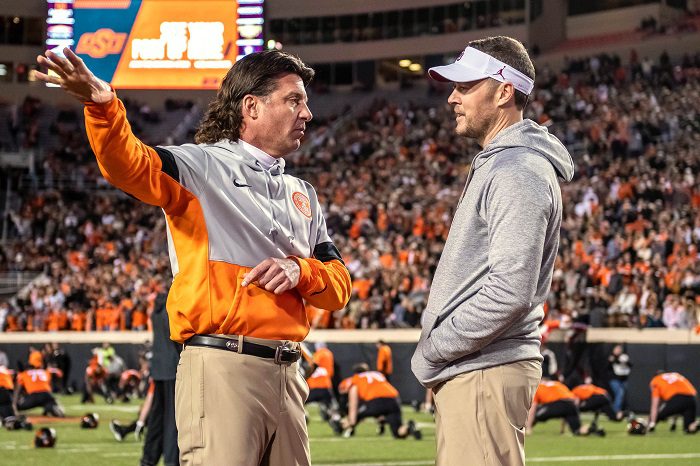 It seems like year in and year out that the Bedlam game between Oklahoma and Oklahoma State has major Big 12 title implications. This year is no different, as No. 14 OSU travels to Norman on Nov. 21 to take on the 18th ranked Sooners. Both teams have an open week this week, giving both squads an opportunity to heal any lingering injuries and game plan for each other. Oh, and College GameDay is coming to town!
Oklahoma certainly needs a win against the Cowboys to stay in the Big 12 title hunt. A loss would put them at a 4-3 conference record, where they would require a miracle to make it to Jerry World. A win in Norman would make it five straight against the Pokes, the last loss coming in 2014.
Oklahoma State, with a loss, would not be eliminated from the conference championship, but they would need to win out and for Iowa State to drop a game. With a win, however, they could just win out or have the cushion to lose one game, as they own the tiebreaker over third-place Kansas State.
Now that we know what's on the line for both teams, here is what Lincoln Riley and Mike Gundy must do to win this game.
Oklahoma Sooners
The Sooners are playing their best football of the season through week 10 after dropping two straight to Kansas State and Iowa State early on in the year. Coach Riley has most of his key suspended guys back, the most notable being running back Rhamondre Stevenson and defensive end Ronnie Perkins. Oklahoma looks like a totally different team with those guys on the field and I expect them to play big roles in Bedlam.
The OU defense has looked improved in recent weeks, especially in the trenches. The defensive line is allowing 3.3 rushing yards per carry so far with only 100 total rushing yards per game, so I imagine stopping Chuba Hubbard will be the top priority for defensive coordinator Alex Grinch's group.
Oklahoma must continue to force Spencer Sanders to sit in the pocket and hold onto the ball longer than he should, something that Sanders has been consistent with this season. The defensive backs just need to be able to cover long enough for the D-line to get pressure on Sanders, which shouldn't be too hard given the Cowboy's inexperience in the offensive line.
On the offensive side of the ball, this will probably be the toughest defense the Sooners have faced all season. Oklahoma State is allowing just 17.8 points a game, and has held every team they've played below their season scoring average minus Texas (a game that went into overtime). Spencer Rattler has looked like a freshman at many points this season, making ill-advised throws or waiting too long to exit the pocket, something he probably won't be able to afford to do against this Cowboy defense. He just needs to run the plays Riley calls for him and not force anything.
Lincoln Riley will put his team into position to put up points. A lot of points, probably. Oklahoma just needs to do what they do on offense and the touchdowns will come. Scoring will be very important, as OSU's offense has been shown to stall often, especially against teams that can stop the run.
Oklahoma State Cowboys
After barely squeaking out a win in Manhattan, the Cowboys desperately needed this bye week. We saw OSU without receiver Tylan Wallace and safety Kolby Harvell-Peel against K-State, both key starters. Starting left tackle Jake Springfield was also sidelined, forcing yet another offensive line shift up. Chuba Hubbard and his backup LD Brown also got dinged up at certain points throughout the game.
The No. 1 thing I want to stress to Mike Gundy this week is I do not want ANY of the aforementioned guys doing anything physical in practice leading into this game. Wallace got injured in practice before K-State and only played one play, an onside kick where he batted the ball out of bounds. Have him wear out the stationary bike every day up until game day for all I care, just as long as he is not at risk.
For the Cowboy defense, there isn't a whole lot you can do when it comes to stopping a Lincoln Riley offense. You just hope for mistakes. Your only chance at taming OU's offense is making Spencer Rattler uncomfortable. He's been shown to implode in on himself when the first sign of danger appears. Send pressure early and get as many people in his face as possible. That with some forced turnovers, and the Cowboys will be in good shape.
However, the second half of that equation relies on the OSU offense. First year offensive coordinator Kasey Dunn has had issues with consistently putting the ball in the endzone all season, sometimes for entire halves, but the one thing I believe Dunn must change this week in regard to his play calling is…
Short passes.
With the constant pressure Oklahoma will bring and Spencer Sander's tendency to hold onto the ball too long, short passes must be the focal point of Oklahoma State's offense. I want at least two receivers running a slant or out route on every pass play called.
Now, I'm just a lowly sports writer on the internet who knows nothing about coaching a football team or running an offense, but I do have eyes. It's painfully obvious to me what Oklahoma State should be doing on the offensive side of the ball, and in my opinion it's a must if the Pokes want to win this game. OU is boasting the best defensive line in the conference, especially with the welcome addition of Ronnie Perkins back from suspension, so don't expect Chuba Hubbard to suddenly have his breakout game against the Sooners after being held in check by worse lines this season. Make the Oklahoma defensive backs cover Wallace, Stoner, even incorporate other guys like Tay Martin and Brennan Presley so the same guys aren't on the field every play.
**Want to win a $20 gift card?  Go sign up here and join our conversation! The best poster each week wins a gift card to your favorite establishment!**