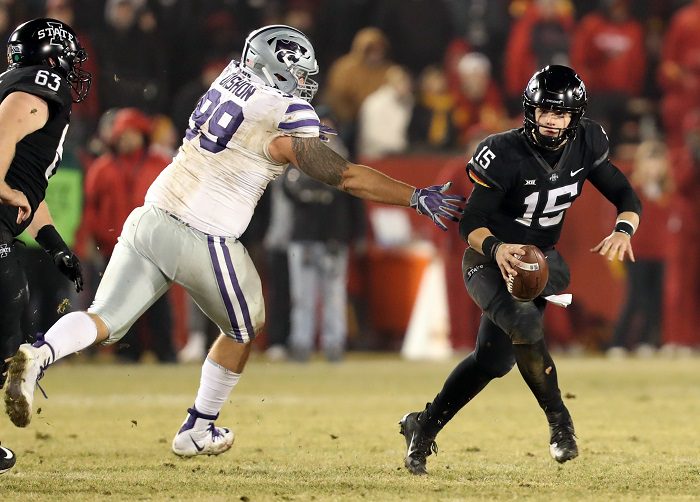 Welcome to the HCS Big 12 mailbag. This mailbag is for all you football junkies out there who root for a Big 12 school who not only have questions about your team, but other teams in the conference as well. So, join me, grab a cold brew or your favorite drink and relax as I answer all your Big 12 questions in my mailbag.
I will pick the best question for each mailbag and label it as my question of the week. The winner gets a free HCS Koozie to keep your beer cold (Unless you like it warm, but that's just plain wrong). I want to thank each one of you who submitted a question this week. The mailbag was stuffed so I had to break it up into two parts. So, if you do not see your question here, it will be released for part two on Wednesday. As for my choice of beverage, a classic old fashioned. Cheers!
@CalebCannon4 asks: If Texas wins out and wins the Big 12, is Herman's job safe, or do you think Urban if he is willing to take the job, will have it regardless?
Duke: Let me start by saying if Herman wins out, that means he will win the Big 12 and likely a New Year's Six Bowl game. To me, that would be more than enough to keep his job at least for another season. However, when I look at the big picture at Texas, I do not see Tom Herman taking the program where it was a decade ago. Tom Herman is not the right man for the Texas job. If Texas wants to get truly "back" then hiring an Urban Meyer type coach is not something you can pass on if he is interested coming to Austin. At the end of the day, these decisions are being made behind the scenes and I am not sure if any Big Texas boosters read this but if they do, hire Urban Meyer and you can thank me for the advice by buying me a new pickup truck. You're welcome.
@MathewCarson11 asks: When will Brewer be released from intensive care from that hit?
Duke: If you have not seen the hit from Texas Tech linebacker Colin Schooler then here it is.
WHAT. A. HIT. Maybe the hit of the year if you ask me but Charlie Brewer was fine. The guy is as tough as nails and it seems like no matter how many shots he takes, he gets back up. You must respect a guy like that. A guy who sacrifices his body for the team do not come around often especially at the quarterback position. He truly is a throw back type of player.
@tracks182 asks: What happens if KSU is unable to come to ISU this weekend?
Duke: Let's keep out fingers crossed for now. It has been awhile since we have had to move a game and with it being this late in the season, there is not a ton of wiggle room. The only weekend this game could get moved to is December 12th which is the same day Oklahoma State and Baylor will play due to a schedule change. So, until something changes, let's get ready for FARMAGEDDON!
@FireWellsTTU asks: Who will be the next head coach in Lubbock? I'm thinking Sonny Dykes.
Duke: C'mon man, I know times have been tough and there have been a ton of question surrounding Matt Wells, but the man just beat Baylor. That has got to cool his seat off a little bit, right? But I understand the big picture. With that said, I have no issue if they hired Sonny Dykes from SMU. Would be a great hire in my opinion. However, I do believe Matt Wells stays in Lubbock for the 2021 season.
@woody5211 asks: How many years does being an Iowa State fan take off my life? I feel like it's at least eight. I would like to add that it is totally worth it.
Duke: This is what college football is all about man. You ride and die with your team. Through the ups and the downs, the most important thing is loyalty. I respect those type of fans who stick with their team no matter how bad things get. But cheer up man. You are perhaps witnessing the golden years of Iowa State football so soak it all in. Never take these past few years for granted. Iowa State is a good football team and has an excellent head coach. Not many Big 12 teams can say they have both of those things right now.
@jrobs2003_josh asks: Can there be any chance that Kansas shocks the world this weekend against Texas?
Duke: There is a better chance of me hitting the Texas lottery twice in the same month.
**Want to win a $20 gift card?  Go sign up here and join our conversation! The best poster each week wins a gift card to your favorite establishment!**