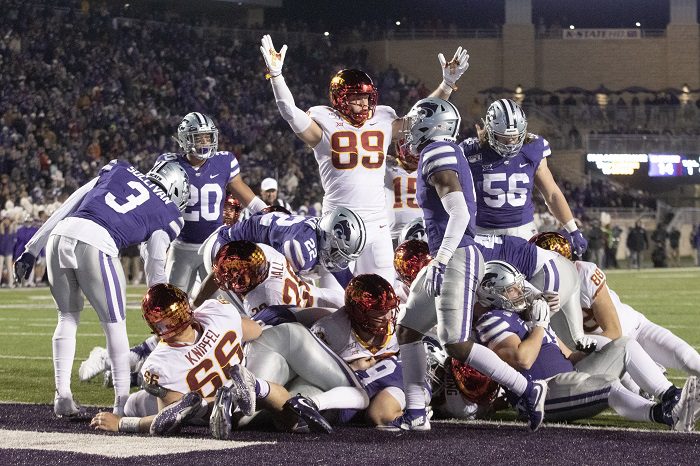 The corn and beans are nearly all in from the fields. Just outside my house the sound of corn driers have been running day and night for almost a week. This means Fall is here and surely the colder weather is coming in a few weeks.
This also means the Iowa State Cyclones and those Kansas State Wildcats will be squaring off on the football field this Saturday in Ames. But don't be deceived. It appears as if Kansas State is down and out. They've hit the skids on the field with two-straight losses to West Virginia and then against Oklahoma State.
Also as of last week, the Wildcats were dealing with a COVID-19 outbreak that forced 20 players to miss practice. And if you go back a few weeks, star QB Skylar Thompson went down for the season with an injury.
Vegas has pegged the game at Iowa State -9 on the opening line and the number keeps rising.
But I wouldn't bet two cents on this game if I were a millionaire for the Cyclones to easily cover this line.
First off, in the last 12 meetings between these two teams going back to 2007, all but one has been decided by 10 points or less (2013 is the exception when KSU won 41-7). Nine of those 12 games have been decided by a touchdown or less.
Now fast forward to this season, I was at the Baylor game nearly two weeks ago and saw Iowa State falter early only to roar back and hang on for a win. It was a Mike Rose interception in the end zone to seal the win with around a minute left.
If Iowa State comes out flat Saturday, they will find it tougher to repeat such a feat. This current Kansas State team may have lesser "talent", but they are well coached by Chris Klieman and the Wildcats rarely beat themselves.
As for a rivalry match up like this one, I've seen multiple flags picked up by Big 12 referees late in fourth quarters of these games.
I've seen good Iowa State teams struggle to get on a lead, and hold it as well (i.e. the 2019 loss).
But I can also say I don't believe we have seen Iowa State put out a complete game this season. They have yet to put a game, kick-off to kneel down, together with authority.
I do believe coach Matt Campbell's Cyclones squad is on the verge of peaking in the next few games. This would be a transition from their usual October rise and subsequent November flailing we have witnessed in previous years.
But once again, while I believe those trends to be true right now, when it comes to Farmageddon, throw out the norms and what you believe or have seen out of both these teams.
This Saturday I guarantee the best game in the Big 12 Conference will be in Ames.
I absolutely love this game and hate this game at the same time. And no matter what side of Farmageddon you're on, I know you feel the exact same way.
Football fans, start your tractors!!
**Want to win a $20 gift card?  Go sign up here and join our conversation! The best poster each week wins a gift card to your favorite establishment!**