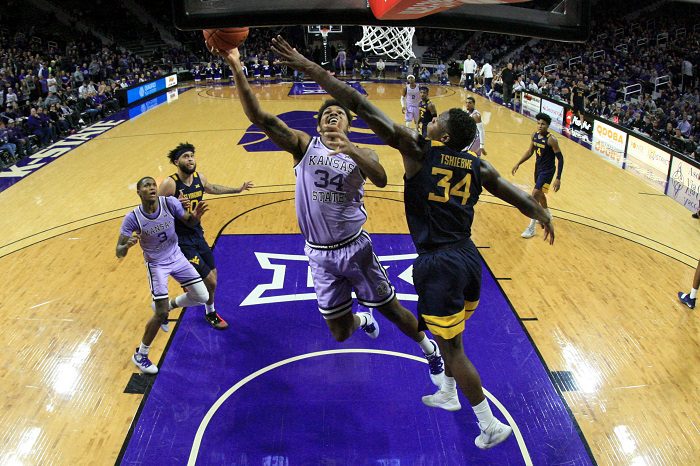 Leading up to the 2020-21 Big 12 season, Heartland College Sports will analyze each of the Big 12 men's basketball schedules. Today it's the Kansas State Wildcats.
Season opener: The Wildcats host Drake on Nov. 25 as part of their Little Apple Classic Tournament.
Tournaments: With the truncated 2020-21 basketball schedule, the Wildcats won't be traveling to any tournaments and will just host their classic on the season's opening week.
The Big 12/Big East Game: K-State drew a road game with Butler on Dec. 11. Butler went 22-9 last year and appeared pointed toward an NCAA Tournament bid.
The Big 12/SEC Game: K-State hosts Texas A&M on Jan. 30. The Aggies went 16-14 last year under Buzz Williams.
The Big Non-Con: The Wildcats' second game with Colorado should be interesting. The Buffaloes were 21-11 last year and were on the NCAA Tournament bubble.
Mid-Major Danger: Omaha is the most likely suspect, as it catches K-State on an eight-day layoff after the Christmas holiday on Dec. 29. The Mavericks were 16-16 last year and play out of the Summit League.
Big 12 Opener: Kansas State opens the season on Dec. 15 at Iowa State.
The 'Big' Big 12 stretch: This five-game stretch in early February will show us a lot about the Wildcats' progress this season. From Feb. 2 to Feb. 16 the Wildcats play Kansas twice, and Texas Tech, Texas and Oklahoma State once each. The only saving grace is that three of the games are at Bramlage Coliseum.
Note: Due to COVID-19 and the late-evolving nature of national schedules, the schedule is subject to change and could see games removed or added with little notice.
2020-21 Kansas State Schedule
(Home games in Bold; *-Big 12 game; schedule subject to change)
Nov. 25 Drake (Little Apple Classic, Manhattan, Kansas)
Nov. 27 Colorado
Nov. 30 Kansas City
Dec. 5 UNLV
Dec. 8 Milwaukee
Dec. 11 at Butler (Big 12/Big East Battle)
Dec. 15 at Iowa State*
Dec. 19 Baylor*
Dec. 21 Jacksonville
Dec. 29 Omaha
Jan. 2 TCU*
Jan. 5 at Texas Tech*
Jan. 9 Oklahoma State*
Jan. 13 Iowa State*
Jan. 16 at Texas*
Jan. 19 at Oklahoma*
Jan. 23 West Virginia*
Jan. 27 at Baylor*
Jan. 30 Texas A&M (Big 12-SEC Challenge)
Jan. 29 Oklahoma*
Feb. 2 at Kansas*
Feb. 6 Texas Tech*
Feb. 9 Texas*
Feb. 13 at Oklahoma State*
Feb. 16 Kansas*
Feb. 20 at TCU*
Feb. 23 Oklahoma*
Feb. 27 at West Virginia*
**Want to win a $20 gift card?  Go sign up here and join our conversation! The best poster each week wins a gift card to your favorite establishment!**