Big 12 News
Tom Herman on Urban Meyer Rumors: 'It Gets Exhausting More Than Anything'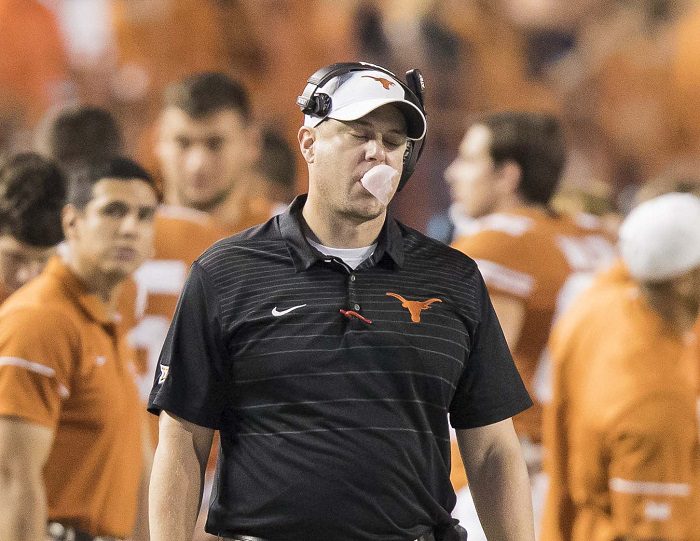 Texas Longhorns football coach Tom Herman took the podium at his press conference on Monday and addressed rumors on social media about coaching changes has on recruiting.
Herman was asked directly about the social media speculation that he will be replaced by Urban Meyer after the season.
"No, not at all," Herman said. "I'm concerned about our players. I'm concerned about this program. I'm concerned about beating Kansas."
Herman went on as part of a five-minute answer, adding, "It gets exhausting more than anything, to have to extinguish all of these unfounded, baseless claims that are hidden behind unnamed sources and agendas. And I don't know why it's more here at Texas than other places. But it is and it's something that we deal with on a daily basis."
As for its affect on recruiting, Herman noted it can be a problem, saying, "When you have the things that have been written about us in our program, myself and our future, very unfounded articles that state opinion as fact, that state unnamed sources as being factual, that's very hard to defend against," Herman said. "Because if I'm a competing recruiter, what do you do? You press print and you say, 'Look, this is true, it must be true. It's on so-and-so orangefans.com, right? It must be true.'"
"And you know that is the really, really hard part in recruiting because these 16-year-old kids are very impressionable."
What has been noted is that Texas AD Chris Del Conte is all over social media and often congratulates volleyball and soccer teams after wins. However, he did not tweet any sort of congratulatory message after the last three football victories.
The hot seat talk for Herman heated up last month, but has calmed down a bit in recent weeks after they upset Oklahoma State two weeks ago and then beat West Virginia their last time out.
However, Herman is still dealing with these questions and concerns as was apparent on Monday. Texas takes on the Kansas Jayhawks this weekend with a 2:30 p.m. kick off.
**Want to win a $20 gift card?  Go sign up here and join our conversation! The best poster each week wins a gift card to your favorite establishment!**