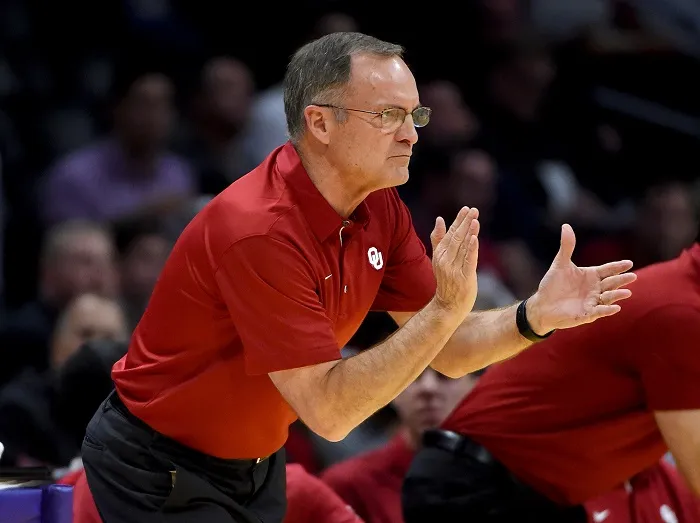 Leading up to the opening of the 2020-21 Big 12 Men's basketball season Heartland College Sports will analyze each of the Big 12 men's basketball teams. Today it's the Oklahoma Sooners.
Record: 19-12 (9-9 in Big 12)
Postseason: All postseason tournament action was canceled due the coronavirus. Oklahoma was a bubble team for the NCAA Tournament.
Top returning 2019-20 Leaders: F Brady Manek (14.4 ppg, 6.2 rpg), G Austin Reaves (14.7 ppg, 5.3 rpg, 3.0 apg), De'Vion Harmon (7.4 ppg, 1.8 rpg, 2.0 apg), G Alondes Williams (6.0 ppg, 1.9 rpg).
2019-20 seniors/lettermen lost: F Kristian Doolittle (15.8 ppg, 8.9 rpg, 2.0 apg); Jamal Bieniemy transferred to UT-El Paso. C Corbin Merritt transferred to Austin Peay.
Recruits signed: G Trey Phipps, 6-foot-2, Booker T. Washington (Tulsa, OK); F Josh O'Garro, 6-foot-5, Santa Clarita Christian (George Town, Cayman Islands).
With only one senior out the door, and two transfer scholarships already accounted for, there wasn't much room for a large class this year. Phipps comes from a hotbed high school in the Tulsa area and is the No. 4 ranked recruit in Oklahoma. There is enough depth on this team to allow him to redshirt if the Sooners desire. O'Garro reclassified to the 2020 class, so he pushed the Sooners to a two-player class in August. The Sooners have the depth to redshirt O'Garro, if they wished.
For 2021 the Sooners have signed two players — Waxahachie, Texas, guard C.J. Noland, and Kingfisher, Oklahoma, guard Bijan Cortes. Noland is 6-foot-3 and a Top 100 recruit according to 247Sports.com. Cortes, 6-foot-1, is the No. 3 recruit in Oklahoma.
Transfers eligible for 2020-21 season: Elijah Harkless is transferring from Cal State Northridge and Umoja Gibson is transferring from North Texas. Gibson received a transfer waiver to play this season on Oct. 30. Harkless' waiver is pending.
Transfers expected to sit out in 2020-21: None.
Looking ahead to 2020-21
The Sooners have the potential to be better in 2020-21, even though the departure of Doolittle is significant. The return of Manek and Reaves gives the Sooners two of the better 3-point shooters in the Big 12 last season. Manek should move front and center as a senior, with three years in head coach Lon Kruger's system and the potential for an NBA career in his sights. Harmon, who as a true freshman earned plenty of playing time last season, has the potential to emerge into a more legitimate third scoring option on the perimeter after averaging nearly 8 points last season. Plus, with the transfer of Bieniemy, Harmon can be the undisputed point guard. But the Sooners mined the transfer market to great impact, trading the scholarships of Bieniemy and Merritt for two vets that averaged double-digits at their former schools — Harkless and Gibson. That should make a difference offensively for the Sooners, as they're trading in about 24 points per game (Harkless and Gibson) for the six points Bieniemy and Merritt averaged last year. The Sooners know Gibson can play this season, so they're just waiting to see if Harkless gets his waiver. As for the rest of the returning roster, Williams should grow into a more prominent role. Players like Kur Kuath, Victor Iwuakor and Jalen Hill need to become more meaningful contributors off the bench to fill out a rotation that
Kruger likes to have eight or nine players deep by Big 12 action. The Sooners look like they could be the 'best of the rest' team once again next season. But, right now, the Sooners don't look like a team that has the goods to challenge the Big 12 co-favorites, Baylor and Kansas. But, they have the talent to put the rest of the conference in its place.
**Want to win a $20 gift card?  Go sign up here and join our conversation! The best poster each week wins a gift card to your favorite establishment!**