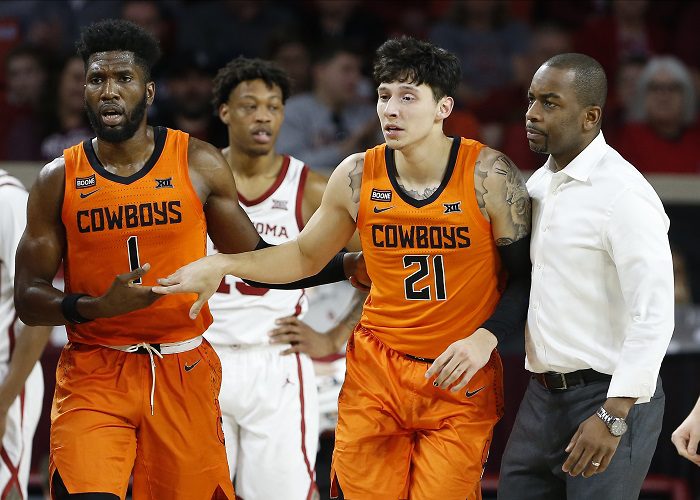 Leading up to the 2020-21 Big 12 basketball season, Heartland College Sports will analyze each of the Big 12 men's basketball schedules. Today it's the Oklahoma State Cowboys.
Season opener: The Cowboys will head to Arlington, Texas, to face the UT-Arlington Mavericks on Nov. 25.
Tournaments: The Cowboys do not have a tournament schedule this season.
The Big 12/Big East Game: Oklahoma State travels to Marquette on Dec. 1. The Golden Eagles were 18-12 last year, but 13-3 at home.
The Big 12/SEC Game: Oklahoma State hosts Arkansas on Jan. 30. The Razorbacks were 20-12 last year, but had a losing record in the SEC and won just four road games.
The Big Non-Con: Wichita State is always a good non-conference opponent for the Cowboys. The Shockers are coming off a 23-win season and host the Cowboys on Dec. 12.
Mid-Major Danger: Oakland was just 14-19 last season, but the Grizzlies always seem to give high-major programs trouble.
Big 12 Opener: The Cowboys host TCU on Dec. 16 to lift the lid on their Big 12 season.
The 'Big' Big 12 stretch: The Cowboys have an eight-game stretch that does them no favors and will test whether they're making progress as a program. That stretch includes two games with West Virginia, along with games against Texas, Texas Tech, Kansas, Oklahoma and Baylor. Kansas State is the remaining game in the stretch and feels like the only game that's a lock for a win, at least on paper. But OSU can prove a lot about themselves during this stretch.
Note: Due to COVID-19 and the late-evolving nature of national schedules, the schedule is subject to change and could see games removed or added with little notice.
2020-21 Oklahoma State Schedule
(Home games in Bold; *-Big 12 game; schedule subject to change)
Nov. 25 at UT-Arlington
Nov. 28 Texas Southern
Dec. 1 at Marquette (Big 12-Big East Battle)
Dec. 5 Oakland
Dec. 8 Oral Roberts
Dec. 12 at Wichita State
Dec. 16 TCU*
Dec. 20 at Texas*
Jan. 2 at Texas Tech*
Jan. 4 West Virginia*
Jan. 9 at Kansas State*
Jan. 12 Kansas*
Jan. 16 Oklahoma*
Jan. 19 at West Virginia*
Jan. 23 Baylor*
Jan. 25 at Iowa State*
Jan. 30 Arkansas (Big 12-SEC Challenge)
Feb. 3 at TCU*
Feb. 6 Texas*
Feb. 8 at Kansas*
Feb. 13 Kansas State*
Feb. 16 Iowa State*
Feb. 20 at Baylor*
Feb. 23 Texas Tech*
Feb. 27 at Oklahoma*
**Want to win a $20 gift card?  Go sign up here and join our conversation! The best poster each week wins a gift card to your favorite establishment!**