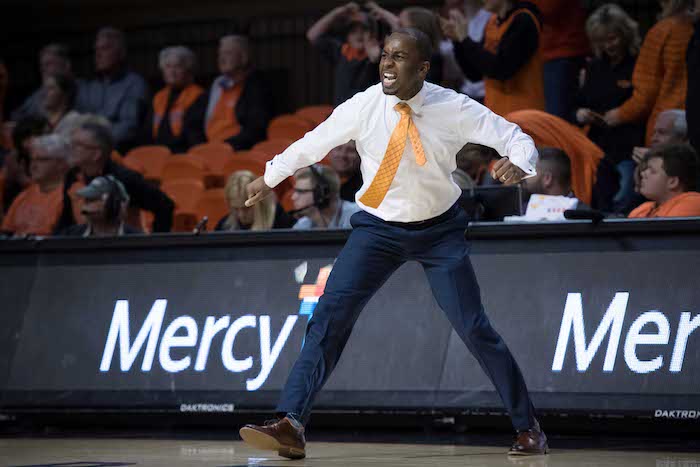 Leading up to the opening of the 2020-21 Big 12 Men's basketball season Heartland College Sports will analyze each of the Big 12 men's basketball teams. Today it's the Oklahoma State Cowboys.
Record: 18-14 (7-11 in Big 12)
Postseason: All postseason tournament action was canceled due the coronavirus. Oklahoma State was poised to earn an invitation to the NIT Tournament.
Top returning 2019-20 leaders: G Isaac Likekele (10.9 ppg, 5.6 rpg, 127 assists), F Kalib Boone (4.7 ppg, 3.0 rpg), G Avery Anderson III (4.2 ppg, 2.1 rpg), G Chris Harris Jr. (3.4 ppg), G/F Keylan Boone (2.7 ppg).
2019-20 seniors/letterwinners lost: F Cameron McGriff (12.3 ppg, 6.6 rpg), G Lindy Waters III (10.5 ppg, 4.2 rpg), G Thomas Dziagwa (9.0 ppg), G Jonathan Laurent (5.1 ppg, 2.9 rpg), F Trey Reeves (played five games), G J.K. Hadlock (played five games). G Marcus Watson transferred to New Mexico State. F Yor Anei transferred to SMU. F Hidde Roessink transferred to UM-Kansas City.
Recruits signed: G Cade Cunningham, 6-foot-8, Montverde Academy (Montverde, FL); G Rondel Walker, 6-foot-2, Putnam City West (Oklahoma City, OK); F Matthew Alexander-Moncrieffe, 6-foot-7, Orangeville Prep (Mono, ON); G Donovan Williams, 6-foot-5, North Star (Lincoln, NE); F Montreal Pena, 6-foot-9, Martin (Arlington, TX); Bernard Kouma, 6-foot-10, South Plains CC (N'Djamena, Chad, Africa).
Get a centerpiece and the rest of the class will follow, right? Well, Cunningham was 247Sports.com's No. 1 national recruit, and after he signed in the early period the Cowboys hauled in three other recruits that were in the national Top 200. It's the best class of head coach Mike Boynton Jr.'s tenure (No. 10), and the Cowboys hauled in a Top 25 class in 2019. The expectation is that Cunningham is a one-and-done, so expect him to start in 2020-21 — and expect the Cowboys to work like heck to develop the rest of the class.
Kouma was a late junior-college signing and, at 6-foot-10, could give the Cowboys some immediate size inside in the wake of Anei's transfer.
Looking ahead to 2021, the Cowboys are the only Big 12 team that does not have a commitment or a signee.
Transfers eligible for 2020-21 season: G Ferron Flavors Jr. transferred from Cal Baptist; Bryce Williams transferred from Ole Miss. Both are eligible this season.
Transfers expected to sit out in 2020-21: None
Looking ahead to 2020-21
The departures of the three core seniors hurts. But the departure of Anei doesn't hurt as much as you might think. Sure, Anei was tall and athletic, but his game wasn't making the progress the Cowboys needed. So his slide of out Stillwater is actually good for the forwards they want to develop the next year or two. Cunningham will be the focal point of this team immediately. Some NBA Draft experts believe he could go No. 1 overall in 2021. His blend of shooting, athletic ability and high basketball IQ is something the Cowboys simply didn't have on their roster. Having said that, Likekele has grown into a player with NBA ambitions, evidenced by his flirtation with testing those waters before returning this season. Cunningham
will get the national attention, but Likekele will run the show, blending his emerging offensive game with his already strong ball handling and defense. The Boone brothers should both grow considerably as players. Harris and Anderson both look like they have significant ceilings as well. Flavors will be a factor immediately, as he averaged double figures at Cal Baptist. Mitchell didn't play much at Ole Miss, but when he did he shot 44 percent from the 3-point line. What will be most interesting is to see is whether these other incoming freshmen have the chops to contribute immediately, too. With three other players in the Top 200, outside of Cunningham, there's a good chance of that happening. When November rolls around I anticipate a starting lineup of Likekele, Cunningham, Flavors and a combination of Kalib Boone, Keylan Boone, Anderson or Harris. That could be enough to make some noise in the Big 12 as the roster continues to develop.
Remember — the Cowboys have a postseason ban in 2020-21, so unless they get an 11th-hour reprieve, the Cowboys have little to play for except pride and building for a big 2021-22. But the Cowboys are headed in the right direction.
**Want to win a $20 gift card?  Go sign up here and join our conversation! The best poster each week wins a gift card to your favorite establishment!**