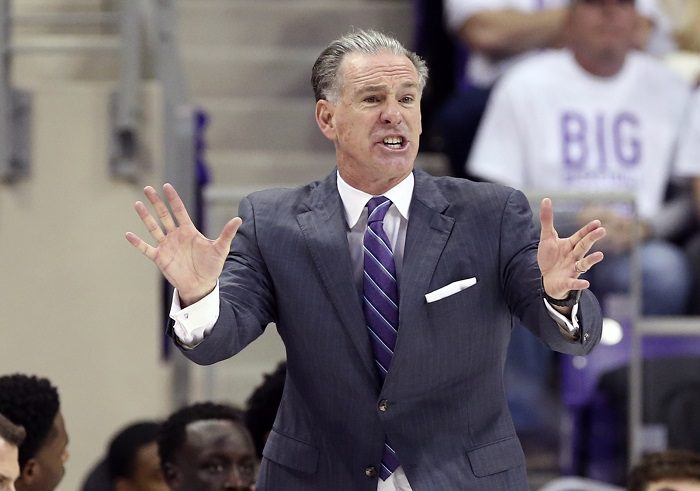 Leading up to the opening of the 2020-21 Big 12 Men's basketball season Heartland College Sports will analyze each of the Big 12 men's basketball teams. Today it's the TCU Horned Frogs.
Record: 16-16 (7-11 in Big 12)
Postseason: All postseason tournament action was canceled due the coronavirus. TCU was tracking as a bubble team for the NIT Tournament.
Top returning 2019-20 leaders: G RJ Nembhard (11.8 ppg, 3.8 rpg, 98 assists), C Kevin Samuel (10.1 ppg, 8.4 rpg), G PJ Fuller (5.7 ppg, 1.8 rpg), G Francisco Farabello (3.9 ppg, 64 assists).
2019-20 seniors/lettermen lost: G Desmond Bane (16.6 ppg, 6.3 rpg, 3.9 apg), G Edric Dennis Jr. (6.4 ppg, 1.6 rpg, 2.4 apg), F Jaire Grayer (7.7 ppg, 4.6 rpg, 0.5 apg). C Russell Barlow transferred to Cal Baptist.
Recruits signed: F Terren Frank, 6-foot-8, Sierra Canyon (Chatsworth, CA); G Mike Miles, 6-foot-1, Lancaster (Lancaster, TX); C Eddie Lampkin Jr., 6-foot-11, Morton Ranch (Katy, TX).
Even with three recruits, TCU finished the cycle with the No. 47 recruiting class in the country, thanks to a pair of Top 200 national recruits in Frank and Miles. Both would be nice additions to the rotation. Lampkin is a developmental prospect that Samuel can tutor. The thing is, with as many returning players as the Horned Frogs have, this trio might not even need to take the floor in 2020-21. They could all redshirt.
For the 2021 class, the Horned Frogs are off to a fast start, as they signed 7-footer Souleymane Doumbia out of Navarro College in Corsicana, Texas. He's the No. 4 national juco recruit and he had offers from Alabama, Cincinnati, Georgia and Houston.
Transfers eligible for 2020-21 season: G Chuck O'Bannon transferred from USC. O'Bannon redshirted last season. F Kevin Easley Jr. transferred from Chattanooga and sat out the 2019-20 season.
Transfers expected to sit out in 2020-21: None.
Looking ahead to 2020-21
First, losing Bane is a huge blow for this team, much like losing Kenrich Williams two years ago. Bane was a do-everything kind of player for the Horned Frogs and that will be hard to replace. That said, the Horned Frogs are certainly in better shape overall going into this season than they were last season, after the program was decimated by transfers. Samuel should be one of the top two or three centers in the Big 12 and could start garnering national attention, and that could lead him to taking an early exit if NBA scouts like what they see. Nembhard made incredible strides from his freshman year to last year and I could see him being the focal point of the perimeter offense. Then comes the hard part — tantalizing potential and quite a bit of unknown. Fuller and Farabello must take on larger roles offensively. Both have the potential to do it, and Fuller showed real progress at the end of last season. Jaedon LeDee didn't get much playing time. Neither did Diante Smith. Plus, the Horned Frogs have two redshirt freshmen in guard Taryn Todd and forward Mickey Pearson Jr. All should get opportunities. The transfers could be key, too. Easley should be an instant plug-and-play offensively. O'Bannon, who transferred to TCU after starting last season at USC before a finger injury sidelined him for the season, has a fine basketball pedigree. His father, Charles, and his uncle, Ed, played on UCLA's 1995 national championship team. The Horned Frogs were
a chemistry set last season, and TCU managed a .500 record. Head coach Jamie Dixon will have to play mad scientist again this season, only without his most reliable offensive weapon. Expect them to start slow and gather steam going into Big 12 play, but I have a hard time seeing them finishing better than .500 unless several players make significant strides as the season goes on.
**Want to win a $20 gift card?  Go sign up here and join our conversation! The best poster each week wins a gift card to your favorite establishment!**