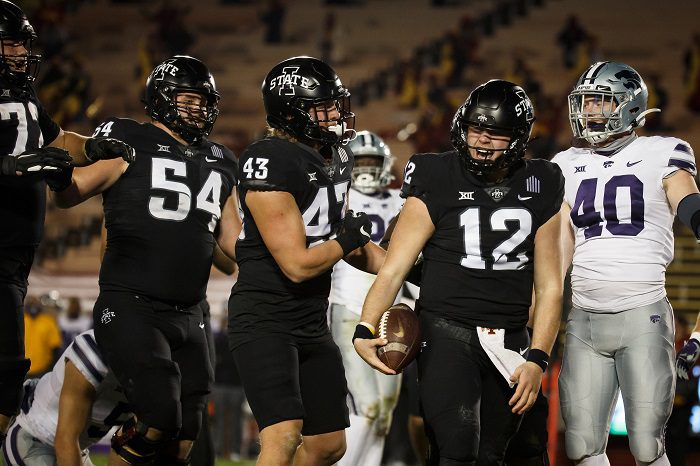 When you hear people talk about the Big 12, everyone mentions the obvious. Oklahoma, Texas, and Oklahoma State. But here in late November is where the best teams separate themselves from everyone else. And amid a Big 12 title race, the Cyclones made a statement on Saturday that nobody will forget anytime soon, especially Kansas State.
Iowa State's rivalry with Kansas State otherwise known as Farmaggedon has become a prime rivalry game in the Big 12. Despite Iowa State's 1-5 record against Kansas State since 2014, each game has been decided by ten points or less. However, this was not the case in Ames, Iowa on Saturday.
Iowa State had a total of six offensive possessions in the first half and five of them went for touchdowns. Quarterback Brock Purdy had his best performance of the season as he tossed three touchdown passes in the first half as he found Joe Scates, Charlie Kolar, and Xavier Hutchinson for scores. Meanwhile, Heisman hopeful Breece Hall ran for over 100 yards and two scores in the first half to help give Iowa State a 35-0 lead at the break. 
Not only did the Cyclone defense hold Kansas State scoreless, but they allowed just 74 total yards in the first half. And while Kansas State's offense was ice cold, Iowa State's offense was red hot as they racked up a whopping 363 yards in the first two quarters. No matter how you wanted to break it down, there was no other way to describe the first half of Farmageddon outside of a total butt kicking. 
Luckily for Kansas State, Iowa State coasted the second half as the Cyclones stepped off the gas a bit and scored just ten more points on the board. When it was all said and done, Iowa State outgained Kansas State 539 to 149. The 149 yards of offense for Kansas State was their lowest total since the 2015 season. And with the 45-0 victory, it was the Cyclones largest win over the Wildcats since 1943.
With Kansas State in the rear view, Iowa State sets its sights on Texas. Unlike the Cyclones, the Longhorns have two conference losses as their Big 12 title hopes hang by a thread. Friday's matchup in Austin may not be labeled as an official college football playoff game but the stakes for both teams make it one. And if Iowa State plays like they did against Kansas State, there is no reason this team will be at home come December 19th. 
What is the difference between this Iowa State team and the one from two seasons ago? Two years ago, Iowa State had Big 12 title hopes they last time they went to Austin. This time they have a lot more than just hopes. They are the better football team, and they have a chance to play for something they have not won since 1912: A conference title.  
**Want to win a $20 gift card?  Go sign up here and join our conversation! The best poster each week wins a gift card to your favorite establishment!**