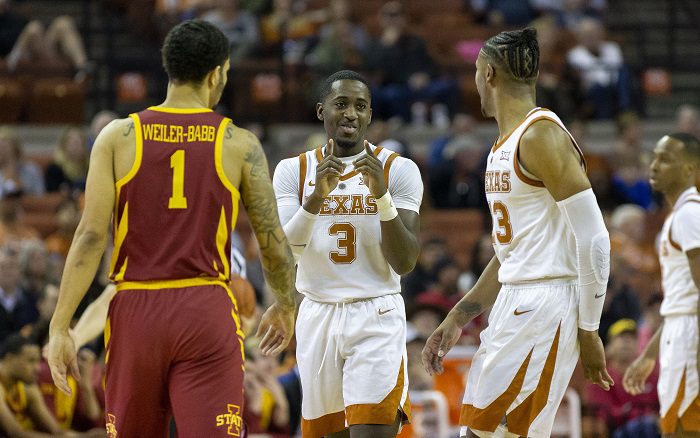 Leading up to the 2020-21 Big 12 basketball season, Heartland College Sports will analyze each of the Big 12 men's basketball schedules. Today it's the Texas Longhorns.
Season opener: Texas will host UT-Rio Grande Valley on Nov. 25. UTRGV opened its season last year against Oklahoma.
Tournaments: Texas will be at the Maui Invitational in Asheville, North Carolina, which is as weird as it sounds. Due to the COVID-19 pandemic, some tournaments are going to a 'bubble' format. So for this season, Asheville is gonna be Maui.
The Big 12/Big East Game: Texas was expected to host Villanova on Dec. 6. The Wildcats have won two national championships in the past five seasons.
The Big 12/SEC Game: Texas travels to Kentucky on Jan. 30. So that's gonna be fun.
The Big Non-Con: It's Kentucky. The Longhorns might draw Indiana in the Maui Invitational, but the Hoosiers are not what they used to be.
Mid-Major Danger: Watch out for Texas State, which plays down the road in San Marcos and won 21 games last year.
Big 12 Opener: Texas heads to Baylor to face the Bears on Dec. 13. Oddly enough, that's where Texas opened Big 12 play last season.
The 'Big' Big 12 stretch: Want to see what Texas is made of? Let's find out right off the bat. After the opener with Baylor, the Longhorns host Oklahoma State a week later. After the holiday break they go to Kansas, host Iowa State and then face West Virginia and Texas Tech back -to-back. By Jan. 13, we may have a good idea of where this team is headed.
Note: Due to COVID-19 and the late-evolving nature of national schedules, the schedule is subject to change and could see games removed or added with little notice. 
2020-21 Texas Basketball Schedule  
(Home games in Bold; *-Big 12 game; schedule subject to change)
Nov. 25 UTRGV
Nov. 30 vs. Davidson (at Maui Invitational, Asheville, North Carolina)
Dec. 1 vs. Indiana or Providence (at Maui Invitational, Asheville, North Carolina)
Dec. 2 vs. TBA (at Maui Invitational, Asheville, North Carolina)
Dec. 6 Villanova
Dec. 9 Texas State
Dec. 13 at Baylor*
Dec. 16 Sam Houston State
Dec. 20 Oklahoma State*
Dec. 29 Texas A&M-Corpus Christi
Jan. 2 at Kansas*
Jan. 5 Iowa State*
Jan. 9 at West Virginia*
Jan. 13 Texas Tech*
Jan. 16 Kansas State*
Jan. 23 at TCU*
Jan. 26 Oklahoma*
Jan. 30 at Kentucky (Big 12-SEC Challenge)
Feb. 2 Baylor*
Feb. 6 at Oklahoma State*
Feb. 9 at Kansas State*
Feb. 13 TCU*
Feb. 16 at Oklahoma*
Feb. 20 West Virginia*
Feb. 22 Kansas*
Feb. 27 at Texas Tech* 
**Want to win a $20 gift card?  Go sign up here and join our conversation! The best poster each week wins a gift card to your favorite establishment!**