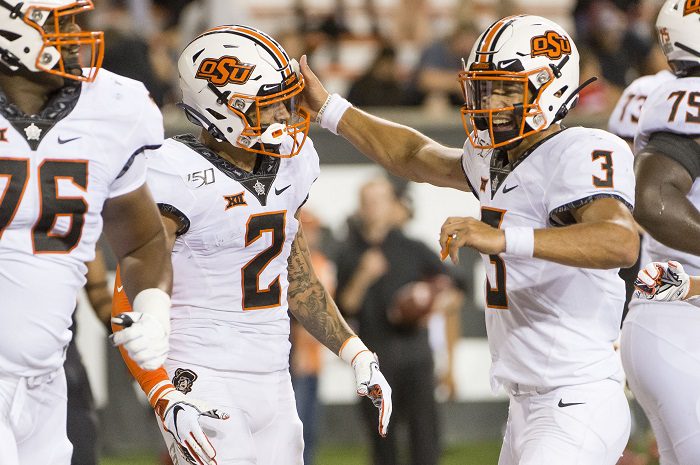 This article has honestly been a long time coming. I was originally going to wait until after the season to write it, but I think it needs to be said. I, like all Cowboy fans, am pissed off about Bedlam. I have many parties I'd like to place blame on, but instead, I want to write a letter to one person that absolutely does not deserve the blame. That is Oklahoma State QB Spencer Sanders.
"Dear Spencer,
From the moment you signed with Oklahoma State I knew were not just a special player, but a special person as well. From Day One you've given nothing but your all to this team. It broke my heart seeing you fight to go back into the game Saturday in Norman after you went down hard, because I know it was killing you not being there for your teammates. Despite the flak you get from delusional fans, it's obvious to me that you hate letting us down. You want nothing more than to win and to give Cowboy fans something to be proud of, and all you get for it is constant hate. Your drive to win is unlike anything I've seen from any player to come through Oklahoma State. You would go to war with all of your brothers on that team. I've never seen anybody who embodied the "Cowboy Culture" mantra like you do every single day. I know you're going to beat yourself up for this loss. I imagine it'd be pretty hard not to, especially with the majority of OSU social media calling for your job every other week, but you shouldn't.
It seems like Cowboy fans have wanted to place all the blame on you throughout the season. If you're reading this, I want you to know that it's not your fault. Mistakes happen, turnovers happen. That's football. But you were never really given a chance. You had to deal with a beat-up offensive line from Week One and very restrictive play calling. You have done the best with what you have been given. 
It makes my blood boil when I see you, week in and week out, put your blood, sweat and tears into this program and get nothing in return but hate from fans who have no idea what it's like to play quarterback at the Division I level. You're a great football player and an even better person, and you don't deserve the constant blame you've been receiving from OSU faithful. Some day, these "fans" are going to look back at your career at OSU and realize they took you for granted.
Some in-house changes will need to be made for Oklahoma State to get back to being one of the elite offenses in college football, and I believe wholeheartedly that you are the quarterback that can help get us there. You'll never admit this, but it's clear to me that you were held back by a restrictive offense and very conservative play calling, despite being surrounded by crazy talent in both of your seasons as the starting quarterback. 
I know you can do great things in football and in life, and I just want you to know that I, along with other real Cowboys fans, will always have your back. Despite what you see on Twitter seemingly every day from those who only focus on the negative, know that you will always have support from those of us who love everything you're about, in everything you do, even after football. The past is the past, time to forget about it, look ahead to next week and finish the season strong. Do your thing, and I know success will come to you.
Signed, A Life-Long Spencer Sanders Fan"
**Want to win a $20 gift card?  Go sign up here and join our conversation! The best poster each week wins a gift card to your favorite establishment!**