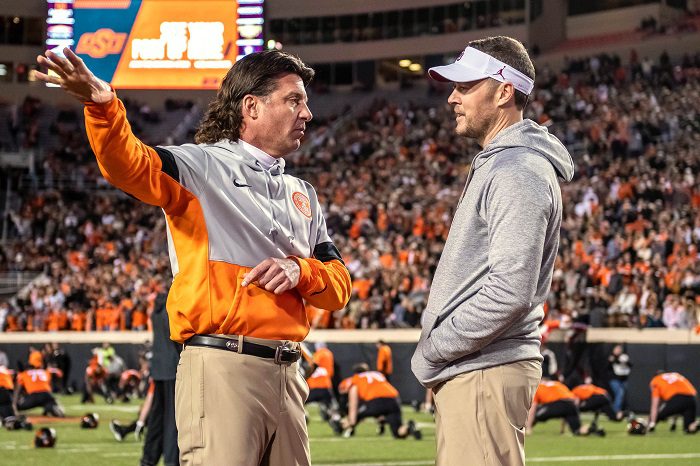 Ah yes, it's that time of year when the Big 12 Football Power Rankings return to Heartland College Sports. A reminder that these can change drastically from week to week. These are not supposed to be a mirror image of a given week's standings. It's based on the previous week's performance and the opponent when compared to the rest of the conference.
So with the 2020 season through Week 11, let's get into this week's Big 12 Power Rankings.
1. Oklahoma Sooners (Last Week: 1)
The Oklahoma Sooners are (yes you've heard this before) the class of the Big 12 Conference right now after throttling the Oklahoma State Cowboys in Bedlam on Saturday night. This is a completely different team than the one that lost to Kansas State and Iowa State earlier in the season. Ronnie Perkins has given this defense a huge lift and Rhamondre Stevenson is giving the backfield a lift that has made the entire offense more explosive. The match up in Morgantown won't be easy this weekend, but they're still a double-digit favorite.
2. Iowa State Cyclones (Last Week: 4)
Iowa State might beg to differ on who is the class in the Big 12 after the way they demolished the Kansas State Wildcats on Saturday. But still, OU deserves the respect to have it be their conference to lose right now. That being said, if Iowa State continues to put together complete performances like they did on Saturday on both sides of the ball, they could give OU all they could handle in what would be a really fun Big 12 Championship game next month.
3. Texas Longhorns (Last Week: 2)
… But before we get that far, Texas will have something to say when the Longhorns host the Cyclones this weekend. The winner will be a heavy favorite to play in the Big 12 Title game this season. The Longhorns had their game against Kansas cancelled due to COVID-19 issues for the Jayhawks. Will this give UT an edge or will it cause them to be rusty?
4. West Virginia Mountaineers (Last Week: 5)
The Mountaineers were also off this past weekend one week after crushing TCU at home. They've enjoyed a nice stretch not having to leave their comfy confines with a bye week followed by a home game this weekend against the Sooners. WVU isn't in the Big 12 race, but OU would be making a huge mistake overlooking this team and especially that defense.
5. Oklahoma State Cowboys (Last Week: 3)
The Pokes got smoked in Bedlam on Saturday night as Mike Gundy fell to 2-14 against OU and even some prominent radio hosts were calling for Gundy's job after the game. The Pokes' offensive line is a mess and it was exposed against OU's rapidly improving defensive line. As a result, the offense is not up to Gundy's standards and no matter how good the defense is, it was going to give up points against Lincoln Riley. OSU will look to bounce back this weekend at Texas Tech.
6. Texas Tech Red Raiders (Last Week: 7)
And here are the Red Raiders sliding up a couple of spots off a bye week. That's in part thanks to what happened to Kansas State (more on that below), but also because they're coming off their comeback win against Baylor, which should not go unnoticed. The most interesting question now is what happens with the quarterback position as it was Alan Bowman who led the team back to victory after replacing Henry Colombi.
7. TCU Horned Frogs (Last Week: 8)
The Horned Frogs also had a bye week following a brutal performance against West Virginia. But they move up a slot because of what happened below them in the standings. The Horned Frogs get the pleasure of taking on Kansas this weekend in what should be an easy win, even with a Thanksgiving Turkey hangover.
8. Kansas State Wildcats (Last Week: 6)
Was that ugly or was that ugly on Saturday? Woof. The Cats got blown out by Iowa State 45-0 in Farmageddon. There was a lot that K-State was overcoming, including COVID-19 issues of late, plus a young team going on the road in a big rivalry game, but boy, that was still not a pretty performance. After a 4-0 start in Big 12 play, K-State has lost three in a row and hits the road to take on Baylor where they are an underdog.
9. Baylor Bears (Last Week: 9)
The Baylor Bears have one win on the season (Kansas). Since they've lost five in a row in blowout fashion (Texas, TCU) and then come-from-behind fashion (Iowa State, Texas Tech). If Baylor is going to pick up a second win on the year, this is the week against Kansas State, because after that it's Oklahoma followed by Oklahoma State.
10. Kansas Jayhawks (Last Week: 10)
KU had a bye week where it fired its offensive line coach. That's not going to make a big difference, but I get the move. That line has been brutal and for KU to have any chance moving forward, it needs to start there. But no matter what KU will be a three-touchdown underdog the rest of the way (+24 vs. TCU this weekend).
Powered by RedCircle
**Want to win a $20 gift card? Go sign up here and join our conversation! The best poster each week wins a gift card to your favorite establishment!**