Big 12 News
QB Alan Bowman to Start for Texas Tech vs. Oklahoma State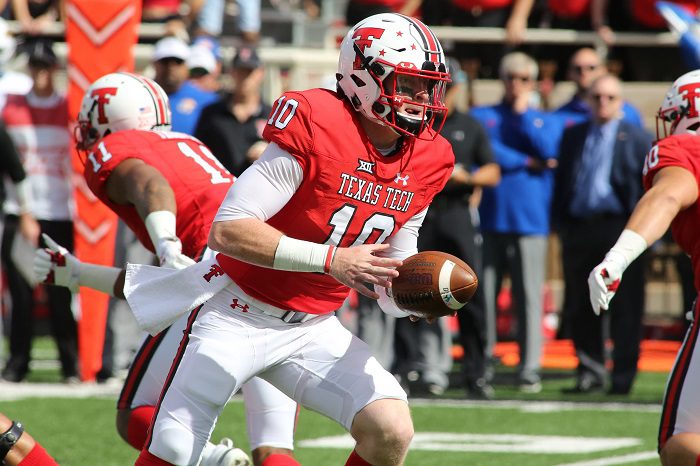 Texas Tech's comeback win over Baylor was, in part, fueled by former-starter-turned-back-up quarterback Alan Bowman. Bowman replaced the injured Henry Colombi, who replaced Bowman earlier in the season, who was struggling in David Yost's offense.
Well now the question is: Who's going to be the starter on Saturday against Oklahoma State.
We got an idea on Monday when head coach Matt Wells announced his plan.
That doesn't seem like a decisive decision by Wells, but maybe he's keeping things close to the vest for some gamesmanship.
At the time, Colombi did provide a spark for Texas Tech, but with that being said, it's clear he's not the dynamic quarterback that is going to help a Power 5 team compete near the top of a major conference. If Tech gets behind, Colombi does not have the explosiveness to lead the team from behind. He may be better suited for the offense since he is more mobile, but let's not forget Alan Bowman was a rising star under former head coach Kliff Kingsbury and looked like he was next in the as the elite gunslinger in Lubbock.
Yes, he's dealt with injuries that have hampered him, but I would be fine to give him at least the first half. But bouncing between quarterbacks on various drives has rarely, if ever, worked out for the players or team. Just ask Bill Snyder in 2018 when it came to Alex Delton and Skylar Thompson.
Texas Tech travels to Oklahoma State for an 11:00 a.m. kick off on Saturday.
**Want to win a $20 gift card?  Go sign up here and join our conversation! The best poster each week wins a gift card to your favorite establishment!**