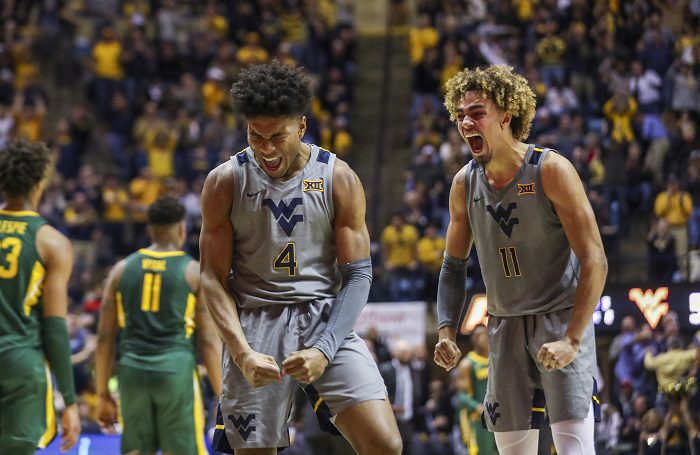 Leading up to the 2020-21 Big 12 basketball season, Heartland College Sports will analyze each of the Big 12 men's basketball schedules. Today it's the West Virginia Mountaineers.
Season opener: The Mountaineers open the season against Texas A&M on Nov. 25 at the Bad Boy Mowers Crossover Classic in Sioux Falls, South Dakota.
Tournaments: The Mountaineers will play in the aforementioned Bad Boy Mowers Classic from Nov. 25 through Nov. 27. Along with the opener against Texas A&M, the Mountaineers could face Ohio State, Memphis, Creighton, Dayton, Utah or Wichita State. It doesn't matter the direction, this may be the best non-conference tournament any team in the Big 12 is playing in this season.
The Big 12/Big East Game: West Virginia will travel to Georgetown on Dec. 6.
The Big 12/SEC Game: West Virginia hosts Florida on Jan. 30. It will be the second straight year the Mountaineers will host a game in the series.
The Big Non-Con: With no Backyard Brawl this year, the Mountaineers' marquee non-con game is likely to be either Ohio State or Memphis, the team they would play on the second day of the Bad Boy Mowers Crossover Classic. Both the Buckeyes and the Tigers were among the nation's best teams a year ago.
Mid-Major Danger: For the second straight year, the Mid-Major Danger game is an opponent from the Atlantic 10. Richmond went 24-7 last year and was 9-3 away from home. They face the Mountaineers in Morgantown on Dec. 13.
Big 12 Opener: The Mountaineers host Iowa State on Dec. 18.
The 'Big' Big 12 stretch: A stretch of five games at the tail end of the Big 12 season will help determine the Mountaineers' seeding. Kansas comes to Morgantown on Feb. 6, then it's a road trip to Texas Tech, followed by home games with Oklahoma and Baylor, and a road trip to Texas ending the five-game swing. All five of those teams have the tools to be a Top 5 team in the Big 12, along with WVU.
Note: Due to COVID-19 and the late-evolving nature of national schedules, the schedule is subject to change and could see games removed or added with little notice.
2020-21 West Virginia Schedule
(*Big 12 game; schedule subject to change)
Nov. 25 vs. Texas A&M (Bad Boy Mowers Crossover Classic, Sioux Falls, South Dakota)
Nov. 26 vs. Ohio State or Memphis (Bad Boy Mowers Crossover Classic, Sioux Falls, South Dakota)
Nov. 27 vs. TBA (Bad Boy Mowers Crossover Classic, Sioux Falls, South Dakota)
Dec. 2 Youngstown State (postponed and may be rescheduled)
Dec. 6 at Georgetown (Big 12-Big East Battle)
Dec. 9 Robert Morris
Dec. 13 Richmond
Dec. 18 Iowa State*
Dec. 22 at Kansas*
Dec. 29 Buffalo
Jan. 2 at Oklahoma*
Jan. 4 at Oklahoma State*
Jan. 9 Texas*
Jan. 12 at Baylor*
Jan. 16 TCU*
Jan. 19 Oklahoma State*
Jan. 23 at Kansas State*
Jan. 25 Texas Tech*
Jan. 30 Florida (Big 12-SEC Challenge)
Feb. 2 at Iowa State*
Feb. 6 Kansas*
Feb. 9 at Texas Tech*
Feb. 13 Oklahoma*
Feb. 15 Baylor*
Feb. 20 at Texas*
Feb. 22 at TCU*
Feb. 27 Kansas State*
**Want to win a $20 gift card?  Go sign up here and join our conversation! The best poster each week wins a gift card to your favorite establishment!**