Big 12 Previews
West Virginia Mountaineers Basketball: 2020-21 Season Preview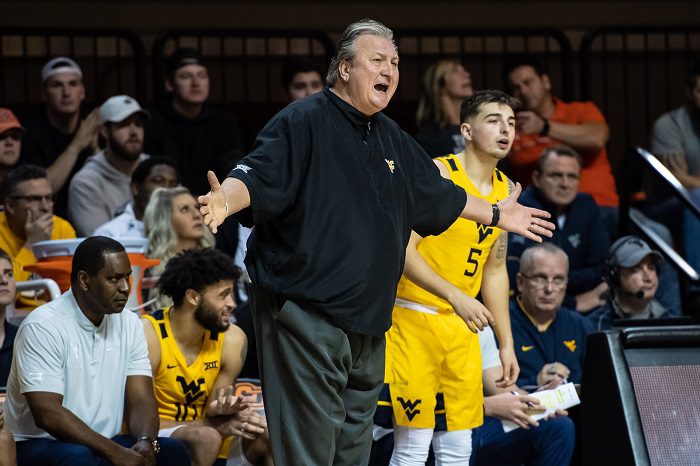 Leading up to the opening of the 2020-21 Big 12 Men's basketball season Heartland College Sports will analyze each of the Big 12 men's basketball teams. Today it's the West Virginia Mountaineers.
2019-20 Recap
Record: 21-10 (9-9 in Big 12)
Postseason: All postseason tournament action was canceled due the coronavirus. West Virginia was expected to advance to the NCAA Tournament.
Top returning 2019-20 leaders: F Oscar Tshiebwe (11.2 ppg, 9.3 rpg), F Derek Culver (10.4 ppg, 8.6 rpg), F Emmitt Matthews Jr. (6.3 ppg, 3.6 rpg), G Jordan McCabe (3.1 ppg), G Miles McBride (9.5 ppg, 56 assists), G Sean McNeil (5.5 ppg), F Gabe Osabuohien (played in 28 games last season), G Taz Sherman (5.3 ppg)
2019-20 seniors/lettermen/transfers lost: G Jermaine Haley (8.9 ppg, 4.3 rpg), G Chase Harler (4.4 ppg, 1.1 rpg), F Logan Routt (1.3 ppg, 1.5 rpg). G Brandon Knapper transferred to Eastern Kentucky.
Recruiting
Recruits signed: F Isaiah Cottrell, 6-foot-9, Huntington Prep (Huntington, WV); F Taj Thweatt, 6-foot-6, Wildwood Catholic (Wildwood, NJ); Kedrian Johnson, 6-foot-4, Temple College (Temple, TX); F Seny Ndiaye, Huntington Prep (Huntington, WV/ Dakar, Senegal)
Cottrell was a great in-state get, as he was the No. 71 recruit in the nation. Johnson is a great get, too, as he's considered a Top 20 junior college recruit. With the wealth of talent that West Virginia has coming back, it could be tough for any of them to crack the rotation, but expect a couple of them to do so.
Looking ahead to 2021, the Mountaineers have signed two players — Lorain, Ohio, guard Seth Wilson and Canton, Ohio, guard Kobe Johnson. Wilson is a Top 200 national player (No. 190 per 247Sports.com). Wilson averaged 13 points and 7 rebounds per game last season. Johnson doesn't have a national ranking per 247Sports.com. But, he's the No. 6 player in Ohio and was primarily a target of Mid-American Conference programs before signing with the Mountaineers. Johnson averaged 18.1 points per game to go with 4.4 rebounds and 3.1 assists last season.
Transfers eligible for 2020-21 season: None
Transfers expected to sit out in 2020-21: None
Looking ahead to 2020-21
When you think about what the Mountaineers lost from last season, they got off easy. The Mountaineers didn't lost either Tshiebwe or Culver to the NBA (Tshiebwe is a bigger prospect for the league at this point, but both have a future). The biggest loss is Haley, who averaged 8.9 points per game. So the Mountaineers have back their top two scorers and rebounders in Tshiebwe and Culver, and West Virginia will build around them. After that things get interesting. McBride is better suited to be an off-guard, but he may have to play some point early on (head coach Bob Huggins is high on McBride's development entering his sophomore year). Matthews Jr. really didn't develop the way many anticipated, including myself. But he still have obvious talent. McCabe and McNeil will compete for time, as will Sherman. Osabuohien is likely headed for a No. 3 forward/center role, and if called upon he can produce. However, the door appears open for a few new faces to make some noise. One is Jalen Bridges, one of the better pieces of the 2019 recruiting class, who redshirted last season.
He averaged 21 points and 6 rebounds in his final year of high school. Cottrell is a Top 100 player and if the Mountaineers wanted to go truly big, he could see playing time. But the player I'd watch is Johnson, the guard from Temple College. At the juco level he was No. 34 in the nation in assists and No. 6 in steals. That's the kind of production on the perimeter that the Mountaineers have missed since the departure of Jevon Carter. He also averaged 25.5 points per game, good for No. 4 in the nation. If Johnson emerges as answer at the point and McBride can settle into the off-guard role that I believe he's more suited for, that's all the better for the Mountaineers, who I expect to be a Top 5 team in the Big 12 and push Baylor and Kansas for the top two spots.
**Want to win a $20 gift card?  Go sign up here and join our conversation! The best poster each week wins a gift card to your favorite establishment!**