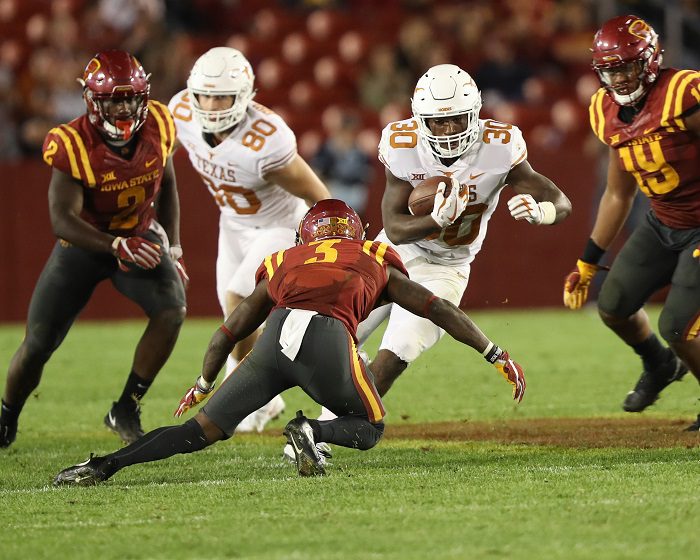 Welcome to the HCS Big 12 mailbag. This mailbag is for all you football junkies out there who root for a Big 12 school who not only have questions about your team, but other teams in the conference as well. So, join me, grab a cold brew or your favorite drink and relax as I answer all your Big 12 questions in my mailbag.
I will pick the best question for each mailbag and label it as my question of the week. The winner gets a free HCS Koozie to keep your beer cold (Unless you like it warm, but that's just plain wrong). I want to thank each one of you who submitted a question this week. There are PLENTY of hot topics this week and I needed a little extra kick for tonight. I am drinking a classic Buffalo Trace Bourbon on the rocks. Cheers!
@SethLDow asks: If every team could take one player from any other Big 12 team to have for the rest of the season, who would each team pick? Why?
Duke: I will keep it simple. Quarterback is by far the most important position. Most times, it is the difference between winning and losing. A good signal caller can cover up a lot. So, let's make this a rapid-fire style answer.
Texas and Iowa State: Oklahoma State WR Tylan Wallce. Both teams could use a good number one wide receiver.
Baylor, Tech, OSU, TCU, Kansas, Kansas State and West Virginia: Oklahoma QB Spencer Rattler. All these teams could use quarterbacks or get better quarterback play. Would cover up a few things. But Kansas needs a lot more.
Oklahoma: Texas LT Samuel Cosmi. Sooners need an upgrade at left tackle.
@troyboy8ball asks: The Big 12's best running back (Breece Hall) will face the league's best rushing defense (Texas) on Saturday. An unstoppable force vs. an unmovable object. Who wins this battle? If I set Hall's expected total rushing yards at 119.5, would you take the over or the under?
Duke: Actually, Texas has the fourth best rushing defense in the conference. They sit behind Oklahoma, Iowa State and West Virginia. Currently Texas is giving up 117.9 yards per game on the ground. Ever since the ULL game, Breece Hall has rushed for at least 132 yards per game. With that said, I will take the over but not by much. I think Breece will finish somewhere between 120-130. It is no secret that the key for Texas will be slowing down Breece Hall. Texas did a good job against Oklahoma State slowing down Chuba Hubbard, but Iowa State's offensive line is better, and Brock Purdy is a better quarterback than Spencer Sanders. The Longhorns have a lot more to worry about on defense.
@Dillon1933 asks: What should be a bigger disappointment for Oklahoma State fans, getting lit up by your in-state rival or getting beat in a game that they completely dominated in? I feel like OSU lost their Big 12 championship hopes on Halloween, not in Norman.
Duke: That is a totally fair point you bring up and I agree with you. Texas was not a better football team than Oklahoma State. Period, end of story. If Spencer Sanders does not turn the ball over 100 times in that game, Oklahoma State still likely wins that
game with ease despite playing awful. They gave that game to Texas on a silver platter and Texas took advantage. As for Bedlam, they are not better than Oklahoma. The Sooners were superior, and it showed on Saturday, but the game should have been much closer than the score. If Oklahoma State did not blow that game against Texas, they would still be sitting pretty right now despite losing to Oklahoma. Instead of being on the outside looking in, they would be preparing for a Bedlam rematch. So yes, the Texas game was much worse in my opinion.
@kacie4238 asks: Does Gundy stay or go at Oklahoma State?
Duke: I may need a good sip or two of this bourbon before getting into this. I could literally talk about this topic for an hour but let me try and break this down as only my tiny brain could. As of right now, Gundy stays. I would give it another year or two. Big picture in the next five years? I would let him go if things do not change. In their last 28 Big 12 games, Oklahoma State has a 14-14 record. They also have yet to play in a conference title game since the championship game started in 2017. This program is on a seesaw. One little tip could knock it up or down because let's face it, this program's future looked a lot better five years ago than it does now.
I am not sure if the game is passing Gundy up a little bit or what but something needs to change for the Cowboys to get to that next level which is beating Oklahoma and reaching a conference title game. But it is a risk/reward type of deal. I believe Oklahoma State is a good job, but Mike Gundy is a lifer at OSU. He built that program from the ground up but is it worth throwing away what you have now for something else? Sometimes the grass is not always greener on the other side. Ask Texas or Nebraska about that. Maybe the next hire works out perfectly or maybe they slide back to irrelevance before Gundy and Les Miles took over. Who knows? I would bring Gundy back next year but 2021 will be a VERY important year for him. By the way, congrats on question of the week.
@mlevere1992 asks: What is up with Nebraska fans thinking that Matt Campbell Is going to go to coach them next year? He is going to be too busy coaching Florida, Michigan and Iowa State.
Duke: Nebraska plays football? That is news to me. That program has been dead for years and let me tell you folks something. IT AIN'T COMING BACK. Michigan is more of a threat to get Matt Campbell more than anyone else. That is a blueblood job and has a ton of money to make big times moves. If I were an Iowa State fan, I would worry about Michigan more than a dead program.
**Want to win a $20 gift card?  Go sign up here and join our conversation! The best poster each week wins a gift card to your favorite establishment!**