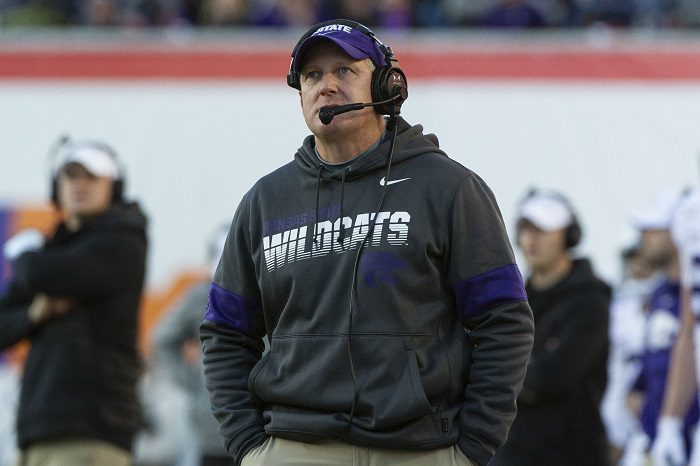 A month ago today Kansas State was 4-0 in conference play and sitting in first place in the Big 12 coming off a 55-14 victory against Kansas. Wildcats fans were feeling good about their chances to win the Big 12, having already beaten conference favorite Oklahoma. A month and three-straight losses later the Wildcats are reeling and wondering what went wrong. The 37-10 loss to West Virginia on Halloween was the worst loss of head coach Chris Klieman's coaching career. That was until Saturday's 45-0 shellacking at the hands of Iowa State. Sandwiched in between those games was a hard-fought two-point loss at home to Oklahoma State.
What's up next for the Kansas State Wildcats? A trip to Baylor this Saturday followed by a home game against Texas on December 5th. If they can get a win or two they will most likely get a bowl invitation. Current projections have K-State playing in the Guaranteed Rate Bowl in Phoenix on December 26th. It seems like the Guaranteed Rate Bowl has had more name changes than immigrants coming to the United States from Europe at Ellis Island in 1901. Originally The Copper Bowl, which was Bill Snyder's first Bowl Game as head coach at K-State, I suppose playing in that game wouldn't be such a bad thing.
The Wildcats need to get off the schneid and get a victory against Baylor to salvage the season. Trying to figure out what has gone wrong for K-State the last three games and what they need to do to turn things around is not an easy task. There are are a few key reasons for the recent woes.
1) COVID-19
K-State has had major problems with positive Covid tests and contact tracing the last couple of weeks. Rumor has it that 25 or more players were sidelined for the Iowa State game. K-State was missing two starting linebackers, Elijah Sullivan and Justin Hughes, wide receiver Malik Knowles, and defensive lineman Jaylen Pickle. All of those missing pieces were huge losses. Chris Klieman said during his post-game press conference that he didn't know how many, or if any, of those players will be back for the Baylor game. If COVID issues continue to plague the roster, the Wildcats will struggle.
2) Quarterback
Losing senior starting quarterback Skylar Thompson in the third game of the season against Texas Tech was gigantic. His backup, Will Howard, is a true freshman who did relatively well in victories against TCU and Kansas, but has struggled mightily once the competition got better. Here are Howard's stats in his two wins and three losses:
(W) at TCU: 8/19, 117 yards, 0 TD, 1 INT (W) vs. Kansas: 17/24, 243 yards, 2 TD, 0 INT (L) at West Virginia: 19/38, 184 yards, 1 TD 3 INT (L) vs. Oklahoma State: 10/21, 143 yards, 1 TD 1 INT (L) at Iowa State, 3/9, 32 yards, 1 INT
Not very good nor efficient. In fairness, backup quarterback Nick Ast wasn't much better against Iowa State, going 6/10 for 44 yards. Also of note, the offense as a whole hasn't been getting the job done. K-State's offense is 8th in the league in scoring offense, 8th in yardage, 8th in rushing offense, 9th in passing offense, and 7th in offensive efficiency. Yikes.
3) Defense
With the offense becoming less efficient, the defense has followed suit. K-State is near the bottom of the league in every defensive statistical category. After such a good start to the season, this is a very concerning sign going forward.
I saw a lot of reaction from K-State fans after the game on Saturday night spouting off that this season doesn't matter anyway because of COVID-19 restrictions and that there are no players losing eligibility. Does that mean Chris Klieman and the Wildcats get a mulligan for 2020? I don't think so. Fans were excited a month ago that the team was in first place and in contention for the conference title. The Wildcats weren't expected to win the conference this season, but they also weren't expected to get blown out 45-0 to Iowa State while showing little fight in doing so.
What do I expect in the next couple of weeks? A win against Baylor, a loss against Texas, and a bowl invitation. Going to a bowl game will give this young team more practice time, which they desperately need. They could also use a COVID-19 vaccine along with everyone else, but since they're not getting that anytime soon, a bowl game trip and a victory in that bowl game would be a great way to inject some life into the program going into spring football. K-State was picked to finish seventh in the Big 12 preseason media poll and they currently sit in 6th place. That's a positive position to be in considering they lost their starting quarterback early in the season. Sometimes it helps to look back to gain some perspective on the season as a whole, no matter how disappointing the last three games have been. The future is still bright. A couple more wins to close out 2020 would make it shine even brighter.
*If you like what you've read from Joe Mathieu, find more on his personal K-State site: https://www.kstatejoe.com/*