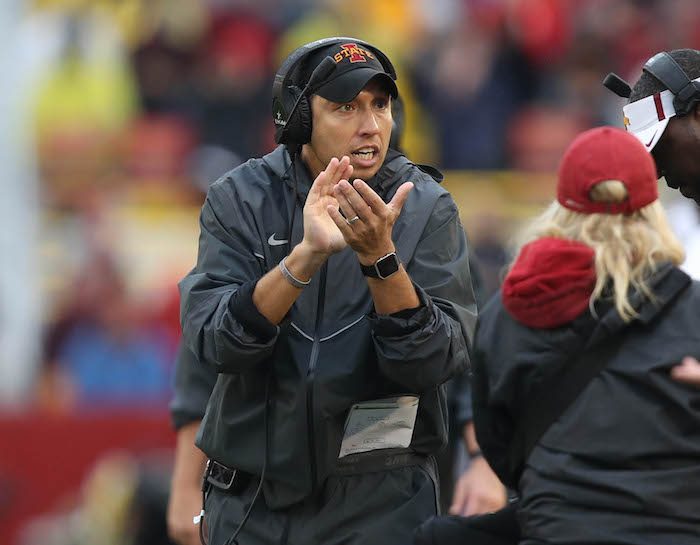 The emotion on Iowa State head coach Matt Campbell's face was evident on Saturday afternoon as he spoke to ESPN's Kris Budden. The Cyclones had finally (well, almost) reached the mountaintop of the Big 12. Yes, it's ONLY a 99 percent chance of reaching the Big 12 Championship game in a few weeks. And the Cyclones still need to win THAT game to claim their first conference championship in more than a century. But THIS is what Campbell envisioned when he arrived in Ames, Iowa, from Toledo five years ago.  
Unprecedented success. And with unprecedented success comes the wolves that spin the coaching carousel.
It would be journalistic malpractice for me to write a piece like this and not acknowledge that Campbell will be college coaching's hottest property next offseason. It's not like he hasn't been on the short list before. The New York Jets asked for an interview in 2018 and he turned them down, showing just how smart Campbell REALLY is. He's been connected to college jobs before, too. But this offseason will be different. Campbell will be coming off a season in which he will have led his program to an apex. In fact, should the Cyclones manage to get to 10 wins this season, it will be the first time the Cyclones have EVER done that. Even if the Cyclones don't claim their ultimate prize — a Big 12 title — everyone who needs a head coach next season will be plotting a way to lure Campbell out of Ames.  
To those outside of the Big 12, it feels like 'Well, why wouldn't he leave Ames?' Iowa State is not a blueblood program. The Cyclones will never be the Oklahoma Sooners or the Texas Longhorns by reputation. It will always be a hard road to recruit, to win and to remain in the thick of the Big 12 race. Yet, Campbell has done it. But to outsiders they see a coach that has proven he can do it at a program that has rarely done it. So why wouldn't he want to move on? 
We sometimes misjudge ambition, especially in coaching. Only Campbell knows what he truly wants. All I can say is that in the times I've interacted with him, he's always spoken of his time in Ames with great affection. The cynic in writers like me would say, 'Well, we've heard that before.' The optimist in writers like me say, 'Well, maybe this time it will be different.'
And then it's almost, inevitably, the same. The coach leaves.
I can't say if Campbell will take the bait when it is inevitably tossed his way this offseason (and it WILL be tossed his way). But one of the things we fail to explore in situations like this is the reasons to stay. We ALWAYS explore the reasons to leave. But why should Campbell stay? Here are five.
He wanted to be in Ames
Remember when Campbell took the job after the 2015 season? It came after he brought his Toledo Rockets to Ames to play a non-conference game and he was impressed by the facilities. The Cyclones were one of the first programs to embrace virtual reality to help players with mental reps and preparation. Campbell saw all of that during his team's trip and when ISU offered him the job he jumped at it. He said he WANTED to be there. So was it ambition or impression that took him to Ames? 
He gets paid well and that makes it easier to keep him
Campbell was set to make $3.7 million going into the 2020 season, which was No. 41 in college football according to USA Today. That salary was shaved to $3.4 million during the pandemic. Some of the jobs that outsiders might see as potential landing spots, for instance SEC schools like Ole Miss and Tennessee (not that they're looking, but you get the point), pay their coaches practically the same as Campbell. Same goes for Florida State. One opening right now, South Carolina, had paid Will Muschamp $4.6 million. Is $900,000 that much of a different to move from Ames to Columbia? The advantage of paying Campbell well now is that it eliminates the temptation to take a job in another conference that feels lateral. Jobs like Ole Miss and South Carolina are lateral. Tennessee, by reputation, is not. But by competition the last decade? It's a second-tier SEC job, and Campbell has coached his way to first-tier consideration in call conferences. 
Campbell will get a raise this year. Bet on it. It will likely vault him into the Top 25, which gets him close to $5 million per. That will make it even harder for a school to pry him away. I mean, $5 million is what Nebraska is paying Scott Frost right now.
The COVID Coaching Carousel will be different
As the editor of the College Football America Yearbook, it's my job to keep up with coaching changes. I can tell you most years there are 20 or more openings on the FBS carousel. I think this year will be different. With the challenges of COVID-19, more coaches that might have lost their job due to performance may not, just because athletic directors understand this hasn't been an optimum season (and their 2021 offseason likely won't be either, given extended dead recruiting periods). There are only three open jobs right now — South Carolina, Southern Miss and Utah State. If I'm guessing there might only be 15 openings due to COVID, which was the number of openings in 2014, the lowest I've kept track of during my time with the Yearbook. Fewer openings means fewer chances for a school to pry Campbell away. 
He's got the Gary Patterson model down pat
TCU head coach Gary Patterson coaches and recruits with a chip on his shoulder. There may be no head coach in the Big 12 who does a better job of turning two- and three-star recruits into four- and five-star players. But Campbell is gaining on him. Campbell has already pulled the No. 3, No. 4 and No. 5 ranked recruits in program history per 247Sports.com (and their database only goes back about 20 years). Campbell has never pulled a Top 40 class per 247Sports (his highest has been No. 46 on two occasions). Quarterback Brock Purdy was a three-star recruit and is headed to the NFL one day. Running back Breece Hall was a four-star recruit and is a Heisman candidate. You can count the number of four-star recruits Campbell has signed on one hand. And yet he and the Cyclones are on their way to a fourth straight bowl game. Guess how many times that's happened at ISU? Yep, none. That's a program. That's what Campbell is building in Ames.  
Which brings me to the fifth point …
I think Campbell has a job in mind
Now, this is me speculating. But certain coaches don't settle for any old job. Sometimes there is one in particular that they want. Think about Kirby Smart for a minute. For a few years he was the highest-paid assistant coach in college football and was, like Campbell, a highly-sought after head-coaching candidate. But, it wasn't until the Georgia job opened up that he finally left. The fit was perfect. After all, Smart played defensive back at Georgia. So, to read those tea leaves, you have to look at the coach's journey, and if you look at Campbell's there is one common thread — Ohio. Born in Massillon, Ohio, Campbell played one year at Pitt before transferring to Division III power Mount Union in Alliance, Ohio. He coached there, along with Bowling Green and Toledo, before moving on to Iowa State. If you're from Ohio, there is only ONE job worth having, and that's Ohio State. That job is currently occupied by Ryan Day, who is, frankly, doing outstanding work.  
The point is that Campbell is now in a position in which he doesn't have to settle to move up in the coaching world. He's built Iowa State into a program that can now win year over year and compete for Big 12 titles. That was the goal after all. If his ambition lies elsewhere, that's fine. That's the way it is for many coaches. But he doesn't have to hurry off from Ames to position himself for a job on the level of Ohio State. He's already done that.
And, right now, the stars, at least to me, appear to be conspiring to keep Campbell in Ames. And that would be good news for Campbell, Cyclones fans and Big 12 fans everywhere.  
**Want to win a $20 gift card?  Go sign up here and join our conversation! The best poster each week wins a gift card to your favorite establishment!**