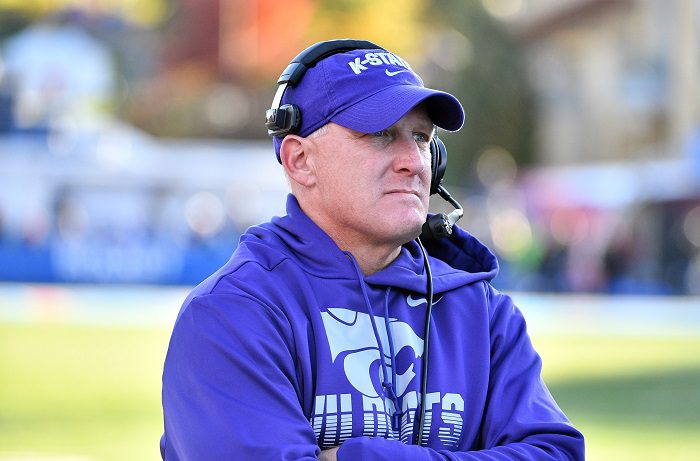 If you told me before the season started that the Kansas State Wildcats would be 4-5 and heading into a game against Texas where they'd have a chance at a .500 season, I'd consider that a pretty successful 2020 campaign for the Wildcats.
But as is often the case, it's how a team goes through a season and what that season looks like that can re-define what is "successful" and what isn't. And as a result, it's impossible for Kansas State fans to be waking up after a one-point loss to Baylor and feeling like this season and the word "success" can be used in the same sentence.
And they have every right to feel that way.
Yes, this year had a lot of excuses that could have set them back even further. They lost their defensive coordinator in the offseason, they had an entirely new offensive line that needed to be worked into place this fall. Then the season started, and starting QB Skylar Thompson was lost for the season against Texas Tech. But despite all of that, the Wildcats were 4-0 in league play heading into Morgantown, West Virginia.
And since then, it's been forgettable. Losses to West Virginia, Oklahoma State, Iowa State and Baylor have turned the season upside down. West Virginia and Iowa State were blowout losses on the road. The losses to Oklahoma State and Baylor were close losses that could have resulted in wins. What makes those two even tougher to swallow is the way that questionable coaching decisions played a role in each game. Against Oklahoma State, there was the odd move to try for a two-point conversion early in the game, rather than take the extra point. That resulted in Kansas State having to go for a two-point conversion late in the fourth quarter after scoring a touchdown, that they did not convert on and lost the game by two. Chasing points in the first half is always questionable, but in that spot against the Pokes seemed even more head scratching.
Then against Baylor, the offensive play calling by Courtney Messingham continues to come under scrutiny. Harry Trotter was having success in the backfield early in the game and then suddenly, he stopped getting carries. There were QB runs between the tackles (notably a 3rd and 2 that comes to mind) when all the success was coming on the edge. Heck, even head coach Chris Klieman didn't seem overly inclined to back his offensive coordinator after the game when he made the following statement.
Losses that can be, at least in part, attributed to questionable coaching decisions are more frustrating than being able to say a young team wore down as the season progressed and took their lumps, but those lumps will pay off in upcoming seasons. Kansas State certainly has had those moments where this young core has seemed in over its head. But to their credit, that hasn't seemed as often as I expected.
Chris Klieman will wrap up Year 2 as head coach of the Wildcats next week, and he's 2-0 against Oklahoma, has won more games than the "experts" predicted and is doing a very good job on the recruiting trail by K-State standards. Oh, and he signed a contract extension through 2026.
There are still lots of reasons for Kansas State fans to feel good about where this program is moving forward. But two things can be true at the same time. And there's no doubt that right now, Kansas State football can be in a good place, while also fairly pointing out that this season has gone from a massive success to a surprising disappointment.
**Want to win a $20 gift card?  Go sign up here and join our conversation! The best poster each week wins a gift card to your favorite establishment!**