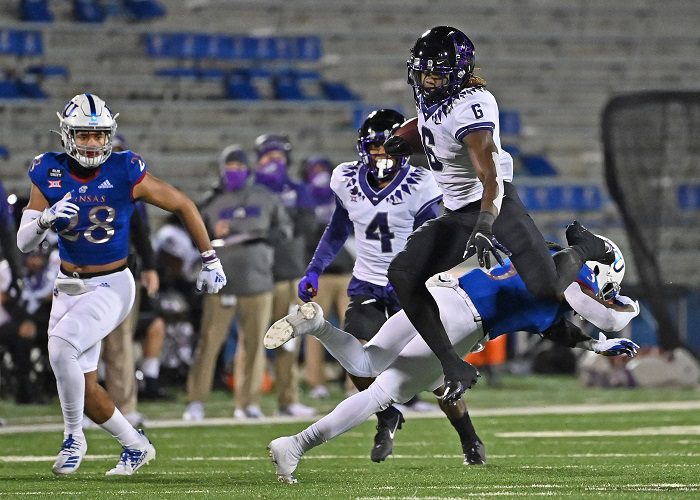 We are heading down the home stretch of the 2020 Big 12 football season. But every week we get a chance to learn something new about a team. In this article, we'll take a look at one thing I learned from each Big 12 team that played this past weekend.
Iowa State Cyclones
They can win big games without Breece Hall Going Off
Don't get me wrong, Breece Hall had himself a good game against the Texas Longhorns on Saturday. He finished with over 90 rushing yards and the go-ahead touchdown in the final two minutes. But he didn't have one of his monster games. And to beat one of the better Big 12 teams on the road, when your potential Heisman Trophy finalist has, by his standards, a mediocre game, that's even more impressive. And it bodes well for the Iowa State Cyclones as its chases its first conference title in 108 years.
Texas Longhorns
No One Fears Texas
The Iowa State Cyclones trailed this game for the first 58 minutes. Tell anyone a decade ago that little Iowa State would be down for the first 58 minutes in Austin and would come back to win, in part because of the confidence they have to take care of business on the road against one of the blue bloods. No one would believe you. But that's where we are. Yes, Tom Herman has had some success at Texas, at least taking the team to a Big 12 Championship game. But the reality is the program has been mediocre for over a decade and the players going up against the Longhorns simply don't fear this program anymore. And it was very evident on Friday.
Oklahoma State Cowboys
The future is bright at running back
Chuba who? That's what Oklahoma State fans might be saying in 2021 if Dezmon Jackson lives up to the hype he started on Saturday when he rushed for 235 yards and three touchdowns against Texas Tech. Jackson got the start after Chuba Hubbard and LD Brown sat out and while there was plenty of speculation as to what the Cowboys backfield would look like once Hubbard, the nation's leading rusher in 2019, left the program — those questions are likely on hold for the foreseeable future.
Texas Tech Red Raiders
Let Alan Bowman be the starter
Bowman, who lost his starting duties earlier in the season to Henry Colombi, got his starting job back after leading Tech back to a win over Baylor last week. And while Tech lost to Oklahoma State on Saturday, it was through no fault of Bowman's who finished 30/45 for 381 yards and three touchdowns and one pick. The interception was bad, but Bowman was making passes that showed why he was once a highly-touted player to begin with. Colombi can't make those throws. I know Bowman might be not mobile enough for David Yost's system, but he's the best option right now. And with the right pieces around him, Alan Bowman can help a team win eight games.
Baylor Bears
Charlie Brewer will be missed… eventually
I don't know when. But I believe fans who have been very tough on QB Charlie Brewer will eventually come around and appreciate how good Brewer was and how much he did and gave for this program. Brewer went 31/39 for 349 yards and two TDs, plus a team-best 56 rushing yards with two scores. He was never one of the best QBs in the Big 12, but he still led this team from one win to 11 wins and helped change the trajectory of Baylor football. He should be remembered for that and much more.
Kansas State Wildcats
The season can qualify as a disappointment
As I wrote in more detail this morning, the Kansas State Wildcats are 4-4 in Big 12 play heading into the final game of the season against Texas. If you told me that before the season I would have said that's a success for K-State this fall. But when you start off 4-0 and then lose four in a row, two by a total of three points, in which coaching miscues can be clearly pointed out, then the opinion should change. This is a young team that is learning a lot for 2021 and beyond, but the way the last month has gone, based on what took place the first few weeks, should not be accepted by a program the caliber of Kansas State.
TCU Horned Frogs
Zach Evans will be a Big 12 star
After a weird recruitment, five-star running back Zach Evans landed at TCU in May. And he's quickly become one of the most important players in the TCU offense. He had his best game of the season on Saturday against Kansas with 12 carries for 100 yards, his most carries and yards in a game this season. TCU's offense is what has held this team back in recent seasons, but if they finally have themselves a budding star at running back, they have something to build around for 2021.
Kansas Jayhawks
Let the QB battle continue
It seems like Les Miles wanted true freshman Jalon Daniels to solidify his role as the starter. But Miles Kendrick came in at QB and gave this team a spark on Saturday going 11/18 for 166 yards, two touchdowns and one interception. Kendrick is a junior, so he can play a role in the future of the program. With that being said, I would let the two continue to split reps and build the QB battle in 2021 and beyond.
**Want to win a $20 gift card? Go sign up here and join our conversation! The best poster each week wins a gift card to your favorite establishment!**