The Heart Beat
The Heart Beat (Nov. 30): Iowa State Basks in Glory, OU Flashback to 2000 and More!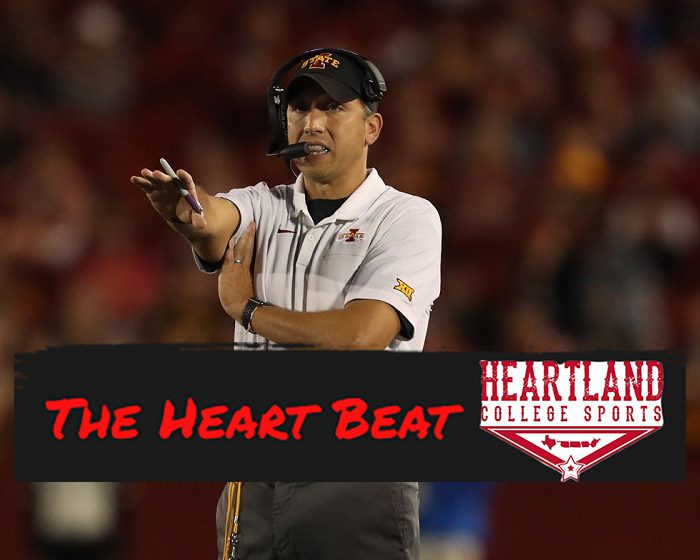 It's time for our links to our favorite bunch of Big 12 content from the previous 24 hours. Think of it as a brunch/lunch links for you to avoid and delay work, plus your boss!
**If there is ever content you'd like us to consider for the following day's Heart Beat, please email me directly: [email protected] or direct message us on Twitter (@Heartland_CS)
Big 12 Content
Here are Cyclone Fanatic's Three Up, Three Down following Iowa State's win over Teas this past weekend. How did they find "Three Down" by the way?!
Who were Kansas State's Top 10 performers in Saturday's loss to Baylor?
Here are ten things Texas Tech fans can take from Saturday's loss to Oklahoma State.
What are five things to know about Oklahoma State running back Dezmon Jackson who had a career day on Saturday?
The Oklahoman is going back 20 years and looking at the Oklahoma Sooners' 2000 season, the last time they won a National Championship.
The crew at Inside Texas puts together its list of potential coaching targets for the Texas Longhorns.
Let's get to some Baylor basketball takeaways from their win over Washington?
Non-Big 12 Content
Here are the latest bowl projections from CBS Sports.
Who are the top coaching candidates for the new opening at Vanderbilt?
Meantime, the USC-Washington game was moved to Sunday.
Here's Pat Forde's Forde-Yard Dash following another busy weekend of college football.
LSU's star wide receiver has opted out of the rest of the season.
**If there is ever content you'd like us to consider for the following day's Heart Beat, please email me directly: [email protected] or direct message us on Twitter (@Heartland_CS)