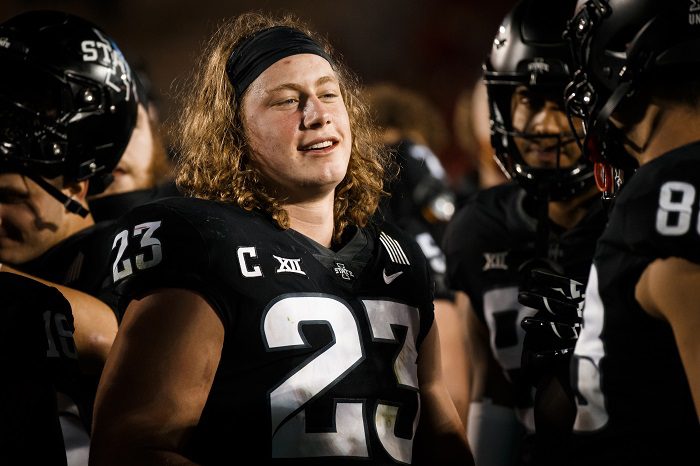 The Butkus award is one of the most prestigious awards in college football. It is given to the best linebacker in all of college football, but much like the Heisman trophy, it has one flaw: The voters. Don't get me wrong, there are people who vote for these awards that are more than deserving, but unfortunately there are some who have no business even voting.
This happens to be one of those head-scratching moments where the voters got it wrong. Tuesday afternoon, the semifinalists for the college Butkus award were released with these names.
Nick Bolton (Missouri), Zaven Collins (Tulsa), Jabril Cox (LSU), Nakobe Dean (Georgia), Olakunle Fatukasi (Rutgers), Christian Harris (Alabama), Buddy Johnson (Texas A&M), Ernest Jones (South Carolina), Nate Landman (Colorado), Devin Lloyd (Utah), Grant Morgan (Arkansas), Jeremiah Owusu-Koramoah (Notre Dame), Monty Rice (Georgia), Charles Snowden (Virginia), Chazz Suratt (North Carolina), and Pete Werner (Ohio State).
There are sixteen names on that list and not of them are named Mike Rose. The Iowa State Cyclones linebacker has had a monster season so far with 76 tackles, 1.5 sacks, ten tackles for loss and four interceptions in nine games. How many linebackers have that kind of stat line? Rose is second in the Big 12 in total tackles, sixth in the Big 12 for tackles for loss and is tied for first in the conference in interceptions as a linebacker.
Look at this list. Two players are from Colorado and Utah. Colorado has played three games this season, while Utah has played just two. How on earth do they get players on this list after just two or three games? No Pac-12 player should be on this list but at least make them play six or more games!
It does not stop there though because despite the players from the Pac-12, how many SEC linebackers are on the list? Seven. They think that seven linebackers are playing better than Mike Rose? Give me a break.
Christian Harris (Alabama): 8 games, 57 tackles, 4.5 tackles for loss, 0 picks
Jabril Cox (LSU): 7 games, 36 tackles, 4.5 tackles for loss, 2 picks
Nakoba Dean (Georgia): 8 games, 63 tackles, 1.5 tackles for loss, 0 picks
Monty Rice (Georgia): 8 games, 46 tackles, 4 tackles for loss, 1 sack
Ernest Jones (South Carolina): 9 games, 86 tackles, 5 tackles for loss and 1 sack
Are any of these players I mentioned above playing better than Mike Rose? Take away some of these school names and look at the numbers. Forget about the helmet of the school and the conference logo and there is no way people would put all these linebackers ahead of Mike Rose. And does Georgia deserve two linebackers on the list? I don't think so.
The voters of this award should be ashamed of themselves. It is flat out embarrassing, and I hope this award gets called out. It is just a damn shame that Mike Rose is not even considered for this award. But that just shows you how many people are paying attention to Iowa State around the country. If Mike Rose had an OU logo or a Longhorn on his helmet, the national media would go nuts. But keep playing your tail off Mike Rose. You have earned my vote for Big 12 Defensive Player of the Year.
**Want to win a $20 gift card?  Go sign up here and join our conversation! The best poster each week wins a gift card to your favorite establishment!**