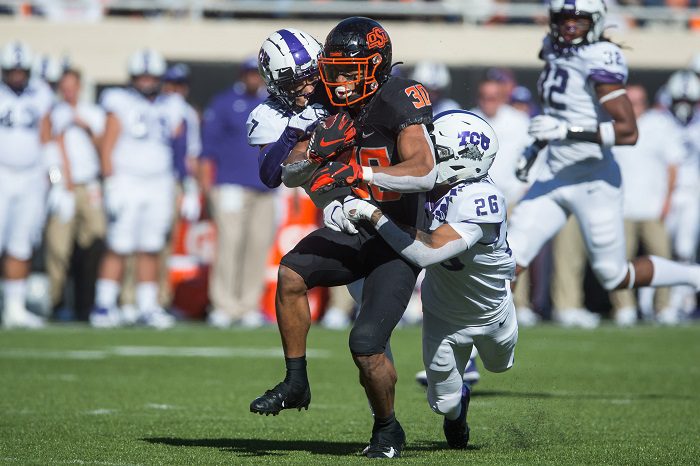 Here is everything you need to know about the upcoming Big 12 game in our TCU vs. Oklahoma State preview and prediction. 
Game Info
11:00 a.m. December 5th, 2020; Amon G. Carter Stadium, Fort Worth, Texas
TV: ESPN 2 (Mark Jones, Dusty Dvoracek and Kris Budden)
Spread: OSU (-1.5)
Fun Fact: TCU is facing Oklahoma State in Fort Worth for just the fourth time in its nine seasons in the Big 12. Upon entering the conference in 2012, TCU inherited Texas A&M's league schedule in which the Aggies owed the Cowboys an extra home game. TCU played at Oklahoma State in consecutive seasons in 2012 and 2013, before hosting the Cowboys for the first time in 2014.
Key Players
Oklahoma State
CB Rodarius Williams
The Cowboy defense finally got worked over against Texas Tech and Williams going out in the first quarter with a mild foot sprain is a big part of why. The somehow older brother of ex-LSU Tiger star and current Cleveland Brown Greedy Willaims, Rodarius is the best corner in the Big 12 and will join his brother in playing on Sundays. His presence turns a lot of the field into a No-Fly Zone and he almost never requires any help to hold his own, even against elite receivers. The Red Raiders took advantage of his injury and the space it created. They completed long pass after long pass and popped long run after long run with the safeties having to stay back to try to stop the bleeding in pass defense. Williams is the most important piece of the Cowboys' solid secondary because what he can do allows safeties Kolby Harvell-Peel and Tre Sterling to play close to the line of scrimmage. Gary Patterson teams always like to run, and Max Duggan is dangerous both throwing and with legs. Williams ability to play this week will have a huge impact on this game.
RB Dezmon Jackson
Jackson had 18 carries for 135 yards for his career at OSU before last Saturday. He ended the day with game stats of 36 carries, 235 rushing yards, 3 touchdowns (and would have had 4 if not for one kneel down inside the 5 to ice the clock and end the game), 2 receptions and 10 receiving yards. With the return of Hubbard for this season no one questioned is the Pokes would be able to run the ball but no one expected it to turn into a "who's next" guessing game. Hubbard has struggled all year. Back up LD Brown has shown he is capable of carrying the load but has been dinged up a lot of the year. Enter Jackson, who showed he can run with patience and power but hit the jets when he needs too. With the health of Hubbard and Brown in a constant state of flux we never know who might end up out of the field at any moment. The Cowboys are lucky to have such a deep running back group and I expect Jackson to have a big role this weekend as well.
TCU
QB Max Duggan
Duggan played in all 12 games for the Horned Frogs last season, starting the last 10. He was expected to have a big year as the fun time starter in 2020 and it just hasn't coalesced (more of a team thing than a Duggan thing) but he is still extremely dangerous. I love his game! He has a big arm and a gunslinger attitude. He's also not afraid to run with 409 yards and 7 touchdowns so far this season. In my opinion his legs are what can win this game. A well timed QB draw will go to the house against the aggressive front seven he's facing this week. Just his ability to move around in the pocket and throw on the run will cause fits for the OSU defense and work well in TCU's favor. If Duggan uses his legs wisely and avoids any turnovers it wouldn't surprise me to see him pull the upset against a Cowboy team that seems to be trending downward the last month.
DE Ochuan Mathis
With seven sacks already on the season expect Mathis to come out of the game on Saturday with 10 or 11.  His ability to rush the passer will play a big part in this game. The Oklahoma State offensive line is still in shambles even with a solid performance against Tech and Spencer Sanders has a habit of turning the ball over when pressured. If Mathis can rattle Sanders it will force throws into coverage or even fumbles.  Gary Patterson teams play defense well, it's what they do, and I'm sure he's noticed the porous front his team is fixing to go against and I expect him have a plan that lets Mathis wreck havoc.
Key Storyline
Oklahoma State
Just pull it together, guys! I think the Texas loss broke OSU. A game they would've won easily if not for self-inflicted wounds, they just haven't looked the same since. The defense bailed out the anemic offense against Kansas State and then they got embarrassed by the surging Sooners, and right when the offense seems to have come back to life against Texas Tech the defense forgot how to play. With Chuba Hubbard not 100% and Spencer Sanders still a work in process the offense is still a 50/50 if it shows up. A Patterson-coached defense isn't just going to roll over and let the Cowboys play like they did against Tech. They need to keep their heads in the game, especially the offensive line who is now without its best player in Tevin Jenkins who declared for the NFL Draft last week.
TCU
Take your antihistamines, Coach Patterson. I know you're allergic to scoring but your boys have to this week. TCU sits at 4-4 this season. In their 4 wins they averaged 39 points a game, boosted a bit by the Kansas game but everyone gets that boost to their start in the Big 12 except Kansas themselves. In the 4 losses they have averaged a paltry 17 per game. When scoring at least 30 they are 3-1 so scoring at least 30 should be their goal. The problem is that across the field from them is one of the better defenses they will have seen this season, and they've had their pride hurt. If the Cowboy defense wakes back up it could be ugly for the sporadic Frogs offense. But if they can protect Duggan and come up with a plan that takes advantage of OSU's aggressive nature there are players to be made. If Gary and Co. come up with a strategy that builds on what OU and Tech did they might force a shoot out with an often-misfiring Cowboy offense.
Prediction
Texas Christian: 34 Oklahoma State: 24
I just don't have a good feeling about this one when it comes to Oklahoma State.  The longer the season goes on the more offenses have found out how to take advantage of Cowboy Defensive Coordinator Jim Knowles' scheme and tendencies, and the offensive attrition just makes it harder and harder every week for them to move the ball.  Gary Patterson is one fo the best in the business at scheming up a defense and I expect him to wreck havoc on the battered offensive line of the Pokes.  The TCU offense runs hot and cold but Duggan is a gamer and a rising star, and just the kind of player that gives Oklahoma State fits. I feel like he has a big day, something like 250 in the air and close to 100 on the ground.  Spencer Sanders can't keep pace and the Frog defense gets him for 2 turnovers.
**Want to win a $20 gift card?  Go sign up here and join our conversation! The best poster each week wins a gift card to your favorite establishment!**