Big 12 News
Kirk Herbstreit's History of Trashing Texas Longhorns Continues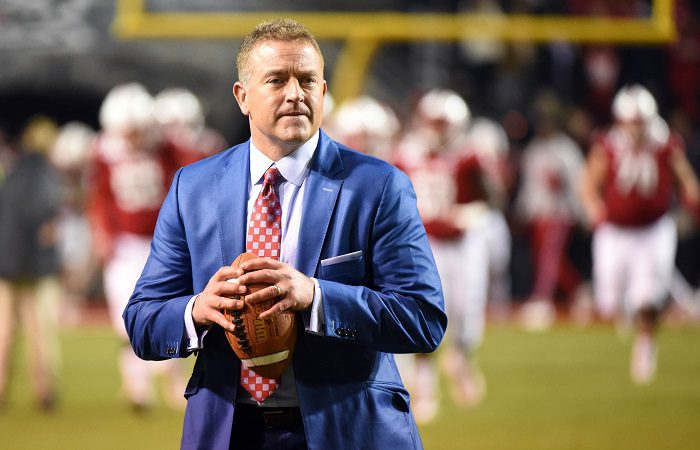 ESPN analyst Kirk Herbstreit is no stranger to trashing the Texas Longhorns. It's been expected for quite some time for those that are regular watchers of College GameDay.
And on Saturday, with College GameDay taking place at Coastal Carolina, and lots of drama surrounding the future of Texas Longhorns head coach Tom Herman, Herbstreit did what he does best: rip the Longhorns.
Herbstreit said, "I did some homework… to me, it's urealistic expectations. It's nine regents having the power. Imagine having nine Jerry Joneses over your shoulder after everything you're doing. It's going to take an Urban Meyer, Nick Saban personality to handle that to be able to win games."
Here's the video:
There's no doubt the Texas Longhorns job has an unusual amount of pressure. It's the richest program in America. Some fans' and boosters' expectations may be too high. It's in the most passionate football state in America.
But with all that being said, it's still an incredible job that thousands of coaches across America would trip over to get.
But for Herbstreit, let's go back four years ago to when Charlie Strong was in the verge of being let go. He said at the time, before Strong was fired, "You're going to be released from the cesspool of being in Austin, Texas and the attitude that comes with being the head coach at Texas. TO me, you chased away Mack Brown… you're going to chase away Charlie Strong and whoever the next guy is, you're going to chase that guy away. Who would want that job in Texas to be the head coach? Dealing with the boosters, president, the ADs, the insensitive attitudes in the way they react to chat rooms and talk shows."
Here was that video.
It's safe to say that whenever College GameDay returns to Austin, Texas with a post-COVID full crowd, no one will be buying "Herbie" any beers on SIxth Street. In fact, it's more likely a drunk Longhorns fan dumps one on his head.
The Longhorns have been the talk of college football this week following last week's loss to Iowa State, which sparked the Urban Meyer rumors. Another talking head, Colin Cowherd, also admitted while he loved the hire of Tom Herman at Texas, he no longer thinks it's working.
Needless to say, all eyes are on the Texas Longhorns to see if the college football coaching carousel is going to be quiet, or very busy, this offseason.
**Want to win a $20 gift card?  Go sign up here and join our conversation! The best poster each week wins a gift card to your favorite establishment!**