Big 12 News
Media Reacts to Texas OL Derek Kerstetter's Gruesome Injury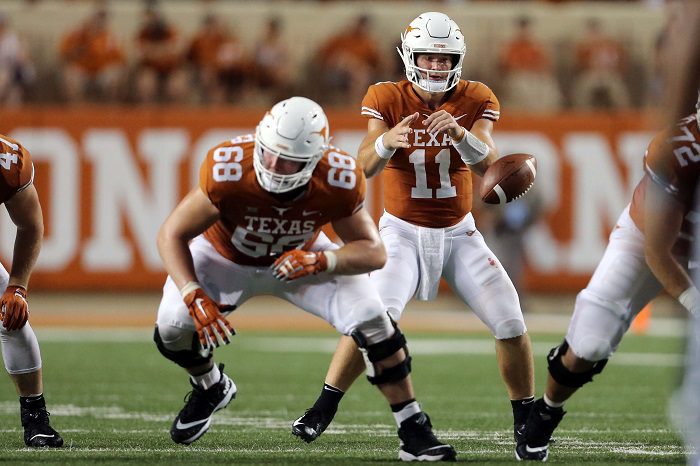 Update: After the game, Texas head coach Tom Herman said that Derek Kerstetter suffered a dislocated ankle, adding, "It was reduced at the hospital. He's back here in the locker room with us." Herman said that Kerstetter led the team in the 'Texas Fight' and that he will be flying with the team back to Austin, Texas.
Here's video of Kerstetter leading the team in 'Texas Fight'.
In the second quarter of the Texas Longhorns game against Kansas State, offensive lineman Derek Kerstetter suffered a gruesome lower leg injury that the FOX broadcast team did not bother to show replay of. Clearly, it was an emotional time on the field, especially for the Longhorns, who were shaken up by the moment.
Please note, we do not want to post the image here, but if you'd insist on seeing it, here is an image. But warning, it's not pretty.
There was also an outpouring media reaction from those who have covered Kerstetter for his several seasons in Austin. He is a senior who was considering returning in 2021, since the NCAA allowed 2020 to be a year where no eligibility is lost due to COVID-19. It's obviously not clear what his future is like at the moment.
But here's what some of the media covering the game had to say.
Obviously our prayers are with Derek Kerstetter and according to FOX Sports' Jenny Taft, Kerstetter's parents are in Manhattan for the game and are heading to an area hospital with him for treatment.
The Longhorns are trying to bounce back from last week's loss to the Iowa State Cyclones. Since then, the conversation around Austin, Texas has been whether or not Tom Herman is retained as the head coach. As a result, the rumors around Urban Meyer going to Texas have swirled.
**Want to win a $20 gift card? Go sign up here and join our conversation! The best poster each week wins a gift card to your favorite establishment!**